The objective of the report is to gain insight into the technological advancements in the Aerospace Propulsion System, explicitly focusing on propulsion technologies, advanced material and automation. The major insights of the report are based on the following:
Emerging technologies
Innovation Trends
Scientific References including IP, Journals, articles, blogs, etc.
Market Insights
Competitive Intelligence including Key-players, Mergers & Acquisitions, etc.
---
The propulsion system is one of the most important components of an aircraft. It is responsible for providing thrust to move the aircraft through the air. The aviation industry is under pressure to reduce emissions. With the growing concern about climate change, the aviation industry needs a new and sustainable propulsion system that can reduce the carbon footprint.
Innovations Panorama
This section of the Aerospace Propulsion System report explains why Leading Edge Aviation Propulsion (LEAP) and Accelerating the Electrification of Flight (ACCEL) are the most promising solutions.
Leading Edge Aviation Propulsion (LEAP)
CFM International (US) introduced an aviation engine called LEAP, which stands for Leading Edge Aviation Propulsion.
The LEAP engine is incorporated with leading-edge technologies, these technology innovations include optimized thermodynamic design, higher bypass and compression ratios, advanced 3-D aerodynamic design, and greater use of lightweight materials. It offers a 15% reduction in fuel consumption and CO2 emission. Its fuel nozzles are 25% lighter than previous models and five times more durable than parts manufactured conventionally.
The 3-D woven RTM (Resin Transfer Molding) carbon fiber composition is used for the fan blades and fan case on the LEAP engine. This material reduces the weight of the engine by 500 lbs per engine.
The high-pressure turbine shroud of the LEAP engine comprises of Ceramic Matrix Composites (CMCs). The CMC materials have better thermal resistance and are light in weight, which reduces cooling needs, decreases the overall weight of the engine and provides better fuel efficiency.
Accelerating the Electrification of Flight (ACCEL)
Rolls-Royce has tested a full-scale replica of the plane's core, known as an 'ionBird,' which features a 500 hp electric powertrain powerful enough to establish global speed records and a battery capable of powering 250 homes.
This all-electric plane is part of a Rolls-Royce initiative called ACCEL, which stands for 'Accelerating the Electrification of Flight'.
The ACCEL project represents a series of firsts for Rolls-Royce as they strive to achieve net zero carbon emissions by 2050. It is the first Rolls-Royce project to use offsetting to make the entire program carbon-neutral.
---
Each year Signicent provides consultancy to hundreds of organizations to help transform their innovations to value.
---
Market
Global Aerospace Propulsion System Market revenue is expected to expand at a CAGR of 6.7% from US$ 367.2 billion in 2020 to reach a value of US$ 540.6 billion by 2026 over the forecast period. The global market is dominated by the North American and European regions.
Reaction Engines & Rolls-Royce are Forming a New Partnership
Reaction Engines design and develop the technologies needed for a new class of innovative hypersonic propulsion systems – the Synergetic Air-Breathing Rocket Engine (SABRE). It is partnering with aerospace suppliers to deliver a ground-based SABRE to demonstrate the engine. It was founded in 1989 and headquartered in Oxford shire, UK.
Rolls-Royce is the world's second-largest maker of aircraft engines. It was founded in 1904 and headquartered in London, UK. Rolls-Royce pioneers cutting-edge technologies that deliver clean, safe and competitive solutions. Rolls-Royce's aerospace business makes commercial and military gas turbine engines for military, civil, and corporate aircraft customers worldwide.
In August 2020, Reaction Engines and Rolls-Royce announced a new strategic partnership agreement to develop high-speed aircraft propulsion systems and explore applications for Reaction Engines' thermal management technology within civil and defense aerospace gas turbine engines and hybrid-electric systems.
Market Segmentation
Market segmentation helps to determine the market opportunities and analyze the need of different segments relative to competitors. Focusing on those specific segments helps in expanding into new markets.
By Product Type, the market is segmentized into Air-Breathing Engines and Non-Air Breathing Engines.
By Application Type, the market is segmentized into Missiles, Aircraft, Spacecraft and Unmanned Aerial Vehicles.
By Geography, the market is segmentized into North America, APAC, Europe, Latin America and MEA.
Key Players
This section of the Aerospace Propulsion System report shares information about the major players working in the market.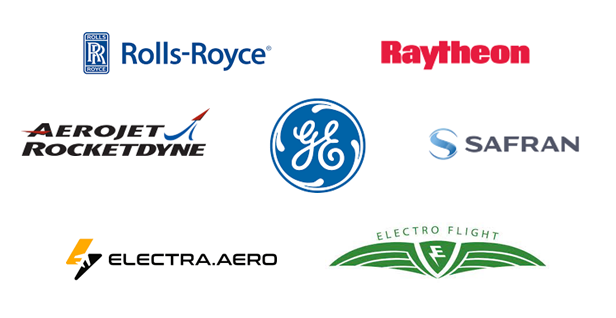 ---
Recent Report