The animal vaccine report will shed light on the challenges of the industry, innovation in the vaccine industry, future trends, emerging technologies, market research, start-ups, and major players in the animal vaccine industry. An animal vaccine report is prepared that will discuss innovation in Animal Vaccines.
---
Significance of Vaccination
Vaccination is a reliable safe, and effective way of protection against diseases prior to coming into contact. The vaccine uses the body's natural defense mechanism to develop resistance against specific infections. And helps in making the immune system stronger.
Vaccines initiate antibody production, similar to the process when it's exposed to the disease. Vaccines contain only killed or weakened forms of germs like viruses or bacteria, therefore they do not cause the disease.
When you get a vaccine, the following immune system responses are seen :
Recognizes the invading germ, such as the virus or bacteria.
Antibody Production. Antibodies are proteins produced naturally by the immune system to fight disease.
Remembers the disease and fighting mechanism. On next encounter the immune system quickly destroy as defense mechanism.
Our immune systems are designed to remember. Once exposed to one or more doses of a vaccine, we typically remain protected against a disease for years, decades, or even a lifetime. This is what makes vaccines so effective. Rather than treating a disease after it occurs, vaccines prevent us in the first instance from getting sick.
Benefits of Vaccines
The vaccine offers several benefits, to name a few, vaccines are effective, convenient, and easy to administer. It also provides better resistance. Additionally, it prevents the transmission of diseases. The vaccines also prevent protein production loss, in response, it lessens the use of medication.
A technology landscape on the animal vaccine was done and a comprehensive report on the animal vaccine is generated.
Insights About Animal Vaccines
Animal vaccines are also referred to as veterinary vaccines or sometimes, animal medicines. It is observed that animal suffering can be minimized by using animal vaccines. General examples are :
Canine Core Vaccines
Canine Parvovirus and
Feline Core Vaccines.
Types of Vaccines
Vaccines are prepared by using several different kinds of processes. At times they may contain live viruses that are weakened or altered. Sometimes valtrex has inactivated or killed organisms or viruses; inactivated toxins or merely segments of the pathogen.
Attenuated Live Vaccines
Conjugate Vaccines
Inactivated Vaccines
Subunit Vaccines
Toxoid Vaccines
DNA Vaccines
Recombinant Vaccines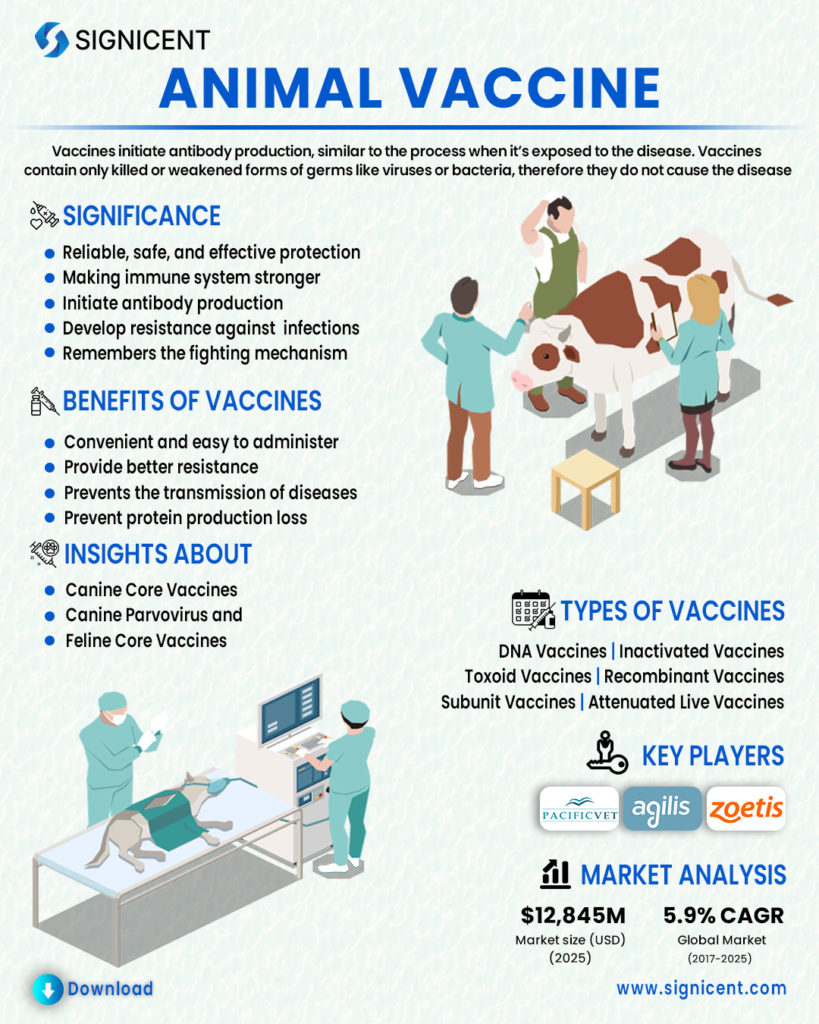 Report on Global Animal Vaccine Market Size
The global animal vaccines market size was $8,059 million in 2017 and is estimated to reach $12,845 million by 2025. Expect to register a CAGR of 5.9% in 2025. The growth is based on the high prevalence of infectious diseases, increasing efforts to build strong vaccine R&D, inclining government support for vaccine development, and the increasing focus on immunization.
Report on Inventions in Animal Vaccines
Startvac mastitis vaccine helps in reducing the mastitis problem in cows and heifers in dairy herds. It is caused by Staphylococcus aureus, coliforms, and coagulase-negative staphylococci.
ALPHA JECT™ 2000 is a divalent oil-based vaccine that contains a non-mineral adjuvant. The inactivated bacterial species and Photobacterium damsela subsp. piscicida causes it.
---
Each year Signicent provides consultancy to hundreds of organizations to help transform their innovations to value.
---
Key Players in Animal Vaccines
In this section of the animal vaccine report, the key companies will be discussed. Signicent has studied the growth strategies of the key players. The following companies have a great hold in the global vaccine market.
Zoetis, NZ generated revenue of US$5,307 million. They offer products for companion animals and food-producing animals. Modified live, killed, and live vaccines.
Agilis, NZ generated revenue of US$1,108 million. They offer products for veterinary clinics and dairy cattle. They also deal with Inactivated vaccines.
Pacificvet, NZ generated US$5 million. They deal with products for the poultry industry. Pacificvet deals with Live freeze-dried, inactivated, live attenuated and live vaccines.
Regulatory Authorities & Guidelines
The EU Medicines Agencies Network Strategy to 2020 identifies increasing the availability of veterinary medicines as a priority area for action by the European medicines regulatory network.
APHIS (US) regulates veterinary biologics (vaccines, bacterins, antisera, diagnostic kits, and other products of biological origin) to ensure that the veterinary biologics available for the diagnosis, prevention, and treatment of animal diseases are pure, safe, potent, and effective.
ACVM Registration Standard and Guidelines, New Zealand- Studies must be conducted with final product vaccine from a batch manufactured according to the method specified in the manufacturing information supplied to the ACVM Group.
APVMA gives the guideline which describes the minimum data that is provided in support of an application to register a new veterinary vaccine and the format in which the information should be presented. Evidence has to be shown to justify that the product is manufactured according to the Australian Code of Good Manufacturing Practice for Veterinary Products.
The import, distribution and selling of veterinary vaccines in South Africa has to be done according to the terms laid by Fertilizers, Farms Feeds, Agricultural Remedies and Stock Remedies Act, 1947 (Act 36 of 1947).
The animal feed and vaccine has a promising future as well.
Animal Vaccine Report: Market Trends
The global vaccine market is expected to see exemplary growth as increasing efforts towards the development of new vaccines are highly encouraging. UNICEF has drastically motivated vaccine adoption across the globe. over the years.
Attenuated vaccines provide maximum immunity as compared to other vaccines to the animals and are expected to boost by 2025, which will positively contribute toward the growth of the animal vaccines market.
First COVID-19 vaccine test on animals successful: This animal vaccine report mentions a coronavirus vaccine that has proven to be effective in monkeys. The vaccine, named PiCoVacc is made by Beijing-based Sinovac Biotech. Scientists make a step forward in the development of COVID-19 animal vaccines: A vaccine has been developed which could be used to tackle COVID-19 in animals by the "The Vaccine Group", a spinout company from the University of Plymouth.
Greenhouse Gases: Scientists in New Zealand are working on methane vaccines that stimulate the animal to produce antibodies that suppress key methane generating microbes in the rumen of livestock, hence increasing the sustainable livestock.
---
Recent Reports