The objective of the report is to conduct a technological intelligence study in the domain of "Medical Devices and Computer Vision". The Computer Vision in Healthcare Report will cover the various aspects of open innovation, competitive intelligence, market, and cost analysis.
---
Healthcare Industry is hit hard by the pandemic, and a lot of companies were compelled to develop and digitalize in order to thrive. Computer vision is a brilliant application of artificial intelligence that is able to understand and interpret images. With advancements in neural network technology, it is now possible to identify and react to images with near-perfect precision. But there have been some challenges that the healthcare industry faces during diagnosis, cell therapies, or in any kind of medical device as discussed below.
Challenges
Pre-operative diagnosis and planning are restricted mainly to minimally invasive surgeries, endoscopic procedures, arthroscopy, and robotic methods. To assist the robotic surgery and CAT scan data in making surgical decisions and to affect the actual extent of bone resection. However, the readily available medical imaging data during surgery is not being fully exploited.
Early systems relied on morphometric differences to identify whether the cell population was normal or abnormal. However, because of morphometric overlap between cell populations and artifacts from traditional cytology specimen processing, like air drying and obscuring blood becomes challenging.
The instant need for blood supply during an accident emergency. As the blood vessels are poorly crushed and are no more useful for the blood supply chain.
A rise in different cell therapies in the preclinical and clinical phases has led to a demand for trusted and non-invasive assays to confirm transplant function in clinical biomanufacturing.
By implementing computer vision in medical devices, the Healthcare industry has come out with optimized health outcomes and boosted operational efficiency. The cutting-edge technologies based on artificial intelligence and nanochip technology overcoming the challenges faced during medical operations are discussed further.
Emerging Innovations
Surgical Probe for augmenting Anatomical Recognition
A medical device probe for better anatomical recognition using artificial intelligence (AI). In order to train and improve anatomical recognition models, the medical device probe is applied to any body cavity or space for which an image can be obtained. It is then delivered to the target tissue shown on the image. The system is designed to take advantage of the useful insights that are dynamically gathered during surgery and offers the surgeon immediate anatomical recognition, feedback, guidance, measurement, and diagnosis of tissue properties and disease states throughout the body.
Artificial Intelligence in Cell-Based Image Analysis
Single Cell Biomarker Analysis
The cell-based analysis identifies the biomarker expression throughout the entire cell as opposed to just in a small portion of the cell, which is more accurate for quantitative evaluation of the expression of a specific biomarker.
Multiplex Assay coupled with Single Cell Analysis
Multiplex immunohistochemistry/immunofluorescence (M-IHC/IF) offers the in situ observation of various markers and hence cell types on the same slide or specimen. The ability simultaneously examines multiple cell types in situ adds a degree of sophistication that makes it possible to investigate the tumor microenvironment.
Deep Neural Networks aiding Quantitative Bright-field Absorbance Microscopy
Regenerative medicine has aided in producing cell-based therapies to diagnose retinal degeneration, neurodegeneration, cardiopathies, and other diseases by replacing damaged or degenerative native tissue with a new functional implant developed in vitro.
The potential of cell therapies has been expanded by induced pluripotent stem cells (iPSCs), allowing for the transplantation of autologous tissues. Quantitative bright-field absorbance microscopy (QBAM) is an automated technique for reproducible image capturing through several microscopes, using neural networks to non-invasively predict tissue function.
---
Each year Signicent provides consultancy to hundreds of organizations to help transform their innovations to value.
---
Biological tissue reprogrammed by Silicon nanochip in a living body
The innovation outlines a silicon device that can convert skin tissue into blood vessels. Moreover, nerve cells have evolved from prototype to standardized fabrication, allowing for uniform and reproducible production.
Tissue nanotransfection is a great innovation that uses a non-invasive nanochip device to transfer specific genes to target tissues in a matter of nanoseconds, reprogramming their function. In labs, this technology has successfully transformed skin tissue into blood vessels to repair a severely injured limb with help . Currently, the technology is being developed for several applications, such as treating stroke-related brain damage and preventing diabetic nerve damage.
Market Analysis
The market growth rate is a crucial factor in any kind of market analysis. According to Signicent research, the global market of medical devices with computer vision is expected to reach the US $4050.06 Million by 2026 from the US $691.20 Million in 2021 at a CAGR of 42.4%.
Paragon acquired Additive Orthopaedics
This section of Computer Vision in Healthcare Report reveals an excellent acquisition in the healthcare market. Paragon 28 has acquired the product lines of Additive Orthopaedics which aims to provide high-tech orthopedic devices with precise geometries at reasonable costs.
Paragon 28 Inc., is a market-leading orthopedic company of medical devices with a special focus on the foot and ankle. The Additive Orthopaedic company's implants focus on early-stage diagnosis and orthopedic treatments based on technology.
Leading Players
This section of the Computer Vision in Healthcare Vision Report features some of the leading players that are working significantly on digital visualization in the health and medical industry.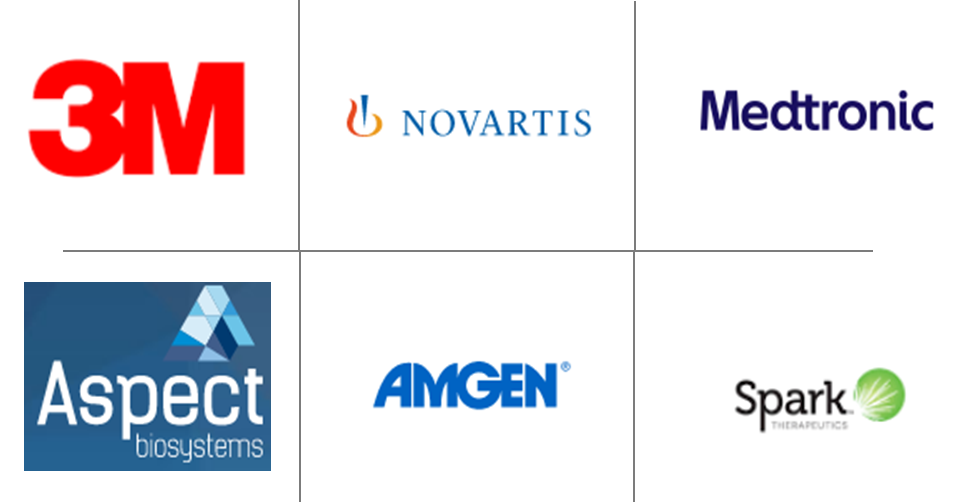 ---
Recent Report