The cyber security in printers report will take you through the challenges, advancements, innovative products, companies & startups, in printing industry. The technology research report talks about innovative methods such as acquiring printing protocol data, cloud-based connections, cyber security patrol, scan control systems, OTP based method etc.
---
Multi-function printers (MFPs) have far greater capabilities: printing, scanning, and faxing. Modern devices are connected to your network and can create automated workflows that increase productivity in the office.
Hackers know that companies still don't have the right security methods in place so they are always looking for different ways to infiltrate your network and access data. If you're not treating your copiers, MFPs, and other devices on your network with the same importance as your computers, then you risk giving them an easy way in.
Fortunately, the understanding of copiers, printers, and multi-function devices as security vulnerabilities and the subsequent action is taken to protect them has grown in recent years.
Managing Printers Remotely
In many networks, it requires setting up a central server or using a plurality of locally connected computers to manage the printers. Managing such printers remotely may require allowing external access by exposing the printers through a network firewall or by setting up a virtual private network (VPN) to access the network.
To acquire detailed and accurate printer device information using aspects, such as a printer web application, a printing language, or a network protocol is one of the key issues to be solved.
Acquiring Printing Protocol Data for Printers Security: Report
A printer is provided with communications circuitry and processing circuitry configured to facilitate communication and transmit a connection request to the network, receive requested connection parameters and transmit printer connection parameters to the network. Then establish a first secure connection.
This problem is solved by acquiring printing protocol data of all printing devices of a target network segment and then scanning security vulnerabilities of the printing protocol data according to the scanning control instruction and recording feedback information into a system log.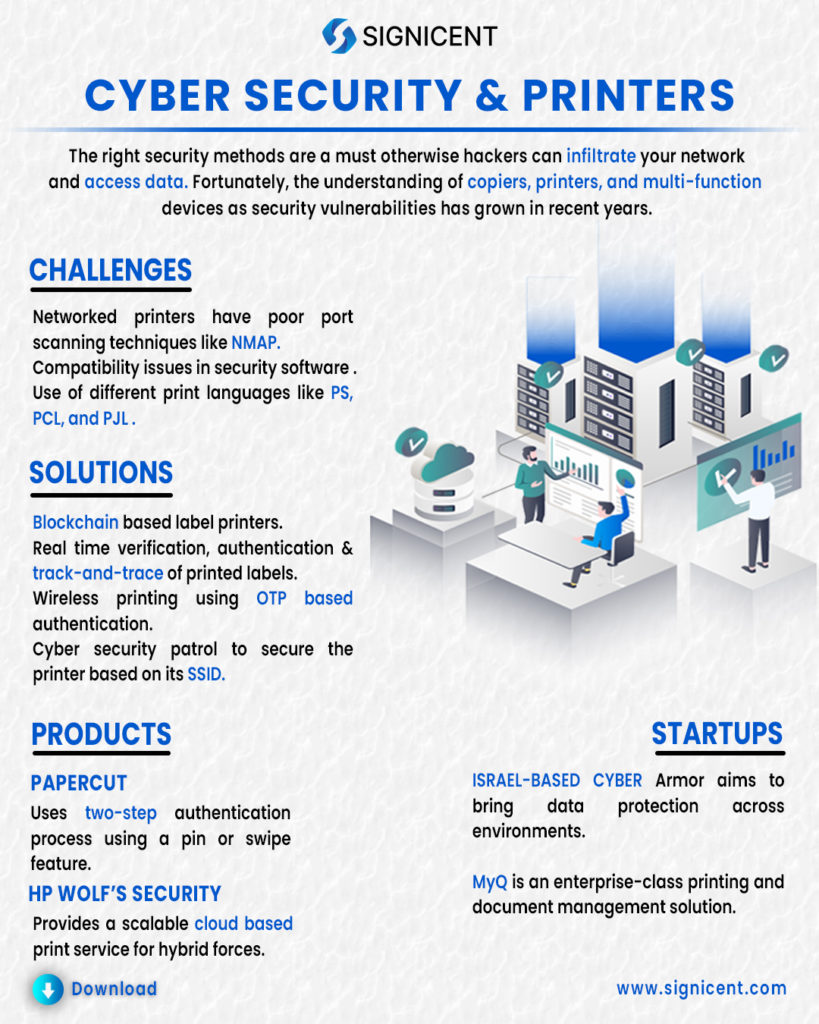 Cloud Connected Printers for better Security: Report
The technology describes the implementation of cloud-based connections between printers and servers and an adaptive printer-based application framework.
Network Printing Security
This technology describes a kind of network printer security sweep method and system. This includes obtaining the print protocol data of all printing devices and Security scan is carried out to print protocol data according to scan control instruction, and then recording the feedback information into the system log
Secured Wireless Printing
In one printing method the user uploads the documents which he wishes to print in Future. The user then requests an OTP to ensure security. Now the user sends the print request on the live request page. The live request treats the requests using a scheduling algorithm. The session time of ten minutes is maintained after the arrival of the turn of the user. After successful printing, the required amount will be deducted from the wallet of the user.
Cyber Security for Wifi-Enabled Printers
A solution for printer's Wi-Fi connectivity and functionalities to harm user privacy by unobtrusively stealing print jobs, by cyber Security Patrol, sends a print job to the printer with detailed instructions on how to secure the specific printer model as identified based on its Service Set Identifier (SSID)
PaperCut
Though PaperCut has hundreds of capabilities, one great document security feature is its two-step authentication process, with two-step authentication, employees must approve each job twice before the document is pulled down from the cloud-based queue and printed out.
The user must okay it once at the computer and once at the device itself using a PIN or card swipe feature. This eliminates the risk of sensitive or confidential documents being left alone in the paper tray and ending up in the wrong hands. This also helps to reduce print waste and decrease your print costs.
Printer Security by HP (Hewlett-Packard)
HP also provides solutions including print security software and professional services. Many of them even come equipped with corporate-level security features, which come standard on all HP Enterprise series devices.
The top feature of HP's printer security features is called HP Security Manager. It's so effective that our team often calls it the "watchdog" of print network security.
HP Security Manager works by allowing your company to set custom security parameters and policies based upon your unique needs. Once in place, the program will send the assigned administrator an alert if any suspicious activities arise.
Often, these activities involve unauthorized users or devices, potential malware invading the network, or other unexpected occurrences.
---
Each year Signicent provides consultancy to hundreds of organizations to help transform their innovations to value.
---
Cyber Security Startups
Israel-based Cyber Armor aims to bring together workload and data protection across environments by allowing DevOps teams to create zero-trust workloads. The company claims its service-to-service, identity-based control plane it will be showing at RSA can identify workloads based on application code analysis and create cryptographic signatures that only allow authorized workloads to run, access data, and use network resources.
MyQ is an enterprise-class printing and document management solution. It is an easy-to-use print management solution with flexible personalization that focuses on intuitive use, end-to-end data security, and efficient scanning & document workflows. With our software, you can control every printer in your office and create detailed printing reports.
Mergers and Acquisitions
Digital.ai serves customers such as ABN AMRO Bank, KeyBank, KLM/Air France, Siemens, and Toyota. They are already realizing significant improvements in their software delivery value. Arxan Technologies was acquired on Apr 16, 2020, by Digital.ai
---
Recent Report