The objective of Signicent is to study on technological intelligence of tyres, more specifically on "Automotive Tyres" where we will cover aspects of Technological innovations & investigational research in the field of Recent advancements from startups, universities, R&D groups and Detailed market analysis in the field of automotive.
---
Challenge with conventional tyre over the Self – Healing tyre.
High manufacturing cost.
Hard to repair and less stability.
Sealant refilling issue
The technical parameters on which the tyres can be categorized are:
1. Chemicals used in tyres
2. Tyres based on ply
3. Tyre composition
4. Types of tyres
5. Based on drive/weather condition
6. Application areas
New Age Innovations
Signicent's Market Intelligence reveals a growing trend within the tire industry, where offline self-healing techniques, smart radial technology for automotive tires, and silicon-based material technology are being increasingly embraced.
Solutions
Our team played a crucial role in identifying and analyzing cutting-edge technologies, trends, and advancements, innovations to their advantage in automotive tyres, whether it be in optimizing processes, developing new products, or gaining a competitive edge in the market.
1.Self-Healing tyre
In self-healing the material settles into a crack or cut in case of a puncture, hence self-heals itself. The company states that the tyre with this technology can self-repair multiple punctures in the tread area due to nails or other sharp objects up to 6.0 mm diameter
In 2021 a Chinese firm Ghing-Hsin Dien proposed a unique self-healing tyre that prevents the leakage of tire sealant. The proposed self-healing tyre is designed to stop the leak at the tyre casing automatically and to prevent itself from becoming a flat tire.
Advantages
The technique of repairing tires offline involves using a minimal quantity of sealant, which can be reused or replenished. This approach reduces the overall tire weight, leading to improved steering ease, enhanced stability, and increased operational efficiency.
2. Radial Smart Technology Tyre
The predominant type of tire found on contemporary vehicles is the radial tire. These tires feature a vertical sidewall and are constructed from a single layer of steel cords that run perpendicular to the tire's center line. Notably, they deliver a more comfortable and smoother driving experience when compared to bias ply tires.
In the year 2022, JK Tyres, a tire manufacturer, introduced an innovative smart radial tire technology tailored specifically for electric vehicles.
This breakthrough technology incorporates the Treel tire-pressure monitoring system (TMPS) sensor. This sensor plays a crucial role in overseeing tire pressures and transmitting this data to the user for enhanced monitoring and control.
Advantages:
It ensures ultra-low rolling speed break, better moisture, dry traction, higher durability and less energy consumption.
Better noise reduction along with better performance of vehicle.
With sensor, better monitoring of tire pressure management occurs.
Sensor monitoring system enhances the tire end life.
3. Sealant Technology
Silicone-based tire sealant technology has emerged as a revolutionary solution, garnering significant attention in the automotive industry due to its remarkable effectiveness.
This cutting-edge innovation not only boasts exceptional performance but also serves a crucial role in promoting sustainable tire practices by enabling efficient recycling at the end of its usable life.
Bridgestone, in collaboration with the esteemed DOW company, has taken a step forward with the introduction of "B-SEALS" – a sealant that prioritizes environmental friendliness and recyclability, further exemplifying their commitment to responsible innovation.
Advantages
As vehicles increasingly forego traditional spare tires, the need for advanced mobility options like self-sealing and run-flat tire technologies has surged.
B-SEALS sealant technology emerges as a solution, appealing to original equipment manufacturers seeking weight reduction and enhanced efficiency, particularly in the context of the growing electric vehicle market.
Notably, B-SEALS stands out as a pioneer, utilizing recyclable materials in its first-of-its-kind product. With a visionary aim, B-SEALS is committed to achieving carbon neutrality by 2050.
---
Each year Signicent provides consultancy to hundreds of organizations to help transform their innovations to value.
---
TYRATA: INNOVATION STARTUP
Founded in 2018, based in England, Tyrata is a sensor development and data management company offering wireless sensors and systems that monitor and report on vehicular tire tread wear in real time. The company's Antiliteral technology monitors, tracks and predicts tire tread wear over the life of any tire.
Merger and Acquisition
In year 2022 Michelin continued to take steps to further strengthen its expertise in the field of mobility. With the acquisition of RoadBotics, a US company specializing in road infrastructure image analysis, to accelerate the development of the MICHELIN "Safer Roads" solution in North America, and eventually in Europe with a more accurate understanding of driving behaviors, RoadBotics's imaging technology.
MARKET RESEARCH
Signicent's Market Research indicates that the worldwide automotive tires market reached a value of $119.33 billion in 2022.
Projections suggest that the market is poised to experience significant growth, with an anticipated increase of $145.18 billion by the year 2027. This expansion is projected to occur at a (CAGR) of 4.0%.
Global Players
For several years, the tyre industry has been shaped by prominent players, namely Bridgestone, Hankook, Michelin, and Continental, as highlighted in Signicent's Market Dynamics report. These companies have maintained a strong presence and influence in the industry.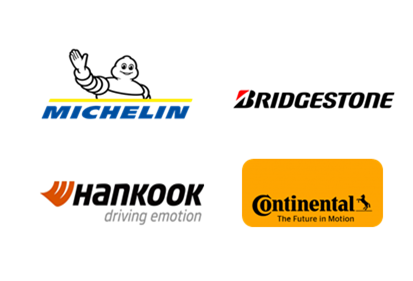 ---
Recent Report