A haircare report will take you through the innovative products, emerging technologies, market research & trends, key players in the area of hair care products including natural shampoo, conditioner, masks, colors and biodegradable & recyclable packaging.
---
Hair Care
Hair treatments refer to managing common hair-related problems. Hair Care report will help you in making informed business decisions. According to Signicent's analysis, the hair care market share is drastically increasing. The hair treatments selection depends on the hair type and problem that you are suffering from. A haircare report will help you to find innovations in hair care products.
Innovative Technologies In Hair Care Market
A great number of innovations are happening in the category of less/no skin irritation. A great innovation by Universidade NOVA de Lisboa (Portugal) has been done in the sugar surfactant-based category. The research unveils that the shampoo formulation contains sugar-based non-ionic surfactants, coco – glucoside.
In the category of saponin-based Ahvaz Jundishapur University of Medical Sciences, Ahvaz (IR Iran) has done the research. It unveils the production of herbal shampoos from root saponins in Hawthorn in which the extract of Acanthophyllum squarrose saponins was used as a surfactant and foam stabilizer.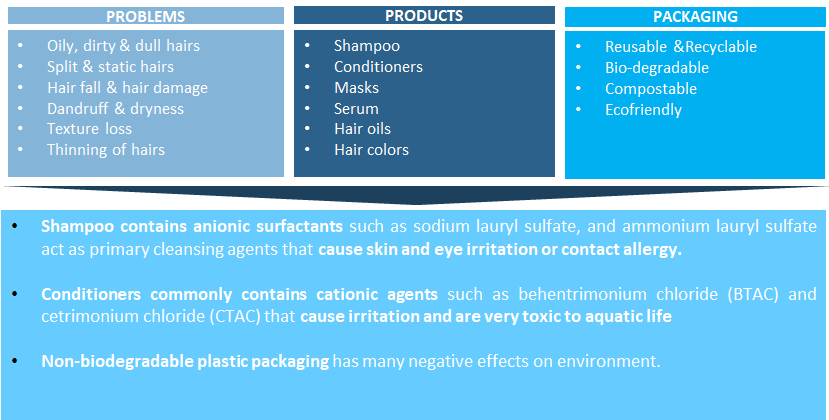 Transforming Solutions In Shampoo Technologies
We analyzed a patent by LG Household & Health Care LTD (KR). Their research established a shampoo composition comprising a sulfosuccinate-based surfactant, polyquaternium-7, an amphoteric surfactant, a secondary anionic surfactant, a nonionic surfactant, and a moisturizing agent.
Also, ORIBE (US) has formulated Oribe shampoo without lauryl or laureth sulfates, parabens or sodium chloride containing Aqua/Water/Eau, Sodium Cocoyl Isethionate, Laureth-5 Carboxylic Acid, Silicone Quaternium-3, Amodimethicone, Glycereth-26, Coconut Acid, Cocamide MIPA etc.
Some outstanding work by Rahua (US) has made the market competitive. Rahua classic shampoo holds the composition of oil from ungurahua nut, palo santo wood essence, quinoa, coconut betaines, organic aloe, green tea and raspberry leaves. Moreover, it is safe for color-treated hair.
Hair Care Market
Hair Care Market Trends have shown tremendous expansion as more and more innovations are pacing up. The hair oil market has accelerated drastically. Moroccan oil tends to protect hair-fall due to straightening therefore due to the high demand for straight hairs in the fashion industry, its market has grown manifolds.
Haircare products market forecast report states that North -America will be the largest market. However, the fastest-growing market is Asia -Pacific. It is anticipated that the hair care market size will grow at a CAGR of 4%.
Hair Care Products
Hair Care Products Market includes products such as shampoo, conditioners, serums, hair oil, hair wax, hair- color, hair mousse, heat protectant spray, sea salt spray, hair spray, and curl-enhancing spray. Haircare products are becoming popular. To know about emerging trends in hair care market size, get a haircare report.
---
Each year Signicent provides consultancy to hundreds of organizations to help transform their innovations to value.
---
Key Players in The Hair Care Market
KGaA, Henkel AG & Co., Procter & Gamble, L'Oréal S.A., and Unilever are big players of the hair care market. These companies are intending to look at innovative technology. The top brands are jumping on product innovation as they can meet their business objectives by incorporating innovation in processing and packaging. Moreover, companies are stressing on natural and herbal products to minimize side effects.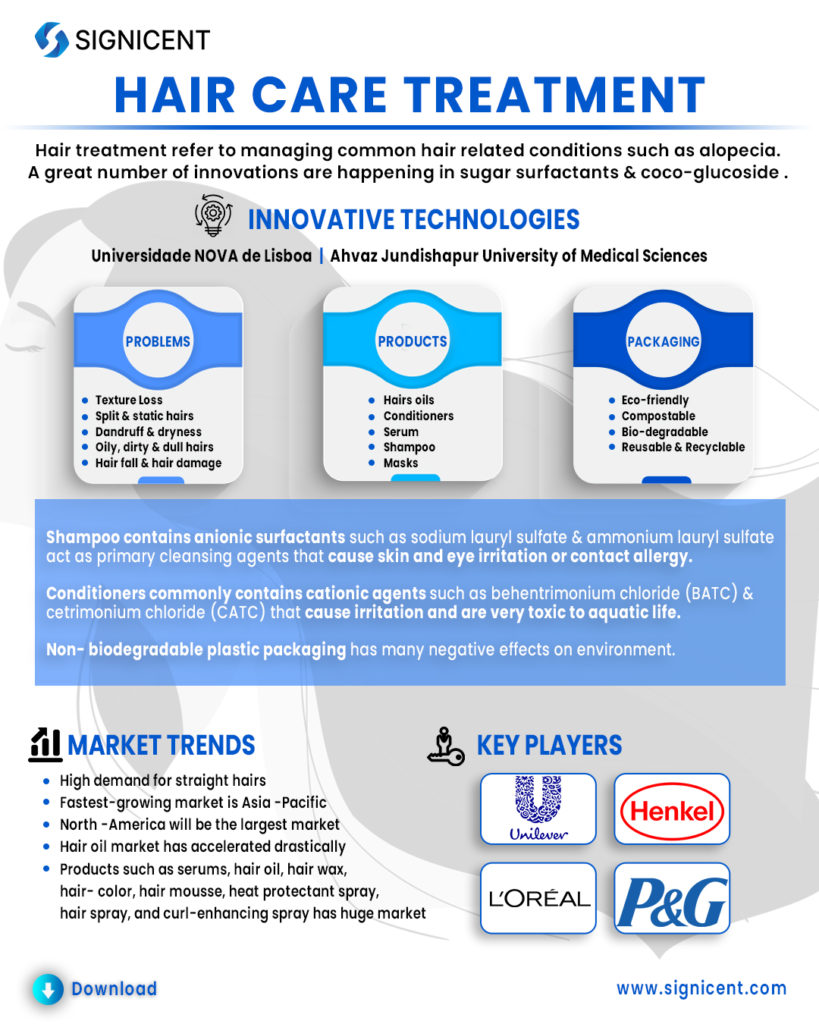 Herbal Shampoos Are The Trend-Setters
Growth has risen as Herbal shampoos have gained popularity. Formulation and evaluation of Pomegranate-based herbal shampoo have changed market growth dynamics. The research discloses the formulation of a herbal shampoo prepared with the extracts of Pomegranate (active ingredient), Curry Leaves, Ginger, Aloe vera, and Reetha in different proportions.
Biodegradable And Environment Friendly Conditioner
Givaudan Active Beauty, (Switzerland) has developed Naturein™. Wheat Peptides, a new natural detangling active for hair care products obtained from wheat. it is an alternative to cationic guar and is developed to be used as a conditioner to smooth and detangle the hair.
Evonik Goldschmidt Corporation Hopewell, (United States has developed vegetable-based esterquat for hair conditioning. As an alternative for traditional alkyl ammonium salts such as CTAC, BTAC and DSDC. New esterquat, distearoylethyl dimonium chloride (DSEDC) has improved biodegradability and eco-toxicity.
Emerging Hair Conditioner
We analyzed a patent by HUANG YUMEI, (China) their research reveals a natural hair conditioner. It comprises ginger juice, collagen, aloe gel, polygonum multiflorum extract, black sesame extract, natural glycerol, lemon liquid, camellia extract, shea butter extract and mint extract. Hair conditioner improves hair quality, moisture retention and promotes hair growth.
Natural Hair Conditioner
Arata (India) has developed an antioxidant-rich hair conditioner. It replenishes the natural softness and shine of your hair. Created with 100% nature-derived ingredients, this nourishing blend strengthens and hydrates while gently detangling and restoring a natural shine.
Recent Reports