This report will shed light on challenges, solutions, recent technology advancements, patents & research in the area of Healthy Electrolyte & Antioxidant Beverages.
---
The minerals that conduct an electrical charge when mixed with water are termed electrolytes. These help in regulating a variety of the body's essential functions. Electrolytes aids in nerve signaling, pH balance, muscle contraction, and hydration.

Electrolyte beverages contain a converted ionized substance, which has been dissolved in water. Its main aim is to help people in replacing normal water with electrolyte-containing water. It enhances the nutritional value so as to meet the nutrient deficiency that has occurred due to dehydration during rigorous activities or in general.

Antioxidant beverages are drinks that help in neutralizing harmful compounds known as free radicals. These beverages prevent oxidative damage to the cells, reduce inflammation and give protection against chronic diseases.
Challenges Associated with Conventional Beverages
Conventional beverages have some short-comings which needs to be catered. Some of the challenges and short-comings are as follows:
Need for high volume consumption
Delayed absorption
Lesser Energy
Environmental Impact
Low sodium bioavailability
Poor taste
Electrolyte Beverages: Innovative Products
These drinks encompass potassium, sodium, magnesium, and calcium. It helps in combating dehydration, reduction in muscle cramping, and delays fatigue. Let us know about innovative electrolyte beverage products.

Electrolit Electrolyte Beverage (Mexico): It is a hydration beverage that replenishes the body. It is advisable to take electrolyte beverages after instant heatstroke, physical activity hangovers, and sickness. The Electrolit comprises four electrolytes, namely, Magnesium, Sodium, Potassium, Calcium. It also contains glucose as a component.

Synergy – Lime Lemon Coconut Water (Canada): It provides natural restoration of electrolytes and the ultimate hydration for muscles. It contains Potassium and Sodium. No artificial color, flavors, or added preservatives are present.

Electrolyte Infusions (Canada): It uses a Proprietary Electrolyte Blend created with organic coconut water, organic cane sugar, and sea salt. It is very good for replenishment purposes.

O2 Oxygenated Sports Recovery (Ohio): O2 Natural Recovery is an oxygenated beverage with 7x more oxygen than tap water. It has 2.5x more electrolytes than other sports drinks and no artificial flavors, sweeteners or preservatives are present.
---
Each year Signicent provides consultancy to hundreds of organizations to help transform their innovations to value.
---
Antioxidant Beverages
The Electrolyte And Antioxidant Beverages is growing at a great pace. Like any industry, this industry has its own challenges. Contact us to find solutions, innovations, products, and case studies relating to beverage industry.
Antioxidant Lemonades (US): Lemonades are bold on citrus, low in sugar, and rich in antioxidants content. Distinctly tart and tangy, non- GMO and purely natural.

Blackberry Raspberry (US): Derived from the single-strength juice of Aronia Berries, rich in antioxidants. Help combat free radicals that are born from environmental stresses and help in boosting the immune system.

POM Wonderfull (US): The Wonderful pomegranates are whole-pressed to capture polyphenol antioxidants from the rind, pith, and arils. POM has potassium—an electrolyte that helps maintain muscle function. Every 8oz serving packs as much as the average banana. No added sugar; not a low-calorie food, Non-GMO, Gluten-free.
Case Study on Antioxidant Beverages
The University of the State of Hidalgo [Mexico]: This research unveils the preparation of a milk whey-based beverage. It has different concentrations of hydrolyzed collagen. The evaluation of the physicochemical properties, viscosity, antioxidant activity, and microbiological parameters are also studied. Moreover, an observation is made that hydrolyzed collagen increases the bioavailability, nutritional value, and antioxidant activity of the beverage.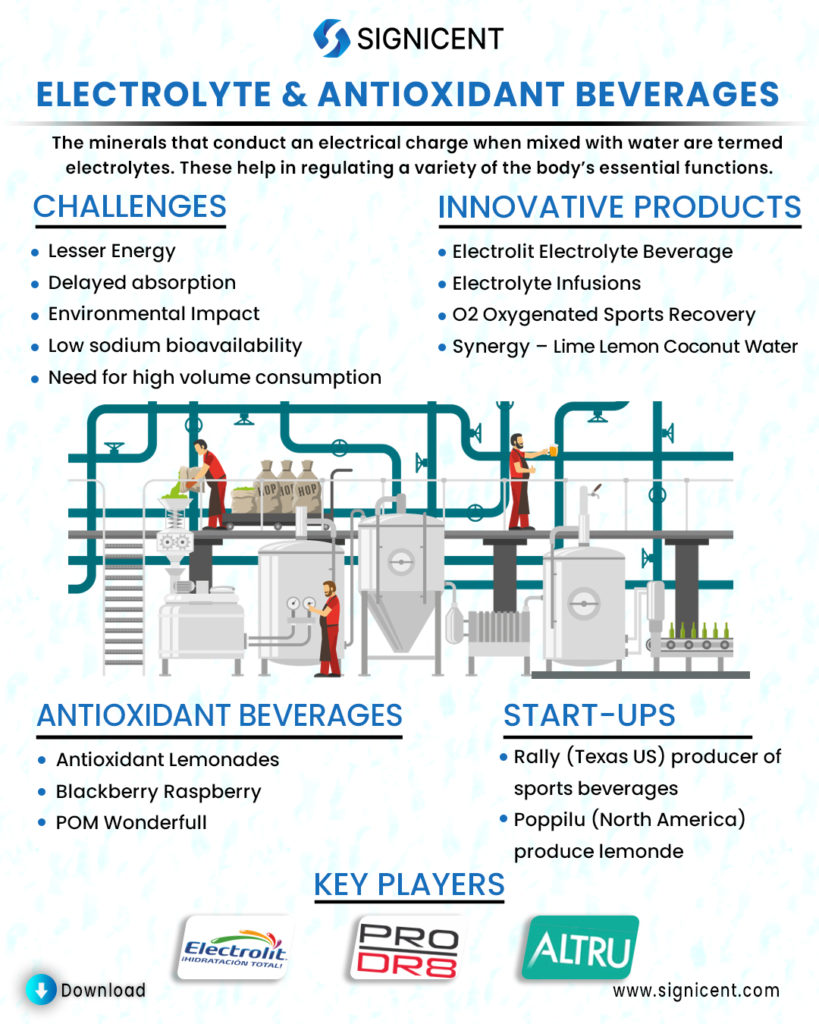 Electrolyte & Antioxidant: Innovative Products
Saltstick Caps-SALTSTICK (US): The only electrolyte capsule that was formulated to closely resemble the electrolyte profile lost during activity: sodium, potassium, calcium, and magnesium and also has vegetable-based capsule composition with bio-available active ingredients.

Whole Food Electrolyte Powder (US): The first whole food electrolyte supplement is derived from natural botanical and whole food sources which are formulated for maximum rapid bioavailability and superior absorption of Vitamins, Trace Minerals, Micronutrients, Phytonutrients, and Amino Acid Synergizers.
Key Companies

Start-ups
RALLY (Texas, US), founded in 2018, produces the sports beverage which is vitamins and mineral-rich with the least sugar and calorie content. This drink has twice the amount of potassium as that of a banana.

POPPILU (North America), founded in 2017 is a beverage startup, has been working on the preparation of Lemonade which is bold in citrus, low in sugar and high in antioxidants.
Collaborations & Acquisitions
Dr. Pepper Snapple Group, a leading producer of flavored beverages in North America and the Caribbean. completes the acquisition of Bai Brands in 2017 which is an antioxidant infusion beverage company producing enhanced water, carbonated flavored water, coconut water, and premium ready-to-drink teas.

Unilever is a multinational consumer goods company based in London and Rotterdam. In 2020, it acquired Liquid I.V., health-science nutrition, and wellness company based in California. Liquid I.V. shares Unilever's purpose to improve people's health and wellbeing, as well as our ambition to create sustainable products that have a positive social impact.
Electrolyte & Antioxidant Beverages: Market Research
Global Electrolyte Beverages Market is anticipated to grow from USD 1.42 Billion in 2020 to USD 1.82 Billion by 2025, at a CAGR of 3.2%.

A CAGR growth of 9% is anticipated for Global Antioxidant Beverages Market. It is expected to grow from USD 104 Billion in 2017 to USD 300 Billion by 2022.
Recent Report