This report will shed light on challenges, solutions, recent technology advancements, patents & academic research on High Sensitive Immunoassay. Get free primer.
---
High sensitive immunoassay has flipped conventional antibody-based assay over the head. It is more sensitive and quicker. It helps in conducting experiments faster with high throughout. If you have extremely low sample, high sensitive immunoassay can still work!

According to FDA, biomarker is measured as an indicator of normal biological processes, pathogenic processes, or responses to an exposure or therapeutic interventions. They trigger our action process and play a very crucial role in drug development. Certain biomarkers are typically present in biological fluids e.g., serum, plasma, cerebrospinal fluid in not quantifiable limit and thereby affects quantitative analyses of biomarker results.

Therefore, it is challenging to measure them by using conventional ELISAs or even more sensitive ligand binding assays. High sensitive immunoassays may help to detect low level biomarkers in biological samples.
Challenges Associated with Conventional Technology
The tiring sample preparation required for instrumental analysis creates problem in its applications in situations where a large number of analyses are required. But Immunoassays have capacity for high throughput. Immunoassay can analyze numerous samples simultaneously. This helps in significant reduction in average analytical time.
Advantages of Immunoassay
Immunoassays (IAs) are very crucial in various bioanalytical settings, for instance, in clinical diagnostics, biopharmaceutical analysis, environmental monitoring, security, and food testing.

Immunoassays are known for providing a fast, simple and a cost-effective method of detection. They offer high sensitivity and specificity as compared to conventional methods. Moreover, on-site analysis is possible with immunoassays.
Technology scouting: Detection of protein biomarkers
Quanterix Corp: They have developed a technology termed Simoa. In this plurality of paramagnetic beads covalently attach to anti-tau antibodies. Tau protein molecule concentration in the plurality of samples versus time, wherein the area is determined for the total period of time and/or a second peak in the tau protein molecule concentration

Singulex Inc.: Determining the presence or amount of cardiac troponin. Counting individual binding events representing binding of a binding partner to single molecules. Determining the detectable moiety in an interrogation space defined by the focus of a beam from an electromagnetic radiation source.
---
Each year Signicent provides consultancy to hundreds of organizations to help transform their innovations to value.
---
Companies Aggressively Working in High Sensitive Immunoassay
Simoa® Technology by Quanterix and SMCxPRO™ by Merck are high sensitive immunoassays which are used for the quantification of low level biomarker in the sample.
Both the technologies are highly sensitive however only Simoa® Technology offers Multiplexing. Another similarity is that both the technologies are Plate and Bead based.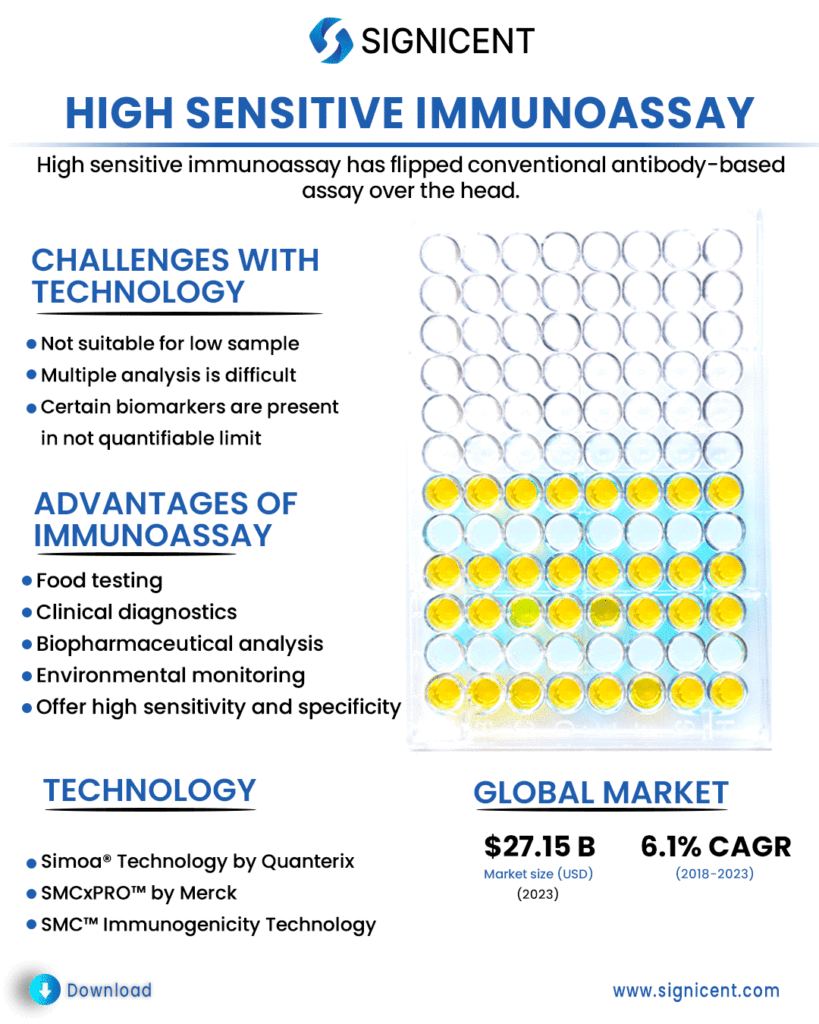 Use of High Sensitive Immunoassay in Covid-19 Treatment
Merck & Co would supply about 60,000-100,000 doses of its experimental COVID-19 treatment to the U.S. government for up to about $356 million.
Development of MK-7110, including completing activities required to request emergency use authorization from the U.S. Food and Drug Administration, and for delivery of up to 100,000 doses by June 30, 2021

Quanterix Corporation (NASDAQ: QTRX), announced that researchers have developed a sensitive and specific serology test using the company's ultra-sensitive Simoa platform for the detection and measurement of anti-SARS-CoV-2 IgG, IgM, and IgA antibodies against four immunogenic viral proteins. Results from a study demonstrate that Simoa assays can detect seroconversion as soon as one day after symptom onset using less than a microliter of plasma.
Innovative High Sensitive Immunoassay Technology
Simoa® Technology is an ultra-sensitive detection solution which gives the researchers the ability to closely examine critical biomarkers. Simoa® technology detects biomarkers at femtogram levels and measures the biomarkers at very low levels.

Simoa® Technology Procedure

Paramagnetic particles coupled with antibodies that can bind to specific targets are added to the sample. Then detection antibodies which are capable of generating fluorescent product are added. An immunocomplex is formed consisting of the bead, bound protein and detection antibody.

At low concentration, each bead will contain one bound protein or none. Sample is loaded into arrays in the disc consisting of 2000,000 microwells, large enough to hold one bead. Beads are added when the substrate is present, and then, wells are sealed with oil and imaged using digital measurements which are independent of intensity and simply rely on a signal/no signal readout.

The SMCxPRO™ system is the 2nd generation instrument supporting SMC™ technology assays. The SMC x PRO™ technology approach collects signal from analyte fluorochromes that are free-floating in suspension by using a rotating laser,CCD camera optics. The individual photons are counted by Avalanche Photodiode (APD).

SMC™ technology enables physicians and scientists to detect biomarkers of disease that were previously undetectable.

SMC™ Immunogenicity Technology Procedure

The first step is the collection of Sample. Then adding an analyte of interest in solution with ADA (anti-drug antibody) for 2 hrs. Followed by capturing a Complex onto blocked beads. To remove unbound antibodies, washing is done. Complex is then dissociated; beads are magnetically separated and eluate transferred to reading plate. Rotating laser scan sample and Alexa conjugated drug is excited and photons generated is counted by an APD (Avalanche photodiodes). Fluorescently labelled antibodies introduced to laser digital counter and Combining a traditional immunoassay workflow with patented SMC™ technology enables the detection of low-abundance biomarkers, such as proteins and nucleic acids, with unparalleled sensitivity and accuracy, capturing concentrations down to the femtogram/mL level.
Immunoassay Based Developing Market
The global bio analytical testing services market size was valued at USD 3.3 billion in 2020 and is expected to expand at a compound annual growth rate (CAGR) of 8.6% from 2021 to 2028.
The immunoassay market is projected to reach USD27.15 billion by 2023 from USD20.19 billion in 2018 at CAGR of 6.1%
Driving Factors
Immunoassays-Ligand / Protein Binding Detection Kits
Biomarker detection
Reagents & Kits
Pharmacodynamics
Analyzers, Software & Services
---
Recent Report