The report talks about technologies for efficient charging systems for electric vehicles, types of charging stations, and types of EV charging systems.
---
Electric Vehicles (EVs) are seen as the future of transportation and with the help of new technologies, they will be able to charge in a much more efficient way. They will be able to run on various sources aside from just gasoline, such as renewable energy or electricity, and can also use less energy than an internal combustion engine.
Recent Technologies for Efficient Charging System
This section of the EV charging system report demonstrates Signicent's analysis to determine emerging techniques. The recent technologies for efficient charging systems are developing day by day.
Smart Grid Technology
Renewable Energy Charging Technology
Vehicle to Grid ( V2G) Charging
Immersion Cooling for EV batteries
Smart grid technology and renewable energy charging technology are the most popular technologies to charge electric vehicles. This technology is used to monitor and control the electric power grid in order to improve efficiency, reduce outages, and increase reliability. It can be used by utilities as well as other electric system operators to reduce peak demand on the grid. Smart grids are also able to provide customers with energy usage information and allow them to control their own energy consumption.
Renewable Energy Charging Technology: This technology uses renewable sources of energy such as solar or wind power instead of fossil fuels like coal or oil for charging purposes. It makes use of various methods such as photovoltaic cells,
Vehicle to grid is a new way of charging electric vehicles, which is more efficient than the traditional methods. For example, in some countries, it is required that the car battery be charged through the vehicle to the grid system when there is an outage in the power supply.
Immersion cooling for EV batter has been developed recently as a new way of cooling batteries in EVs, reducing the weight and size of EV batteries by up to 25%.
The recent technologies for efficient charging systems have the potential to offer a better and more sustainable future. They are not only environmentally friendly but also provide a better experience for the end-user.
Charging / Discharging Methods
Unidirectional
Uncontrolled Charging
Delayed Charging
Controlled Charging
Bidirectional
Vehicle to Grid (V2G)
Vehicle to Load (V2L)
Vehicle to Home(V2H)
Intelligent Transport System
Immersion Cooling for Electric Vehicle Batteries
Types of EV Charging System
This section of the EV charging system report discusses types of the charging systems, charging stations, charging speed and energy management system
The first type of charging station is called a Level 1 charger. It is also known as an AC charging station. This system uses 240 volts and it can charge an EV's battery in about 4 hours. The second type of charging station is called a Level 2 charger and it can charge an EV's battery in about 3-4 hours. The third type of charging station is called a DC fast charger and it can charge an EV's battery from 0% to 80% in about 30 minutes.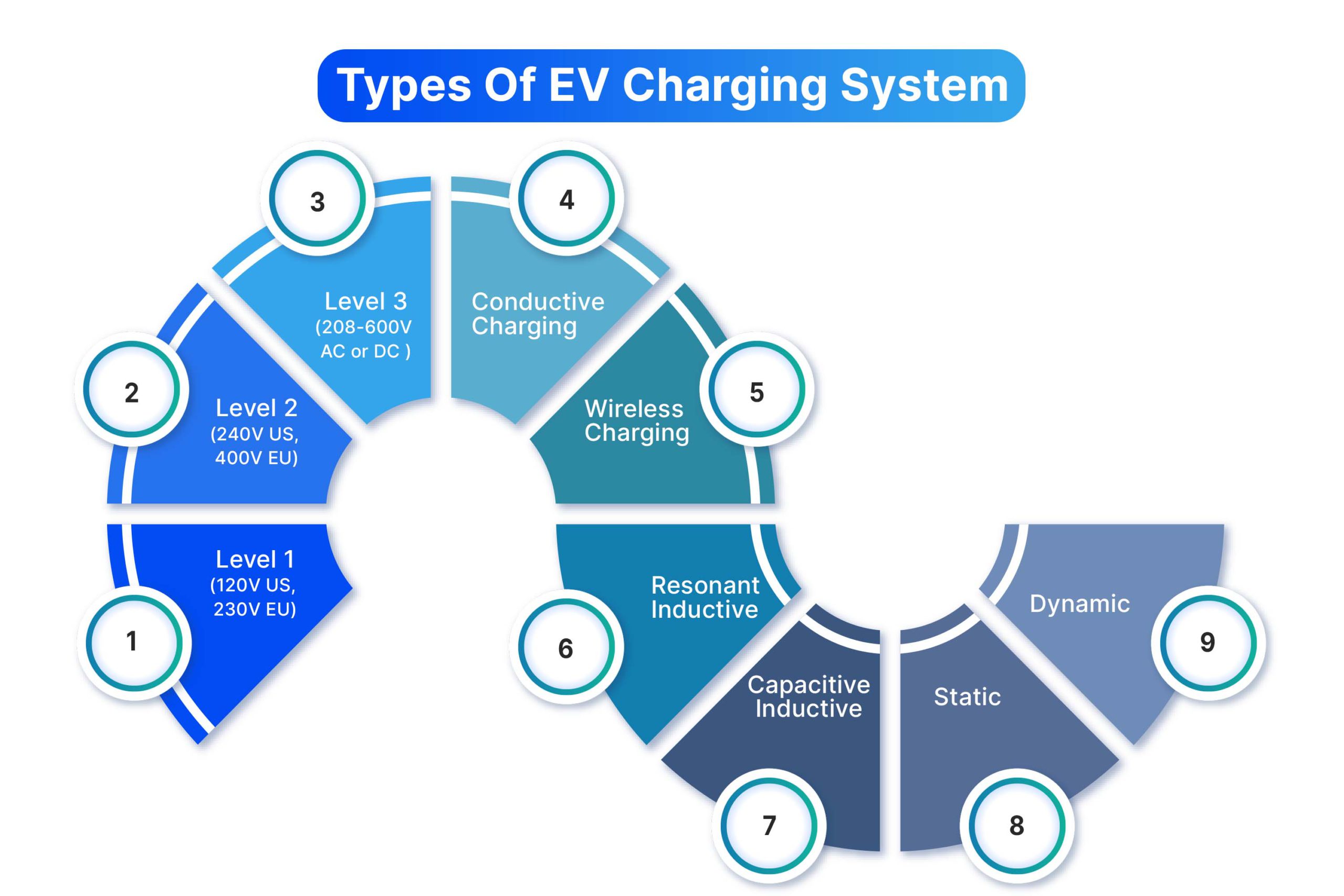 Conductive Charging
Level 1 (120V US, 230V EU)
Level 2 (240V US, 400V EU)
Level 3 (208-600V AC or DC)
Wireless Charging
Resonant Inductive
Capacitive Inductive
Static
Dynamic
---
Each year Signicent provides consultancy to hundreds of organizations to help transform their innovations to value.
---
Types of Charging Station
Residential Charging Station
Parking Charging Station
Public Charging Station
Battery Swapping Station
A residential charging station is a device that plugs into a home's electrical outlet and charges electric vehicles. It is usually installed by the homeowner and not by an electric company. The charger converts electricity from the home's power grid to a lower voltage used by the vehicle. The residential charging station is installed at your home and you don't have to pay for it because you own it, but only people with electric cars can use them
A parking charging station is a device that plugs into an electric vehicle's charge port and provides it with power, usually at a cost to the driver. These are often installed by public entities such as public parking lots or garages, or even private companies such as shopping malls and office complexes. The parking charging station is also located in a parking lot or on the street and it's usually located near your house. The owner of the property pays for this charging station, but it can be used by anyone who has an electric car
Public charging stations are available for use by all members of the public in various locations, such as retail stores, restaurants, hotels and airports. The public charging station is usually located in a parking lot or on the street. They are usually not at your house and you can't use them without driving to the location. The cost for this type of charging station is usually paid by the person who uses them.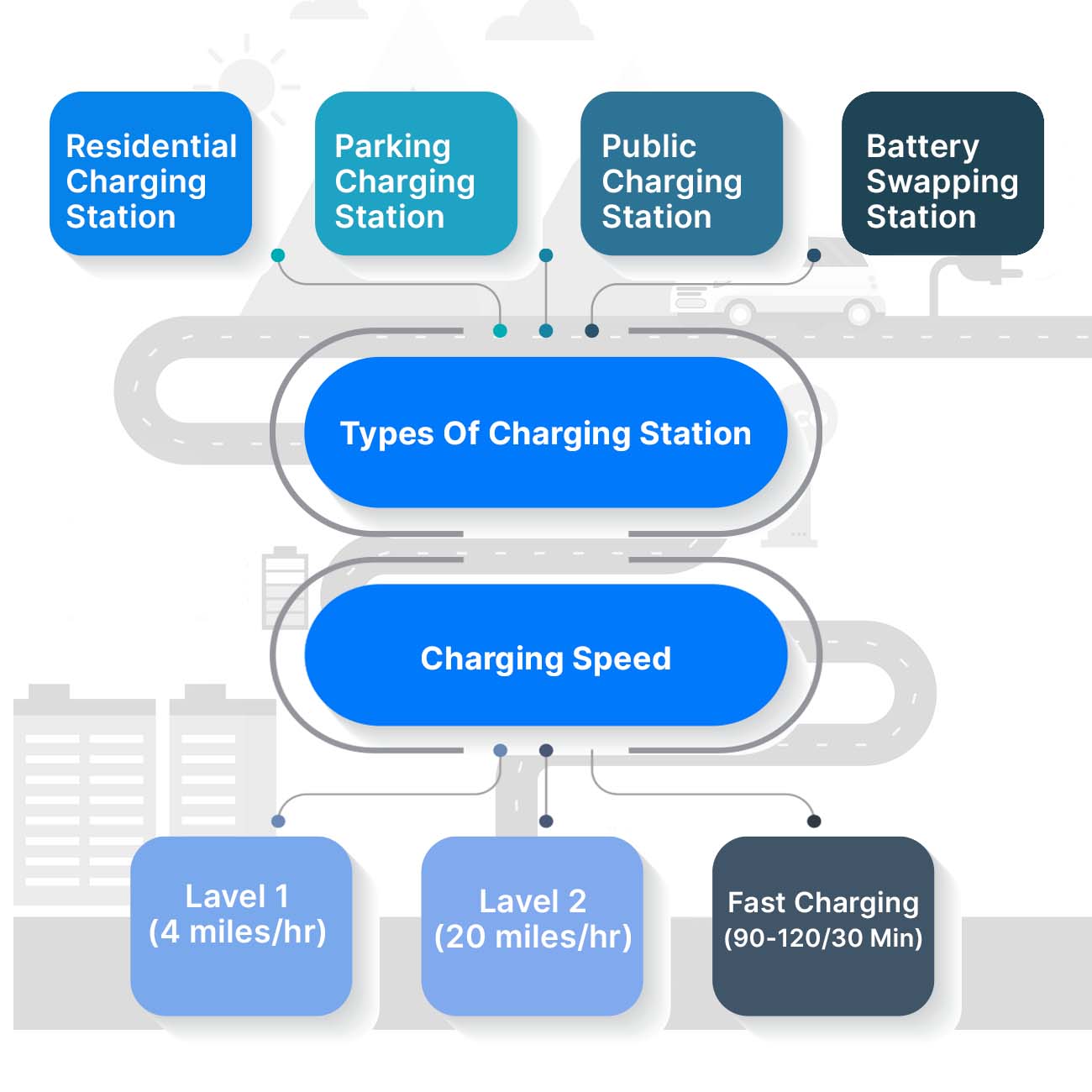 Benefits
Utilization of biodegradable and compatible materials required for the manufacturing process, improving efficiency. Effective usage of components of the electric vehicle for a longer lifetime. End-of-life management processes involve the reusability and recyclability of materials and batteries. It offers zero emissions and improves overall environmental sustainability. Also, it is Efficient utilization of materials and metals. with Reduced utilization of rare earth elements.
Market
In this section of the report, the global challenges, solutions and government support for promoting electric vehicle ecosystem has been discussed.
Challenges
Major Challenges involve high charging infrastructure demand.
An insufficient number of charging stations with high installation costs.
High charging infrastructure demand and a surge in electricity consumption.
Most areas have less than 20% of the charging capacity they will need by 2025.
Government Support
RMB 90 million in funding for the installation of charging infrastructure. The plan specifies that charging stations should have a minimum number of charging posts. It is mandatory for all new electric vehicles sold in China to use the country's one, nationwide fast-charging standard: GB/T
The state-owned utilities in India are working on a plan to lower the cost of setting up charging stations.Under FAME-1 and FAME-II schemes govt. will provide subsidies for Ev's purchase and charging infrastructure development.
Australian Renewable Energy Agency (ARENA is planning to develop $500 million of charging infrastructure by co-investing with the private sector.
Solutions
Increase the number of charging stations and make them more accessible to the public. Making public charging affordable will help in tackling the cost-effectiveness issues of EVs.
The government intends to invest more than €3 billion in the charging
Infrastructure for cars and trucks by 2023.
The German government plans to invest an additional €500 million in the expansion of private charging facilities
Installation of more charging stations will help in overcoming. To support the growing number of electric vehicles, there is a need to deploy around 5 million public chargers by 2030.
The government's Electric Vehicle Charging Infrastructure Development Guidelines (2015-2020) include requirements relating to public charging outlets per EV to be a minimum of 1:7 in key cities of the eastern coastal provinces and for the public charging service radius to be less than 0.9 km in urban core areas.
Integrating chargers with the power grid will ensure optimized energy allocations.
---
Recent Report