It is very common in today's time to notice trade dress infringement and law suits related to trademark between name brands. One such issue that caught media's attention recently was the lawsuit by Audemars Piguet (a high end watch brand) against Tommy Hilfiger and Movado (licensing company of brand). According to the application that was filed at US District Court for the Southern District of New York, Hilfiger's new launch Eton is very similar to Piguet's Royal Oak and hence is confusing for the customers.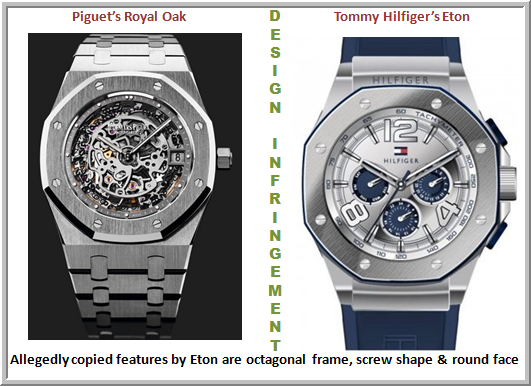 Piguet had registered its octagonal frame design with USPTO (US Patent and Trademark Office) still the design was copied by Hilfiger. Some of the major features allegedly copied were octagonal frame and screw shape, round face etc. for which a repeated written request was sent by Piguet to the company for stopping their sales for Eton.
Although Hilfiger watches has its logo however the logo size is very small, this may lead to consumer confusion. Another major difference in the price of two watches, where Eton by Hilfiger costs only $175, at the same time Royal Oak by Piguet costs between $16,000 and $8,00,000. Hence this may be a point of question for consumers that watches are similar in looks to each other has such large difference in their price and this would definitely affect the sale of Royal Oak.
In remedy, Piguest has demanded share of profit in Hilfigher's sales of Eton, punitive damages and attorney's fees.