The Ship Propellers Report encloses the following aspects:
Technological research & innovation in the domain of Marine Propellers including innovative designs, materials, and manufacturing technologies.
Competitive Intelligence including recent launches/ announcements, business strategy, etc. by the competitors.
Global Market Analysis that covers various segments & sub-segments such as different technologies, regions, application areas, etc.
---
Challenges
Conventional propellers used in the shipping industry pose challenges in some of their functional properties. A few difficulties that arise while supporting high-power marine engines include:
Increased weight due to strength requirements, which results in high structural demands and limitations for the propulsion system.
The increasing demand for propellers' manufacturing, installing and exporting results in the rising cost of propellers.
While rotating around the axis of rotation, the conventional ship propellers produce a slipstream. Such slipstreams cause undesirable effects like cavitation effect, etc. It can drastically reduce a ship's propelling efficiency and causes a sudden breakdown of the propeller.
Innovative Solutions
The Ship Propellers Report demonstrates Signicent's research to decipher innovations that can overcome challenges faced by industries that are manufacturing/ using marine propellers.
Hub-Less Marine Propeller
The researchers of Aker Arctic Technology Oy (Finland) have developed a unique design of a ship propellor. The hub part of the propeller is eliminated in the proposed novel design. It offers significant weight reduction and a reduced manufacturing cost.
The manufacturing process of the proposed propeller becomes easy as it comprises fewer parts in comparison with the conventional one. The designed propeller comprises a cap attached to the detachable blades which are fixed to a propellor shaft. This cap provides additional structural support to the blades and the whole propeller.
Additionally, the propulsion system of the Hub-less marine propeller can be implemented as a pod-type construction. Because earlier, the propulsion systems were located in the hull of a ship whereas in this novel propeller the propulsion system is placed in a separate pod that can be rotated the same as the hull of a ship.
Anti-Cavitation Ship Propeller
The R&D team of Volvo Penta Corporation (Sweden) came up with a propeller capable of producing sufficient propulsion force while also being associated with a reduced risk of cavitation. The proposed propeller consists of a propeller blade with multiple edges, including a leading edge, a trailing edge, and an outer edge. In a side view of the propeller, the leading edge and outer edge intersect at the first transition point, and the outer edge and trailing edge intersect at the second transition point.
The distance from the second transition point to the axis of rotation (D2) is smaller than the distance from the first transition point to the axis of rotation (D1), reducing the undesirable cavitation effects. Preferably, arranging the two relatively sharp transition points. These transition points will provide better functionality to the outer edge, which can lower the possibility of cavitation phenomenon.
High-Quality Propeller Solutions by Kongsberg
In 2022, Kongsberg came up with a high-quality performance solution by offering the C-line, P-line, and X-line in the propeller system. These propeller offerings depend upon the ships and their required demands.
C-Line is suitable when short lead times and best performance to cost are prioritized and its solution provides a number of possible options, which offer a clear, simple, and short decision process.
P-line is used when high efficiency, noise, and vibration are prioritized. This includes the large options.
X-line is suitable when there is a very high demand for special features and integration requirements. It includes hydrodynamic solutions for new development.
---
Each year Signicent provides consultancy to hundreds of organizations to help transform their innovations to value.
---
Market Dynamics
Ship Propellers report also has information about market trends, market dynamics, and market segmentation. Global Marine Propeller Market revenue is expected to expand at a CAGR of 5.5% from $ 5076 Mn in 2021 to a value of $ 8524.3 Mn by 2030 over the forecast period. The market has been divided into various segments based on the type, material used, the number of blades, and the application.
By Type- Fixed Pitch Propeller (FPP) and Controllable Pitch Propeller (CPP).
By Material- Aluminium, Stainless Steel, and others.
By Number of Blades- 3 Blades, 4 Blades, and 5 Blades.
By Application- Merchant Ships, Naval Ships, and Recreational Boats.
The global marine propeller market is expanding due to the greater adoption of electric propulsion technology, increasing new shipbuilding & repair activities, rising demand for sea-based logistics & trade, and high demand for maritime travel & tourism activities.
Technology advancements in marine propulsion systems and growth in navy expenditure across the world are factors expected to offer growth opportunities during the forecast period.
Merger & Acquisition
Transas, a global company with its headquarters in the UK, was acquired by the technology firm Wärtsilä in May 2018. With the acquisition of Transas, Wärtsilä advances its aim of creating sustainable societies through smart technology. Additionally, it will accelerate the company's ambition to disrupt the market by developing a Smart Marine ecosystem.
Wärtsilä is a leading company in smart technologies and complete lifecycle solutions for the maritime and energy markets. It was founded in 1834, and headquartered in Finland. It manufactures power generators for service power generation, diesel-electric propulsion, auxiliary systems, and NOx reducer.
Global market leader in marine navigation systems, Transas was established in 1990, in Ireland. Marine navigation solutions include complete bridge systems, digital products, and electronic charts. In addition, it excels in professional training and simulation services, along with the ship traffic control systems.
Key Players
This section of the Ship Propellers report hereby enlists the key players that are comprehensively working on propulsion system technology and advanced marine propellers. Some of the key players in the ship industry are as follows.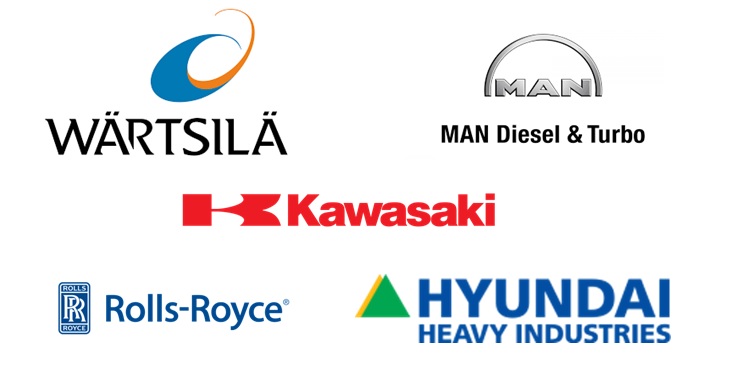 ---
Recent Report