The report will shed light on "Smart Medical Devices & Diagnostics". The report discusses the innovative solutions to hinderances, key players, market size, segmentation, drivers, startups, and key collaborations in the Smart medical devices report.
---
Smart medical devices are equipped with wireless IoT technology. It is used to monitor and transmit extremely critical data in real-time. A smart medical device bridges the gap between doctors and patients. With the help of advancements in medical diagnostic devices, it is now possible for instant diagnosis. In case of emergency, smart medical devices can become the life-savers. These smart medical devices allow patients a high level of mobility and healthcare providers the ability to monitor their patients remotely.
Smart Medical Devices
The use of IoT wireless technology has completely transformed the healthcare system. We now have medical devices & diagnostics that are instant and accurate. Smart wearable medical devices keep medical staff updated in remote and emergency situations. Wireless medical devices monitor patients continuously and send alerts to health care providers. Quick response in an emergency can save a life.
Hinderances in Adaption of Smart Medical Devices
Some of the hinderances found in our research were:
IoT medical devices are widely used as gateways for stealing sensitive patient data if not properly secured. Thus, creating a need for IoT medical devices cybersecurity.
For kidney transplant recipients, prompt and accurate detection of transplant rejection is vital for timely intervention. Unfortunately, the gold standard for diagnosis of rejection is kidney biopsy, an invasive procedure.
Large instruments and complicated procedures are usually required for the diagnosis of biomarkers for cancer treatments.
Laboratory-based testing is usually a time-consuming process that requires specialized equipment with fairly complex protocols.
Overcoming the Shortcomings with Smart Medical Devices
Possible solutions for the protection of patient data include data encryption, authorization of devices, software that could identify, classify, profile behavior and risk, and secure all medical and IoT.
Non-invasive, rapid & accurate methods for earlier detection of rejection such that those based on urine or plasma sample.
Multiple technologies are implied for the rapid and precise detection/ diagnosis of biomarkers for cancer treatment such as a novel handheld device, colorimetric aptamer-based sensor, and CRISPR-based methods.
Point-of-care (POC) testing allows physicians and medical staff to accurately achieve real-time, lab-quality diagnostic results within minutes (rapid) rather than hours.
Advance Technologies for Cyber-Security of Smart Medical Devices
We analyzed a patent by Chronicmobile Inc [US], their research unveils innovation in storing & managing personal health records in a secure, reliable, and encrypted manner. The system is configured with a secure environment processor having a security monitor. It identifies the secure traffic by looking for traffic on the user device that is flagged as requiring security.
Security technologies utilized include encryption/decryption; cryptography; Internet Protocol Security; Secure Socket Layer, Virtual Private Networks, firewalls and data management zones.
Another established and innovative technology by ORDR [US] is breaking barriers. The whole Hospital security system protects medical devices, IoT devices & Other facilities. They offer a "whole hospital" approach that secures all connected devices. The security system works by identifying high-risk devices with vulnerabilities and legacy operating systems.
The Internet of things (IoT), The Internet of Medical Things (IoMT), and operational technologies are critical to the patient care experience. They offer one platform with comprehensive features that serve security teams, networking teams, and clinical technicians.
---
Each year Signicent provides consultancy to hundreds of organizations to help transform their innovations to value.
---
Innovative Technologies for Dealing with Transplant Rejections
Research by Leland Stanford Junior University [US] unveils a non-invasive & rapid method of monitoring organ transplant patients for rejection. The method comprises quantifying kidney transplant-derived circulating cell-free deoxyribonucleic acids. These are extracted from plasma sample using amplification & sequencing techniques. The transplant status is predicted using markers distinguishable between transplant recipient and transplant donor.
We analyzed a patent by the University of California San Francisco [US] and their research shows that a simple urine test can diagnose and predict acute rejection in kidney transplants. This will allow early detection and treatment.
The scientists involved in the study analyzed 601 urine samples & the test was 95% accurate in determining the risk of rejection following transplant. The test is based on QiSant assay, which measures cell-free DNA in urine, and detects certain epigenetic changes as well as levels of four other proteins and metabolites.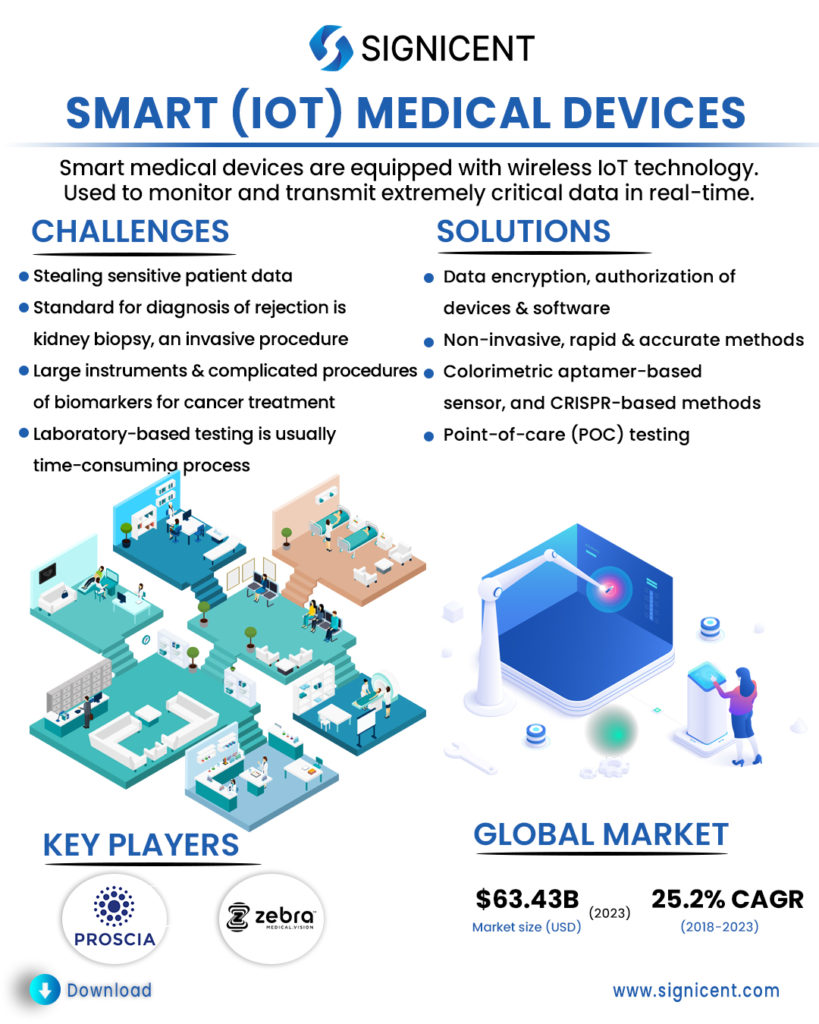 Emerging Technologies for Diagnostics with Smart Medical Devices: Report
McMaster & Brock University [Canada] has made a prototype for a handheld device to measure the biomarker. Thus improving the diagnostics by simplifying the process
This will pave the way for home-based cancer monitoring and improves access to diagnostic testing. The device works much like the monitors that diabetics use to test their blood sugar levels and could be used in a medical clinic or at home, all without lab work, greatly simplifying the process for testing blood for cancer's signature.
Massachusetts Institute of Technology [US] is working on chemically stabilized DNAs tagged to synthetic biomarkers produce precise diagnostic signals via CRISPR nucleases in cancer models.
It discloses the use of chemically stabilized DNAs to tag synthetic biomarkers. It produces diagnostic signals via CRISPR nucleases. It further unveils that in cancer models, DNA-encoded urine biomarkers can noninvasively detect and monitor disease progression. Thus, demonstrating that nuclease amplification can be harnessed to convert the readout to a point-of-care tool.
Transforming Solutions for Testing Procedures
Enzo Biochem Inc. [US] has produced a compact portable microplate reader for point of care medicine. The study discloses a small portable microplate reader for use with immunoassays molecular diagnostics. It is providing new opportunities in point-of-care medicine which enables lab work to be executed outside of traditional research facilities. Thus, making the device fit space and needs with convenience and accessibility.
Expanding Global Market for IoT Medical Devices
Market Size: The global IoT medical devices market was valued at USD 20.59 billion in 2018 & is projected to reach USD 63.43 billion by 2023, at a CAGR of 25.2%.
Drivers: Rising focus on active patient engagement & patient-centric care delivery. Government initiatives for promoting digital health. Growing need for cost-containment in healthcare delivery
Start-ups in the Medical Diagnostic Devices
PROSCIA (US), founded in 2014, uses AI, machine learning, and high-performance computing to diagnose Cancer with improved accuracy and speed.
ZEBRA MEDICAL VISION (Israel), founded in 2014, uses Image Analysis Engine which receives imaging scans and analyzes them for several different clinical findings along with machine and deep learning tools, to create software that analyzes data in real-time.
Smart medical device report will help you to find innovations in technology. Contact Signicent to know more.
---
Recent Reports