Note: The free primer on Smart Textile & Fabrics report can be requested from here.
---
The smart textile industry is burgeoning in the market as it keeps on adding to its aesthetic value, keeping in mind the sustainable development and nowadays also incorporating the smart technology. Smart textile is one of the most promising transformational industry. Smart fabric marching on a novel, untrodden and illusory-filled horizon. Conductive clothing has taken a forefront with its specificity to produce a self – generating energy.
With the exponential growth in electrically conductive textile, new ways of harvesting energy have evolved. Recent developments for 'Harvesting Energy' from 'Conductive Yarns' use the transfer of electric energy through them. This attribute has widened the scope drastically to use these smart yarns as a potent power source with a broad set of application areas.
Industrial Products of Conductive Yarns
Smart Clothing
Home Décor
Wearable charging source
Health monitoring
Heating
Protection from electromagnetic interference and electrostatic discharge
Given the global concerns and industry requirements, we offer our clients with suitable options of Open innovation and technology scouting.
To understand the industry challenges relating to smart textile, we went through thousands of journals, articles, and patent literature to examine the problem areas.
The functional yarn has high rigidity; simultaneously the clothes are less flexible and extensible.
The absorber material for solar cells and photodetectors exhibits high production costs and low power conversion efficiency (PCE).
After an all-inclusive analysis of scientific literatures, products, emerging and novel inventions being carried out in smart textile industry, we came across several viable, innovative, and possibly the finest solutions. A few are listed below for reference:
A woven fabric composed of a warp and a weft has at least one weft that is a functional yarn with a photovoltaic part.
Wire-shaped perovskite devices and methods for manufacturing the same are provided. The perovskite devices have a uniform layer thickness of perovskite material on wire-shaped substrates of semi-conductor or carbon material.
Game-Changing Technologies in Smart Textile & Fabrics
Yarns Based on Carbon Nanotechnology (Piezoelectric Yarns): This technology explores "twistron" yarns. These smart yarns are produced from carbon nanotubes. When a harvester yarn is twisted or stretched; the volume of the carbon nanotube yarn decreases. It brings the electric charges on the yarn closer, which increases the energy. This leads to the increasing voltage associated with the charge stored in the yarn, enabling the harvesting of electricity.
Solar energy harvesting conductive yarns: A power-efficient solar yarn is used to harness solar energy using perovskite solar yarn. The configuration is acquired using electrospinning with superior mechanical strength, flexibility, and photovoltaic properties as compared to those prepared using dip coating.
Piezoelectric textile fibers using carbon nanotubes: Piezoelectric textile fiber is used in combination with carbon nanotubes. The carbon nanotubes (CNT's) added to the polypropylene piezoelectric yarns lowers the internal resistance of the yarn material hence providing better conductivity.
Biochemical Energy Harvesting: This invention involves a flexible yarn-based technology that harvests green energy from bacterial respiration. Small-scale biobatteries are being formed using Polyethylene terephthalate (PET) yarns and mercerized cotton. In a biobattery, electronic bacteria when oxidizes releases some chemicals. It creates charge difference in the anodic reservoir which then generates energy.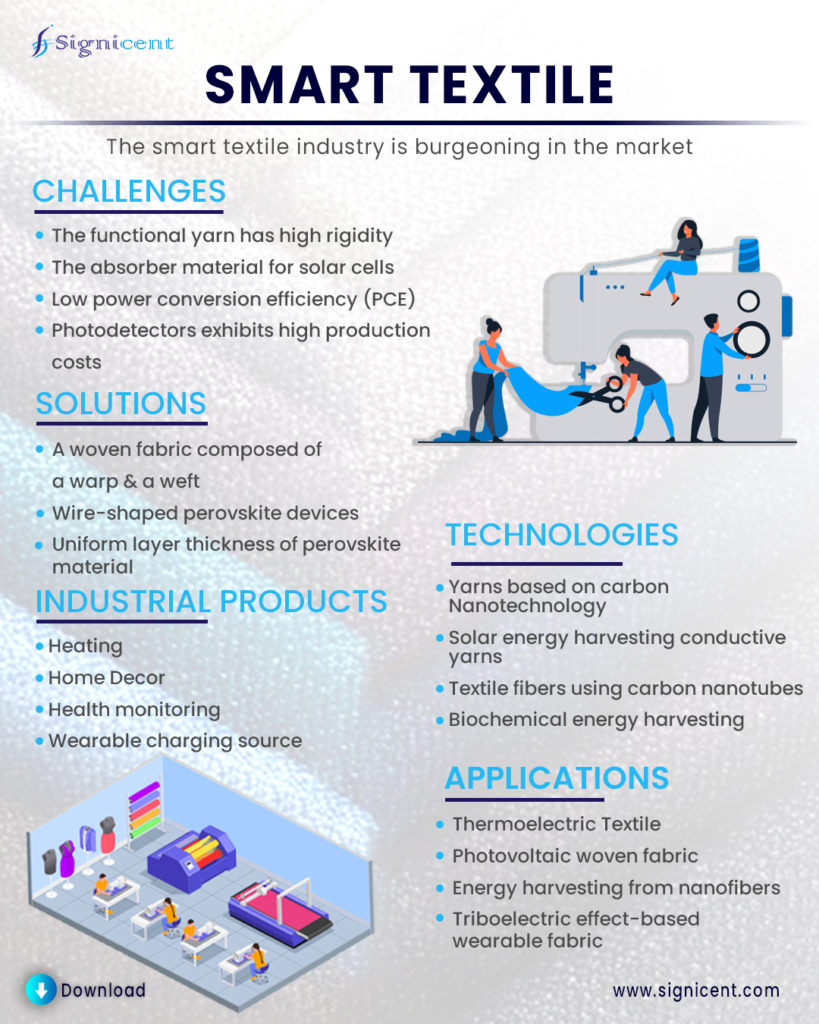 Smart Textile and Its Applications
Photovoltaic woven fabric: The technology relates to harvesting solar energy using photovoltaic units woven in the form of a fabric. Yarns weaved as warp and weft yarns along with string-shaped solar cells help to provide energy harvesting using solar cells and provide the additional benefit of flexibility of the fabric.
Energy harvesting from nanofibers using mechanical deformation: This invention describes a "twistron harvestron" processing the torsional and tensile energy to produce electric energy. Herein, the carbon nanotube is used along with twisting the yarn to overcome the previous shortcomings of decreased output power.
Thermoelectric Textile: This innovation converts human body heat into electric energy. The proposed method helps in overcoming shortcomings of previous thermoelectric textile manufacturing methods by structuring it in a way that the generated current is along the thickness direction of the fabric, hence resulting in better thermoelectric conversion efficiency.
Triboelectric effect-based wearable fabric: This initiative is based upon wearable friction generator. It employs triboelectric effect to convert mechanical energy from human movement into electric energy. Herein the invention provides a flexible friction generator with flexible composite nanofiber yarns in a double-layer coaxial structure
---
Each year Signicent provides consultancy to hundreds of organizations to help transform their innovations to value.
---
Smart Textile & Fabrics Products
SPHELAR POWER (JAPAN) – Produced Sphelar Yarns
This product arranges solar cells in one direction between two conductive yarns and electrically connected in parallel. Using this structure, the conductive yarn area can be bent and deformed.
And the flexibility of the photovoltaic yarn can be maintained.
NEFFA (NETHERLANDS)- Solarfiber
This merchandise uses flexible photovoltaic fiber that converts sunlight energy into electrical energy. This "smart material" will be able to be used in all sorts of applications where textiles are currently used, but with the added advantage of being able to produce an electrical current.
Smart Textile Start-Up Companies
SPHELAR POWER (Japan) – SPHELAR POWER is aiming for solutions to expand the usage of solar cells. They have produced a photovoltaic yarn which consists of conductive yarn and spherical solar cells
NEFFA (Netherlands) – NEFFA helps companies, research institutes, and universities with the integration of their (bio) technology into textile prototypes and designs to make them more appealing for a specific target group or a wider audience.
DIPOLE MATERIALS (US) – DIPOLE MATERIALS has created PiezoYarn for the technical textiles and garment industry. PiezoYarn behaves much like nylon yarn but it generates electricity when stretched or twisted.
Recent Report