The spine navigation report will take you through the challenges, advancements, emerging technologies, innovative products, startups, markets, global trends, in spine navigation in the healthcare industry.
---
Technology advancements in Spine Navigation have breakthrough progress. This will further enhance navigation ability and clinical application in the healthcare industry. The emerging technologies and innovations provide remarkable opportunities in giving directions to complicated procedures that call for soaring sharpness and accuracy using minimally invasive interventions.
3D Visualization In Real Time
Army Medical University (China) has developed a visualized endoscopic electromagnetic navigation system. It consists of a field generator, multiple field sensors, a processing computer, and matched instruments. Under novel EMN guidance systems, surgeons can obtain a 3D anatomical structure of the spine or multiplanar imaging reconstruction, and surgical instruments can be tracked in real-time for 3D space.
The electromagnetic tracking surgical navigation system can integrate intraoperative fluoroscopy with preoperative CT-based data to achieve intraoperative virtual 3D visualization in real-time.
Report on AR, MR & VR In Spine Navigation
Teikyo University Okinaga Research Institute of Japan has combined AR, VR, or MR with robotic-assisted surgery. This helps in alleviating surgeon fatigue. Also, it holds the potential to increase the precision of spinal realignment and stabilization. Increasing precision and consistency has become a primary objective of this technology in this context to reduce surgical time, alleviate the physical burden on the surgeon.
Robotic Spine Surgery
The Bio-Medico University of Rome has worked in innovation in robotic spine surgery. Robotic spine surgery comprehends 3 major categories:
Telesurgical robotic systems,
Robotic-assisted navigation (RAN), and
Virtual augmented reality (AR) systems, including AR and virtual reality.
A robotic assistant is composed of an arm and a navigation camera with a floor-flexible base that does not need to be attached to the patient. It is equipped with a stereoscopic camera to track patient movements and readjust robot position in real-time, providing an accurate and safe pedicle screw placement and avoiding the risk of neurological injuries
Innovative Applications
Joimax is the leading developer and marketer of complete systems for endoscopic minimally invasive spinal surgery. Joimax's Intracs is a smart navigation system is based on electromagnetic tracking. Navigating the sensor tip makes it particularly suitable for easy and safe access to any spinal target.
Features
Intracs® em Navigation System can be integrated into the joimax® Endoscopic Tower or used as a stand-alone solution. Existing installations can be easily upgraded. The high-quality medical-grade PC with a 22" touch display is completely sealed and, therefore, easy to clean and disinfect.
The Intracs® em Field Generator is mounted onto the specially designed Intracs® em Mounting Arm. Most of the joimax® instruments are navigated with the highest accuracy through various Intracs® em sensors. As a result, the procedure can be carried out without constant X-ray control. Intervention time and radiation exposure are drastically reduced.
Brainlab technology powers treatments in radiosurgery and radiotherapy as well as numerous surgical fields including neurosurgery, orthopedic, ENT, CMF, spine, and trauma. Brainlab Spinal Navigation delivers accurate pedicle screw placement and enables drastic reduction of X-Ray exposure.
Report on Future Directions of Spine Navigation
Accurately plan incisions and trajectories with any instrument. It supports implant placement especially in anatomically critical areas Guides in the posterior incision and approaches for minimally invasive surgeries. It also reduces X-Ray exposure to the surgical team and patients. Plan incisions and trajectories at skin level. Visualize instruments on 2D images, 3D scans, MR or CT scans in real-time
Transformative Companies
Proprio Vision founded in 2016 is a Seattle, WA(US) based start-up, developing a system for real-time immersive video and mediated reality interaction. We are using cutting-edge algorithms and custom hardware to enhance human capabilities in high-precision activities such as brain or spine surgery.
Augmedics founded in 2014, is in Arlington Heights, IL(US) based startup which develops xvision™ – an Augmented-Reality Head-Mounted Display for spine surgery. Xvision allows surgeons to see the patient's anatomy through skin and tissue as if they had "X-Ray Vision". Based on Augmedics' patented technology, the xvision system can project the patient's anatomy, in real-time, directly onto the surgeon's retina, with surgical precision and outstanding depth perception.
Mergers and Acquisitions in Spine Navigation Report
In this section of the Electromagnetic Navigation Report, we will give comprehensive insights into global mergers and acquisitions.
Olympusfounded in 1968 is a Center Valley, Pennsylvania-based company, It is committed to making people's lives healthier, safer, and more fulfilling every day by crafting innovative optical and digital solutions in medical technologies; life sciences; industrial solutions; and cameras and audio products.
Veran is a privately held medical device company headquartered in St. Louis, MO. which has developed and commercialized an FDA cleared, next-generation electromagnetic thoracic navigation platform called the SPiN
Olympus Corporation has agreed to acquire Veran Medical Technologies, Inc. (VMT), a provider of advanced medical devices specializing in interventional pulmonology, for up to $340 million.
The most significant part of this deal is that OCA will secure immediate access to VMT's unique Electromagnetic Navigation system with proprietary devices to build a stronger future respiratory product portfolio.
Medtronic Completes Acquisition of Medicrea
Medtronic is a global healthcare solutions company operating in approximately 160 countries. We are committed to improving lives through our medical technologies, services, and solutions.
Acquisition Expands Medtronic's Artificial Intelligence and Data Capabilities, Becoming the First Company to Offer an Integrated Spine Solution Including AI-Driven Surgical Planning, Personalized Spinal Implants, and Robotic-Assisted Surgery
Products
The intuitive StealthStation™ S8 system enables clear visualization and surgical navigation of every segment of the spine. Whether your practice make up is single-level degenerative, deformity correction, lateral access, or cervical procedures — the StealthStation™ S8 system can streamline your surgical workflow. The complete procedural solution seamlessly integrates with the broad portfolio of Medtronic navigated spinal instruments and implants.
---
Each year Signicent provides consultancy to hundreds of organizations to help transform their innovations to value.
---
Key Players
To know company profiles, emerging technology, and revenue generated by key players of the market, request a Spine Navigation Report. Some of the innovative companies covered include AMS Group, Johnson & Johnson, ATEC, Boston Scientific Corporation, Medtronic and Aurora Spine.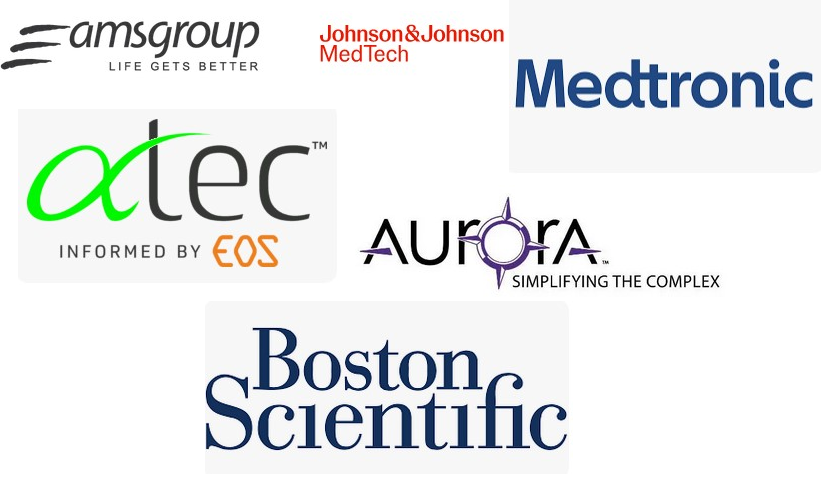 Report on Global Spine Navigation Systems Market
Electromagnetic Navigation Report discloses information on Global Spine Navigation Systems Market revenue is expected to expand at a CAGR of 7.20% from US$ 893.49 Mn in 2020 to reach a value of US$ 1264.92 Mn by 2025 over the forecast period. The rise in the value of the market has resulted due to the rising prevalence of osteoarthritis and other disorders among the geriatric population.
By Technology, Global Surgical Navigation Systems Market is segmentized into
Electromagnetic Navigation Systems, Hybrid Navigation Systems, Optical Navigation Systems, Fluoroscopy-Based Navigation Systems, CT-Based Navigation Systems, and Others.
By Application, Global Surgical Navigation Systems Market is segmentized into
Neurosurgery Navigation Systems, Orthopedic Navigation Systems, ENT Navigation Systems, Dental Navigation Systems, and Cardiac Navigation Systems.
By End User, the Global Surgical Navigation Systems market is segmentized into
Physician Practices & Ambulatory Settings and Hospitals.
By Region, the market is segmented into
North America, Europe, Asia-Pacific, South America, and Middle East & Africa. North America is the dominating region in the Global Surgical Navigation Systems Market. North America holds the largest market share in the global market. Whereas, Asia-Pacific is estimated to grow with the highest CAGR.
The dominance of the North American region can be attributed to the growing adoption of minimally invasive surgeries and funds initiated by the government for surgical navigation systems.
Report on Global Market Trends For Spine Navigation
Electromagnetic Navigation Report reveals detailed information on the market drivers and underlying factors.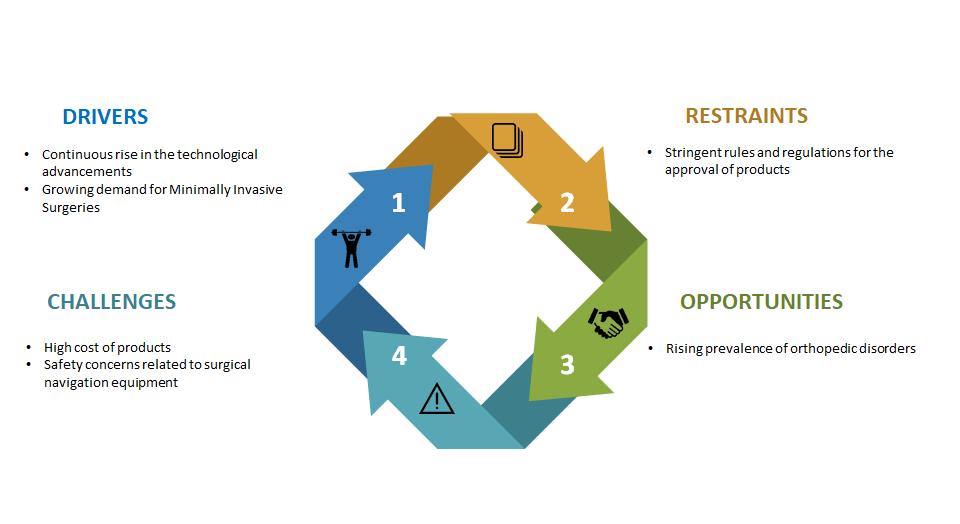 Augmented Reality Receives Global Attention
With the growth of navigation, innovation is paramount to improve safety and efficiency. Improved monitors for visualization, optimized operating suites for navigation, smaller registration trackers are all areas that are receiving current attention. optimizing navigation through innovation in platforms.
Based on our preliminary research findings, it is likely that platforms will continue to innovate to optimize the use of navigation. Eg. Brainlab's Airo Mobile v augmented reality (AR/VR).
Innovation that will continue to be implemented is the use of augmented reality headsets with navigation in real-time. These headsets are directly overlaid on the patient, instead of a screen. In our opinion, once this technology becomes more end-user friendly its implementation will increase significantly. E.g. ClarifEye Augmented Reality Surgical Navigation VCO-registration to improve accuracy.
CT-MRI (or other combination) co-registration is another feature that can enhance Computer-Assisted Navigation application in patients presenting with soft tissue masses without bony involvement.
Robotic Assisted Surgery- The Future Technology
It is another current expansion opportunity for navigation, though its cost may be prohibitive in some situations. E.g. MAZOR X STEALTH EDITION.
To know more request for Electromagnetic Navigation Report.
---
Recent Reports