The report will shed light on Sustainable Glass Packaging. The report discusses the innovative solutions, key players, market size, segmentation, drivers, startups, and key collaborations in the glass packaging industry.
---
This article aims to demonstrates our approaches and analysis to determine novel/ emerging technologies that can find application in sustainable glass packaging production.
Glass is inert, infinitely recyclable, reusable, reduce food waste, and contains 100% natural materials, making it an ideal choice for sustainable practices. Glass manufacturing is a high-temperature, energy-using activity that constitutes a constant economic and environmental challenge for the glass industries to keep energy use to a minimum.
The major markets of glass are beer bottles (53%), food packaging (21%), non-alcoholic beverage bottles (10%), and wine bottles (6%). Competition with alternative materials such as plastic, aluminum, and steel in these markets is intense. The glass bottles and containers market is also growing and showing potential for more progress. It is predicted to reach $76 million in value by 2024.
The majority of consumers tend to prefer more environment-friendly options while shopping, especially if it does not cost them much extra to help preserve the planet.
Emerging Technologies in Sustainable Glass Packaging
A patent by Beijing Daheng Image Vision [CN], CN212180651U, unveils the detection mechanism that includes a camera that continuously takes photographs of the patterned glass bottle rotated by the rotating mechanism and spliced into a sidewall image of the patterned glass bottle. The defect detection of glass bottles with complex patterns holds a promising future.
A patent by Nihon Yamamura Glass [JP], US10851014B2 unveils an automated device provided with one or more nozzles attached to one end of the robotic arm. Each nozzle is provided with holes at different heights and it moves in the downward direction inside the mold from neck to bottom for application of mold release lubricant. The technology of automatic application of mold release lubricant is revolutionary.
Recent Developments in the Sustainable Glass Packaging
A patent by Toyo Glass [SG], WO2020255498A1 unveils the technology of Automatic detection of bottle defects. The method utilizes an imaging device that acquires an image of the entire periphery of the bottle and an engraving detection device that drafts masking for the engraving area in the image. The system detects whether there is a defect present in the area of the image excluding the masked engraving area.
Artificial intelligence-based production of glass unveils about utilizing the principles of AI, machine learning, and deep learning for development, inspection & control, prediction of cut-edge of glass via semantic segmentation, and prediction of glass edge strength based on process parameters.
Innovative Products in the Glass Packaging
Safety Coated Glass Bottles: These plastic-coated glass bottles are easier to grip and harder to break. If a Safety-Coated Bottle does break, the plastisol coating contains the substance in the bottle long enough to allow for proper disposal. These features make Safety Coated Glass Bottles ideal for handling volatile substances.
Anti-Bacterial Food Storage Glass Jars & Water Bottles: Germ Guard is a nano-technology-based anti-microbial composite that inhibits and destroys the growth of deadly bacteria, fungus, and molds and is suitable for use on tableware & cookware.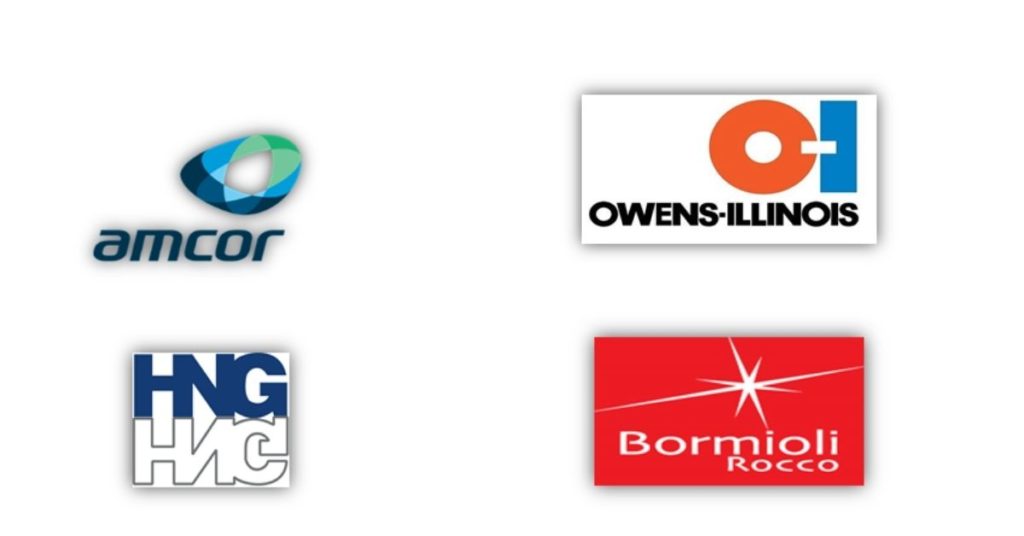 Global Glass Packaging Market
Global Glass Packaging Market revenue is expected to expand at a CAGR of 4.37% from US$ 56.65 Bn in 2019 to reach value of US$ 73.23 Bn by 2025 over the forecast period.
By Product, the market is segmentized into Soda Lime, Borosilicate, De-alkalized Soda Lime.
By Application, the market is segmentized into Alcoholic Beverage Packaging, Non-Alcoholic Beverage Packaging, Food Packaging, Pharmaceutical and Others (Cosmetic products, Personal care products, etc.).
By Geography, the market is segmentized into APAC, Europe, North America, South-Central America and Middle-East Africa.
APAC Region is dominating the Global Glass Packaging Market due to rising consumption of beer and other alcoholic beverages. China, Japan and India are leading countries in terms of beer consumption and collectively contributed around 25% of worldwide beer consumption in 2016.
---
Each year Signicent provides consultancy to hundreds of organizations to help transform their innovations to value.
---
Market Trends
APAC market has emerged as the leading region in terms of value followed by Europe and North America.
The growing consumption of alcoholic beverages drives the market in the APAC region. Followed by Asia-Pacific, Europe is the second-largest market. The demand for packaging in Europe is mainly driven by East European countries such as Turkey, Russia, etc. In Germany, the increasing consumption of beer is the key driver of glass packaging. Furthermore, the aging population of the nation fuels the market for pharmaceutical packaging
The North American region is providing a lucrative growth of 3.5% during the forecast period. As per the report of the European Federation of Pharmaceutical Industries and Associations (EFPIA), North America, being a leading region in the pharmaceutical sector, captured close to 50% share.
Startups to Collaborate
Nilima Nanotechnologies has a wide range of nanotechnology-based coatings with protective properties for various surfaces which include: Easy to clean, Antibacterial, and Anti-corrosive coatings. These are used in the following areas, Glass, Ceramics, Stone, Concrete, Metal, and Plastics and Automotive.
SHELF Packaging Co. is a food & beverage package design and marketing agency. SHELF is experienced in club stores, private labels, and grocery environments.
Compliances & Regulations
Glass manufacturing (NAICS 3272, 327993) EPA: Glass manufacturing is included within the following NAICS groups: 3272 – Glass and glass product manufacturing and 327993 – Mineral wool manufacturing
ASTM International: Formerly known as the American Society for Testing and Materials, is an international standards organization that develops and publishes voluntary consensus technical standards for a wide range of materials, products, systems, and services.
---
Recent Reports