History was created by the Indian scientists after the 440 Newton Liquid Apogee Motor (LAM) blazed after the doze of 300 days. Indian scientists heaved a sigh of relief after recording the history of success at the very first attempt.
The Mars mission not only held an accomplishment of "Mangalyan", but also the fueling of the inexpensive satellite launches which were relying solely on the propulsion system unlike heavy vehicle launch systems. Proud chairman of the organization, Kopillil Radhakrishnan credited the use of "novel" approaches with the attainment of low budget launches in the past few years.
India has spent less to reach Mars than Hollywood producers spent on the movie "Gravity," which cost $100 million to make. India spends about $1.2 billion a year on its space program when compared to NASA that has a budget of $17.5 billion for the year ending Sept 30.
The latin proverb "Necessity is the mother of invention" was once again attested by the scientists at Indian space Research Organization when the cheapest space probe sent by ISRO was engulfed by the red planet. We decided to focus on "invention" that has turned to patents by ISRO and how it compares to its peers around the globe.
The chart below shows on the number of patents held by Indian Space Research Organisation (ISRO), Japan Aerospace Exploration Agency (JAXA), The German Aerospace Center (DLR) and National Aeronautics and Space Administration (NASA) between 2000 to 2014 (till date).
The year wise growth of patents over time of these space agencies are tracked here: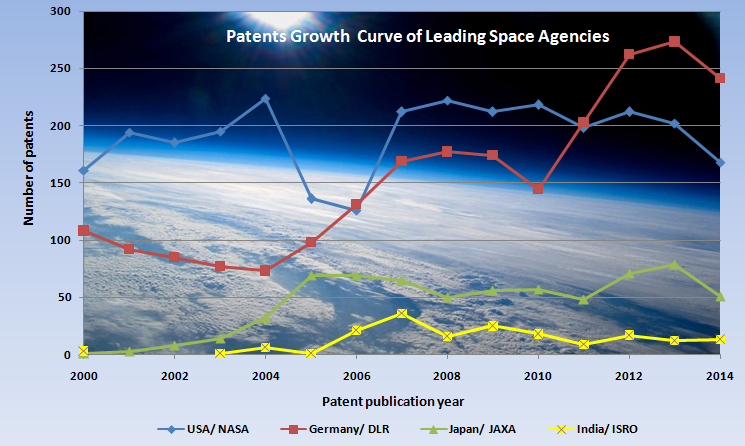 The pie charts below are made on the rule of "1 patent member per family of patents" and is a mere representation of patents considered in this study.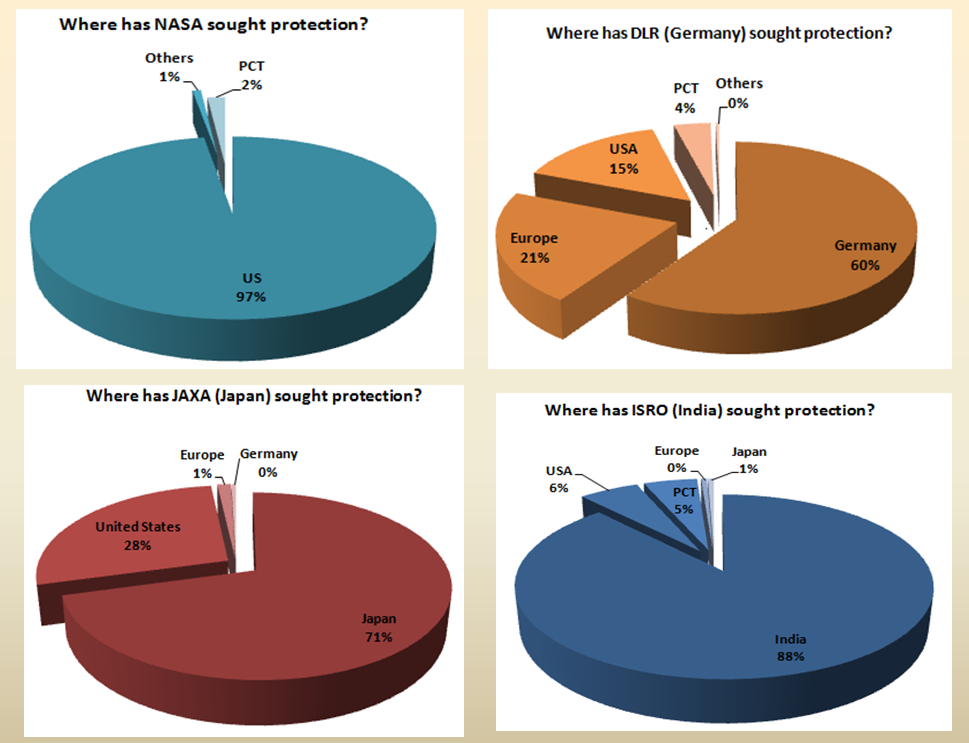 Research methodology: The search was done on a popular commercial patent database tool using the below mentioned search strings between 1st January 2000 to 23 September 2014. The patents wherein any of the agencies below are in partnership were also covered.
1. Assignee-Name(ISRO OR (INDIAN SPACE RESEARCH ORGANIZATION))
2. Assignee-Name(NASA OR (National Aeronautics and Space Administration))
3. Assignee-Name(JAXA OR (Japan Aerospace Exploration Agency))
4. Assignee-Name((Deutsches w/5 Zentrum w/5 Raumfahrt) OR (German Aerospace Center))
Note: The data used in this report was broadly screened for generating trends. There is a further scope of further refining the analysis based on an more in-depth analysis.