This article will clarify why most of the Indian market is flooded with Chinese lights every year. A quick search with word "Diwali" gives far more Chinese patents than (any) Indian patents.
1. CN2775989Y (2004) – Single Diwali Electric
The utility model relates to a lamp saver, especially relates to a single street lamp Diwali appliances.
2. CN200956675Y (2007)- Electric lighting Diwali

The utility model relates to lighting electricity saving devices, mainly refers to a lighting Diwali appliances.
3. CN300764718S (2007)- Row of lights (10)
Diwali is a festival when placed in rows, for people to watch, increasing the warm atmosphere of the festival festive decorations, the design discharge lamp is both festive decorations, but also is a household decorations. The design is the same as rear view and a front view, right view and left view of the same, so its omission and right views.
4. CN203072217U (2013)- Smart regulation a single Diwali electrical power

Smart regulation a single Diwali electrical powerThis utility model relates Saver, in particular, relates to a method based on infrared detection sensor and illumination detection, detect whether someone lighting environment, according to the lighting environment needs to automatically adjust the brightness of the lighting power single smart regulation Diwali appliances.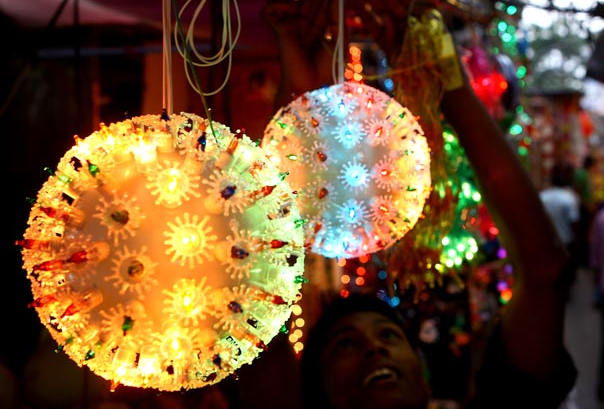 5. CN2073638U (1991) – Economizer of corridor lamp

A corridor Diwali appliances, wherein the design of terminals 1 and 2, when used in connection corridor lights switch K after two power cables, terminals 3 and 4 are connected to the corridor lamp L; and the design of delay resistance R3, the delay capacitor C3, C2 and buck filter capacitor energy storage capacitor C1; normally open contacts of the relay J J2 delay capacitor C3 form a discharge circuit and self-protection circuit relay J; by the Zener diode D3 and D4 concatenated into two potentiometers and the design of memory circuits.
6. CN2712040Y (2004) – High-efficient semiconductor energy saving lamp

The utility model invention of the semiconductor energy Diwali power can be 2 to 10 times of incandescent lamp, apparently it replace the traditional incandescent lamp, the role of this invention results in the next five to ten years in the show, will significantly reduce global energy consumption.
7. CN203072240U (2013) With self-diagnostic function, single Festival Electric

The utility model discloses and provides a self-diagnostic capabilities to detect a variety of their own failures and make all kinds of self-protection process single Diwali appliances.
8. CN2791966Y (2006) – Warn lamp connecting bayonet structure

The utility model provides a warning lamp connecting bayonet structure, which comprises at least one wedge-shaped groove which is arranged on the connecting face on each connecting element of a warning lamp, and at least one wedge-shaped lug boss which is arranged on the connecting face under each connecting element.
9. CA2591520A1 (2007) – Om shaped led lights

The item at hand is an electrical, lighting product that consist of five Om shaped molds that are lined with LEDs to depict the shape of an Om when lit up. The lights can be used as a decorative product for many celebrations and festivals such as for diwali.