Note: The free primer on Advancements and Innovations in Medical Simulation report can be requested from here.
---
Medical simulation is one of the most aggressively expanding fields. Medical simulation is a technique that mimics real-life experiences with guided ones to replicate substantial aspects of the real world in a fully interactive environment. Due to the COVID19 pandemic, in situ or traditional medical training has become difficult. Medical simulation is gaining popularity because it aids in learning appropriate response behavior in real-life scenarios on virtual models or dummies. Additionally, it minimizes the training costs, unrestrained repetition of the same training exercise, ascertaining the training results in real-time, and reducing the harm caused to an actual patient.
The market growth of medical simulators has been continuously fostered because of utmost requisite of patient safety. The Global Medical/ Healthcare Simulation Market was estimated to be USD 1.8 billion in 2020 and is growing at a CAGR of 14.95% during the forecast period to reach USD 3.6 billion by 2025.
Medical simulation can help to address the challenging situations of real-world which can also cost a patient's life. It is presumed that providing better training will contribute excessively to the patient care and case handling.
To understand the industry challenges relating to medical simulation we thoroughly investigated thousands of scientific literatures, patent literatures, available products and recent inventions to figure out the major problem areas of concern.
Primarily, the existing medical simulation teaching system is inadequate at technically reflecting real time changes in the patient's condition during diagnosis and treatment process. Moreover, it fails to evaluate the caliber of the student about case handling and decision making in an authentic scenario.
Post comprehensive analysis of publicly and commercially available information, we came across the following viable, innovative, and possibly the finest solutions to overcome these problems:
A virtual standard patient operate via voice control inquiries from students can be a viable solution combining both artificial intelligence and medical simulation teaching.

Presently, the evaluation method is not very interactive. However, coupling the evaluation module with an interaction device wherein the trainee submits the diagnosis to the evaluation module, can provide instantaneous accurate result and performance ranking of the trainee.
Students' clinical diagnosis and treatment capabilities can be enhanced many folds with medical simulation without compromising the patient safety.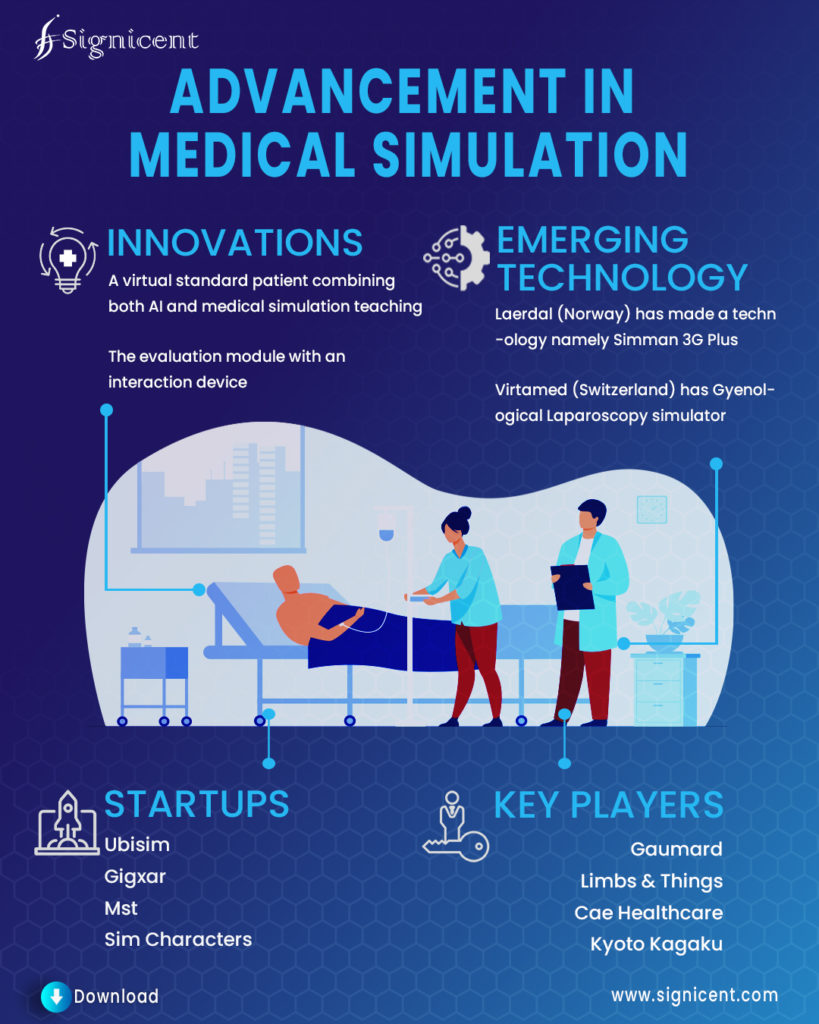 Some Patents granted in the Area of Medical Simulation
CHENGDU TAIMENG SOFTWARE CO LTD received a patent on 2020-07-10 on the invention that discloses a virtual standard patient simulation system based on AI. For instance, in patients with hemorrhagic shock, time is related to blood loss. The patient enters the microcirculation failure phase from the microcirculation congestion phase when the blood loss reaches a critical point . Through this simulation, students can learn to deal with emergencies in the process of diagnosis and treatment.
FUJIAN WATER CUBE 3D TECH CO LTD received a patent on 2019-05-31 for a fetal model that informs the trainee if he/she is using the right kind of pressure. The sensor module collects the palpation pressure data of the fetal model. Then the control module uploads the data collected by the sensor module to the evaluation module outside the mother belly model via the communication module.
Innovations in the Field of Medical Simulation
LAERDAL (Norway) has made a technology namely SimMan 3G PLUS which offers interchangeable face skins for diversity training and provides full articulation for realistic patient handling. It also allows you to modify scenarios to match local guidelines or training needs. The invention is also connect with a Laerdal Scenario Cloud wherein trainee can choose from curated scenarios made by experts in their fields.
VIRTAMED (Switzerland) has made a technology, Gynecological Laparoscopy Simulator. It has launched a validated mixed reality training platform for hysteroscopy and gynecological laparoscopy. VirtaMed's hysteroscopy training has been updated for 2021 to include 16 cases for MyoSure® tissue removal. All cases include competency-based objective feedback and a variety of pathologies with increasing procedural difficulty, including complication handling.
---
Each year Signicent provides consultancy to hundreds of organizations to help transform their innovations to value.
---
Startups in the Field of Medical Simulation
UBISIM is a Canada-based startup founded in 2016. It offers a complete simulation lab on a flexible platform that allows you to create and experience realistic clinical situations.
Austria startup SIM CHARACTERS founded in 2012 deals with the development of small patient simulators. It combines lifelike anatomy and high-class animation technology.
American startup GIGXR was founded in 2019. GIGXR uses mixed reality to drive training outcomes in healthcare, helping to save lives and costs globally.
MST is Poland based startup, founded in June 2016. It develops and implements medical simulators for the teaching of medical personnel.
Key Players in the Market
GAUMARD is established in 1946 and situated in the U.S. It is committed in providing innovative simulation solutions for healthcare education.
LIMBS & THINGS is founded in 1990 and is located in the United Kingdom. It is a leading healthcare simulation manufacturer committed to improving patient outcomes by facilitating realistic learning experiences.
CAE Healthcare is founded in 1947 and situated in Canada. It develops an evidence-based curriculum and innovative learning technologies for healthcare education.
KYOTO KAGAKU is founded in 1948 and is situated in Japan. It is the leading developer and manufacturer of medical & nursing simulators.
Research has proven that medical simulation training aids in retaining knowledge for a long tenure and helps in making more informed decisions.
---
Recent Report