Objective
This technology exploration on fasteners and connectors delves into cutting-edge innovations, material advancements, and new designs. It encompasses comprehensive research on technological breakthroughs, while also analyzing competitor activities and strategies within the domain.
Furthermore, the study entails a thorough global market analysis, covering diverse segments and sub-segments like various technologies, regions, and application areas.
The objective is to gain valuable insights into the evolving landscape of fasteners and connectors, considering both recent developments and future prospects.
Challenges
Standardization:Poor product standardization is the main challenge as production is not streamlined.
Cost: Increased raw material costs give indiscriminate hike in input cost
Environmental Factor (such as vibration, shock) is the biggest challenge in fasteners.
Material Embrittlement, many times,leads to the failure of fasteners
Limited knowledge of advanced engineering analysis tools, mostly drafting affects the design of the component.
Speed and accuracy are important factors as product quality depends upon the machine's reliability.
Rust problem occurs due to acids or water in stainless steel screw.
Technology Research & Technology Scouting
This section highlights Technology Research in which Signicent's experts came across some recent innovations and trends. This segment offers concise insights into the latest technologies and novel concepts, sourced from research papers, articles, patents, and more. These resources span across diverse industries and originate from sources such as R&D groups and institutes.
Innovations
R&D group of China, successfully developed a high-strength cobalt-based GH6159 alloy cold-drawn material for aero-engine fasteners.
The alloy was prepared using a duplex and triple smelting method, resulting in an as-cast structure with uniformly distributed elements after a two-stage high-temperature homogenizing heat treatment.
PRYDA launched Fast Fix™ NEW STICK BUILD FRAMING SCREWS, featuring ASI-1022 Steel.
These screws offer a faster, easier engineered solution for securing wall plates in stick-built frames. Catering to builders' demand, they ensure a flush finish, enhancing building quality and are available through the trade/retail channel.
Strain labs (Sweden) unveiled its latest Intelligent bolts, featuring built-in sensors suitable for a wide range of applications.
This new generation offers additional options, including system failure detection, providing timely alerts to owners before any potential issues arise.
Made from stainless steel and available in various sizes, Strain labs Bolts cater to the diverse needs of bolted joints across industries, offering valuable data to enhance business, process, and asset management.
---
Each year Signicent provides consultancy to hundreds of organizations to help transform their innovations to value.
---
Merger and Acquisitions
MW Industries (US) has recently announced its acquisition of Ideal Fasteners, a collaboration aimed at strengthening and expanding their presence in the fasteners and connectors industry. This strategic partnership will result in a broader product portfolio, encompassing a wider selection of stock, standard, and custom socket caps, button sockets, flat socket caps, and other threaded fasteners.
Additionally, the combined company will offer a diverse range of highly engineered metal and plastic components, contributing to increased sales and revenue opportunities. One of the primary advantages of this collaboration is the broadening of their product portfolio. By combining their expertise and resources, the merged company will now offer a wider selection of stock, standard, and custom socket caps, button sockets, flat socket caps, and other threaded fasteners. This expanded range of products will give customers more choices and cater to a broader range of applications, making the company a go-to solution provider for various industries.
Market research
According to market research, the Global Fasteners market size was valued at $88.43 billion in 2021 and is projected to expand at a compound annual growth rate (CAGR) of 4.5% from 2022 to 2030. Similarly, the Global Connectors market size was valued at $753 million in 2021 and is anticipated to witness substantial growth at a CAGR of 13.9% from 2022 to 2030.
These market insights highlight the potential for significant development and opportunities in the fasteners and connectors industries over the forecast period.
Key players
This section of the report focuses on competitive intelligence to find the topmost key-player companies working in the sector.
MiTek is a prominent global enterprise that offers comprehensive solutions for the construction industry, encompassing integrated software, services, engineered products, and automated solutions.
MW Industries, Inc. is a manufacturing company dedicated to producing various metal components. They specialize in designing and distributing coiled springs, rings, fasteners, metal bellows, and flat-stamped spring-related products.
Eurotec GmbH is a medium-sized firm that focuses on developing, manufacturing, and selling construction sector products.
KNAPP Group is a renowned worldwide provider of intelligent automation solutions designed for intralogistics and manufacturing. Their expertise lies in serving various sectors, including healthcare, fashion/apparel, general retail, food retail, industry, and service.
Pryda is one of the world-leading technology provider known for delivering complete systems packages to licensed truss and frame plants. They offer fully integrated software and production systems, along with access to cutting-edge manufacturing equipment.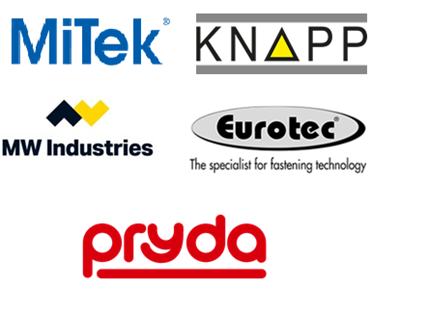 ---
Recent Report