The smart wearable report aims to find and analyze emerging technologies, innovative solutions & products in the area of "Smart Wearable". Smart wearable devices find application in Sports, Manufacture, Construction & Medical Industry.
---
Smart wearable technology report by Signicent will take you through trends, innovations, technology advancements by problem solution approach. Smart wearable technology is gaining popularity and expanding drastically.
Blending technologies like the Internet of things (IoT) and wearables have given rise to revolutionary technology. Hands-free wearable technology helps in delivering real-time information. It aids in making precise data-informed decisions. Also, it helps in video conferencing with remote workers to receive real-time advice.
Smart wearables head-mounted version is easily mounted on headgears. For instance, helmets, ball-cap, head straps. This technology report will give a brief about numerous applications in manufacturing, construction, sports, medical industries.
According to our analysis, wearable technology had a market value of 27.91 billion USD in 2019. It may reach USD 74.03 billion by 2025. For the forecast period 2020 – 2025, a growth of 17.65% CAGR.
Smart Wearables Empowering Industries
The smart wearable report will help you in making informed business decisions. According to Signicent's analysis, the wearable device market share is drastically increasing. The wearable devices are segmented into the following categories. The smart wearable report can transform your business completely.
Based on Technology:
Artificial Intelligence
Internet of Things
Others
Based on Application:
Sports
Manufacture
Construction
Medical
Logistic/ Hardware
Security
Based on Innovations:
Picop® Scanning
Micro-Led
Tracescan Wearables
Zoom-In Audio Wearable
COVID Detection Glasses
Based on devices:
Smart watches
Smart glasses
Fitness & wellness devices
Smart clothing
Others (Earphones, body monitors, and wearable cameras)
Based on Product:
Wrist wear
Eye wear
Hearables
Body wear
Neck wear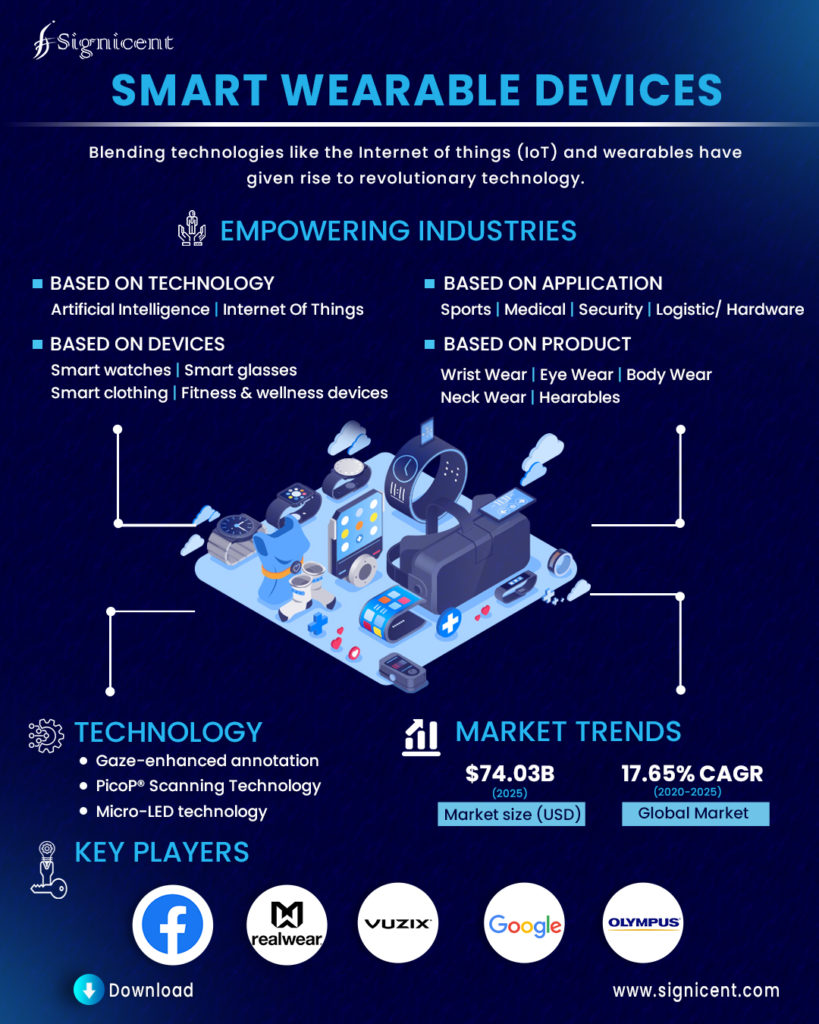 Technology Scouting
The smart wearable technology report will help you to find innovations in technology. First, let us understand the challenges and problems associated with hands-free wearable devices.
Challenges
Photos taken by the camera has a wide-angle view and therefore, peripheral objects may be captured that can distract from the message that the user wants to communicate.
Heavy weight of smart glasses prevents the users from using it for long duration.
Text entry using on-frame touch pad is difficult and inefficient due to narrow input space.
Viable Solutions
Using gaze for creating and sharing annotations using gaze tracking in head- mounted display
Using a thin plastic light guide plate with multi-stage micro mirror promotes total internal reflection. It helps to reduce overall weight and cost.
R&D efforts have come up with gaze assisted typing (GAT) to overcome the problems of touchpad-based typing.
Thought Provoking Technology Advancements
Fuji Xerox Co Ltd has created a gaze-enhanced annotation. Presently, photos are taken by the camera often have a wide-angle view to match the user's field of view. Hence photos often capture peripheral objects that can distract from the message that the user wants to communicate. The present disclosure describes a system for creating and sharing
Google has received a patent for a curved light-guide component. It has an input coupler and an output coupler too. To overcome the issue of cost, size, weight, the field of view, and efficiency, the curved light-guided component is used. The display light is guided between the input coupler and the output coupler entirely by total internal reflection.
---
Each year Signicent provides consultancy to hundreds of organizations to help transform their innovations to value.
---
Cutting- Edge Technologies in Smart Wearables
Microvision (US) has established PicoP® Scanning Technology. MicroVision Introduces the world's smallest and lightest display module for Smart Glasses. In the past, smart glasses failed because they were too heavy and bulky. MicroVision's patented PicoP® Scanning Technology utilizes an ultra-miniature MEMS mirror to scan a modulated laser beam using state-of-the-art control systems.
VUZIX (US) has established Micro-LED technology. The next generation Vuzix Smart Glasses will feature a larger field of view (FOV), advanced waveguide optics, and binocular displays, including 3D, alongside Vuzix's patent-pending immersive stereo acoustic speakers ideal for privacy, performance, and style.
Futuristic Technology in Smart Wearables
Ben-Gurion Universit (Israel) has a prototype Wearable for Predicting Epileptic Seizures technology. BGU researchers have developed Epiness™, a new, first-of-its-kind device for detecting and predicting epileptic seizures. It is based on proprietary machine-learning algorithms. The smart wearable device can generate an advanced warning about an upcoming seizure that will be sent to a smartphone up to an hour prior to its onset. Epilepsy is a highly pervasive, and at times debilitating neural disease. Up to 30% of patients do not adequately respond to anti-epileptic drugs.
Facebook (US) has a prototype Zoom in Audio technology. Technology is being developed by Facebook Reality Labs (FRL), the research unit. They are creating ever-more sophisticated AR and VR headsets that would let you "zoom in" on and enhance the sounds you want to focus on in a real-life situation. All other distracting sounds will be dimmed.
Life Changing Products
Olympus has made Eyetrek INSIGHT EI-10. The EyeTrek INSIGHT EI-10 Developers Edition is the latest in enterprise solution optics for smart glasses, an innovative approach to a variety of business applications. Our patented Pupil-Division Optical System reduces the size of the display for a clear view of the surrounding environment, making EyeTrek INSIGHT the ultimate wearable tool for warehouse logistics, industrial field maintenance, and more.
RealWear has made RealWear HMT-1. The RealWear HMT-1 is the world's first hands-free Android™ tablet class wearable computer for industrial workers. The high-resolution microdisplay fits just below your line of sight and views like a 7" tablet. The HMT-1 works with powerful software applications optimized for completely hands-free voice control. Use it for remote mentor video calling, document navigation, guided workflow, mobile forms, and industrial IoT data visualization.
Global Head Mounted Device Market
Smart wearable IoT is the new cool. Smart wearable for professionals are becoming popular. To know more about wearable technology market size-specific information, get the smart wearable report.
Market Size
The Global Head Mounted Device Market is estimated to be USD 10.50 billion in 2019 and is growing at a CAGR of 35.0% during the forecast period of 2020-2025.
Drivers
The use of sensors in smart fabrics and smartwatches has accelerated the market. Advancement in wearable technology has pushed the demand. The uptake of smartwatches has revolutionized the smart wearable market.
•Increased adoption of AR & VR technologies.
•Technological advancements in HMDs.
•Increasing expenditure on defense equipment is expected to drive growth.
•Rising consumer preference for sophisticated wearable devices is expected to propel growth.
Learn About Commercialization
Wearable devices, for instance, smartwatches, activity trackers, and smart fabricated clothes have created a fascination for consumers.
Indian startup NIMO manufactures wearable computing devices with multi-screen capabilities. The smart glass has 64GB ROM, Wi-Fi, Bluetooth, and 6DOF head tracking. It runs on Planet OS, a unique and simple operating system developed by the team using Android Open Source Projects, which is highly optimized for low power architecture and simple to use.
Us-based startup Atheerlabs provides an augmented reality platform for enterprise applications. The platform enables interaction management and deployment of applications on smart glasses aimed at increasing productivity. Uses AI technology to assist front-line teams to perform mission-critical work by overlaying digital information in workers' visual space and thus enabling gesture-based interaction.
Key Players in Smart Wearable Market
Vuzix is an American multinational technology firm headquartered in Rochester, New York. Founded in 1997 by Paul Travers. Vuzix is a supplier of wearable display technology, virtual reality, and augmented reality.
Google Glass is a brand of smart glasses—an optical head-mounted display designed in the shape of a pair of eyeglasses. Google Glass displays information in a smartphone-like, hands-free format. Wearers communicate with the Internet via natural language voice commands.
---
Recent Reports