This report will shed light on challenges, solutions, recent technology advancements, patents & research in the area of Innovations In Alcoholic Beverages. Get free primer or contact us for custom report.
---
The global alcoholic beverages market was valued at $1,439 billion in 2017, and is expected to reach $1,684 billion by 2025, registering a CAGR of 2.0% from 2018 to 2025. This report will discuss the challenges, solutions, innovations and case studies relating to Alcoholic Beverages.
Challenges Associated with Alcoholic Beverages
To understand the industry challenges, we thoroughly investigated thousands of scientific literatures, patent literatures, and recent inventions to figure out the major problems and areas of concern. We came across the following challenges that are most commonly faced.
Alcoholic drinks are mostly bitter and unpleasant in taste. Along with bitterness, also there is a problem of bad odor in these drinks.
Glass bottle is still the main packaging form for beer. On the other hand, the glass bottle is heavier and more importantly there is a security risk of explosion.
Other problems (and corresponding solutions) that were encountered during our study, can be requested by clicking here
Viable Solutions
To solve the above mentioned problems, following solutions were found:
Changing the amount of saccharide in an alcoholic drink in order to reduce the bitterness can be employed.

The use and research of lightweight packaging advanced materials should be enhanced. PET bottles with surface coating to improve the gas barrier or aluminum cans should be employed.
---
Each year Signicent provides consultancy to hundreds of organizations to help transform their innovations to value.
---
Case Study on Alcoholic Beverages
Sapporo Holdings Ltd: The reference discloses about a fruit juice-containing alcohol beverage. The said fruit juice-containing alcohol beverage comprises alcohol 7% or more and less than 13%, saccharide, R-linalool, nonanal. It has successfully reduced alcohol odour and has improved sharpness.

Universitas Negeri Makassar, Makassar, Indonesia : They disclosed information on Production of a health drink from Sarabba Instan, made from enrekang ginger. Sarabba Instan beer has a high nutritional content and does not use artificial preservatives. Instant Sarabba is made through several stages of production, namely, stripping, drying, extracting ginger juice, stirring, and drying. Sarabba Instan is a food innovation product that is superior because its presentation is more practical and healthy because it uses natural preservatives, namely sugar.
---
Speaker Charles Nouwen (Anheuser-Busch InBev) talks about Innovations in beer industry in the light of ongoing accelerated trends with Lalit Kapur & Ravish Kumar (Signicent).
Charles Nouwen is a brewmaster from Belgium. As leader of the beer culture program for Anheuser-Busch InBev he now brings all of this together in an effort to elevate beer industry, the creativity, quality and craftmanship that goes into it.
---
Innovations In Alcoholic Beverages
(LSTME Busan,Dongseo University, Korea) is making a composition-based innovation with Improved Antioxidant content in Beer -infused with Aronia.

The reference discloses the production of single malt pale ale which is infused with Aronia berries. the antioxidant-rich fruits are added at different stages of the beer brewing process. An increase in the Aronia amount increased the attenuation. It shows a positive effect on sugar utilization during fermentation. All in all, the infusion of pale ale with Aronia berries can increase the EBC rating, polyphenol content and antioxidative capacity of the beer.

(Dunărea de Jos University of Galați, Romania) is Increasing the biological value of beer by adding antioxidant-rich eggplant.

The reference discloses addition of antioxidant-rich eggplant (Solanum melongena L.) peel extract (EPE) to increase the biological value of beer. The addition of EPE to beer resulted in an increased phenolic content, which is typically affected during the brewing process. The EPE-supplemented beer has a high functional potential and good sensory characteristics, and is stable without the incorporation of artificial preservatives.

(Porto Conte Research, Italy) is making a Process Based innovation by using Use of Ohmic treated fruit puree (Non thermal processing)

The reference discloses advantages of ohmic treated fruit puree in the beer like higher color, higher turbidity, and higher foam retention for both cherry and plum beers. Furthermore, the reference also discloses that by the use of treated puree shelf life increases and spoilage risk decreases of the beer.

(GATTUSO, Robert, Leroy, Jr. [US]) is making a Process & Composition Based innovation by addition of Infusion components such as Fruits, Spice& Hop pallets.

The reference discloses a process for the preparation of single-serving beer infusion to improve its taste with the help of composition having mix of fruit, spice and hop pellets. Furthermore, the reference discloses the dissolving the infusion mix with the beer and this provides the lower calorie light beer.
Innovative Products in Alcoholic Beverages
Bruno Ribaldi Birra Siciliana Italy : This artisanal, re-fermented and unfiltered beer is brewed with "Perciasacchi" wheat, Sicilian citrus fruit peels, and pink peppercorn, and is characterized by a sour flavor, with the typical Sicilian citrus scent.

Lake effect brewing company inland seas series USA : This beer is part of a series of eight that represents the Great Lakes of North America: each beer is inspired by the characteristics and mood of each lake, featuring ingredients from the surrounding area.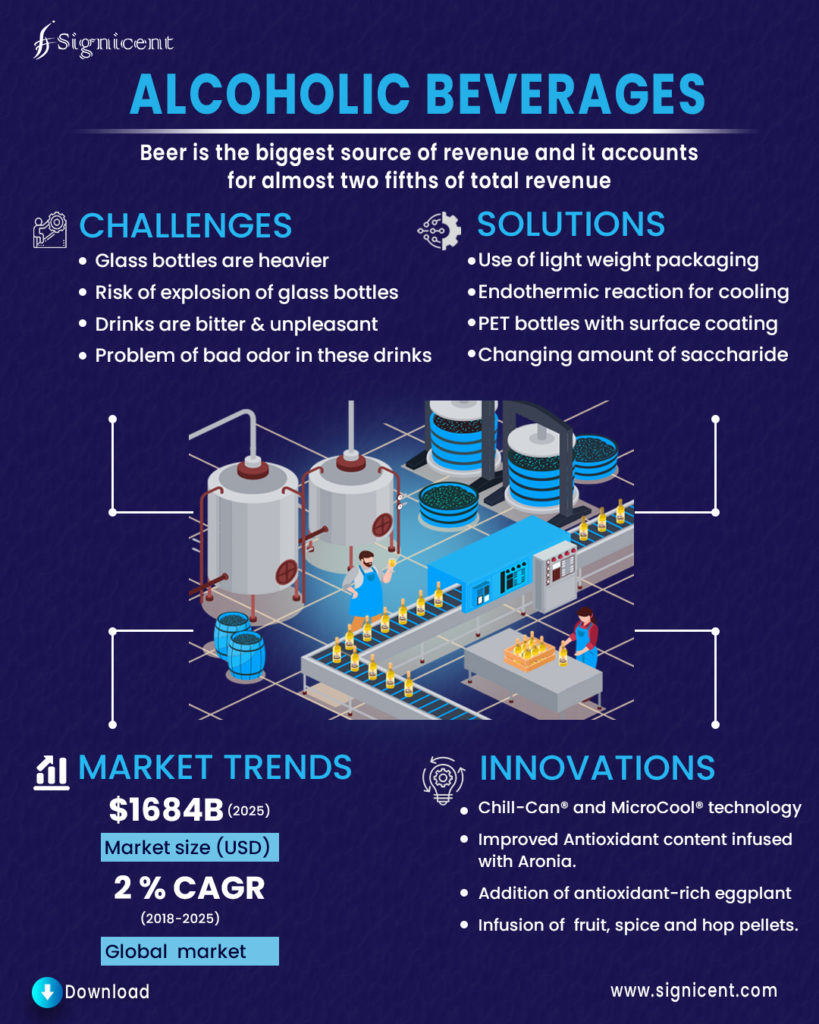 Case Study on Glass Wine Bottles
Spencer Austin, 2020 Orfalea College of Busines, US studied the challenges and proposed relevant solutions to overcome the constraints associated with wine packaging.

In the study, modernization of wine was analyzed with respect to the choice of packaging between standard 750 ml glass bottles and the innovative 350 ml aluminum can.
It was clear that wine consumers and especially millennials are willing to purchase wine in canned packaging.
When given the benefits of canned packaging, the number of people willing to purchase wine in cans went up by 26.4%.
The traditional wine packaging involve a number of technical challenges and problems
The glass bottled packaging does not engage the likes of young people.
Glass bottles are expensive.
Glass bottles don't provide much protection from sunlight and other elements.
Canned wine is a solution of a number of glass bottle problems
Cans are more environment friendly.
Cans weigh less to transport, which cuts down on carbon emissions and reduces their carbon-footprint.
Cans are convenient and allow people to easily take their drink anywhere.
Alternative of Glass Wine Bottles
The Joseph Company International Inc) (Irvine, US) has developed Chill-Can® . It is the most revolutionary value-added packaging developed today. It can self-chill without the need of any other source of energy. The technology itself, known as MicroCool®, is now available for commercial licensing and after two decades of research and development.
Case study on cooling beverages prior consumption
Many beverages available in portable containers are preferably consumed when they are chilled, the task of cooling them prior to consumption is made more difficult.
Solution
Use an endothermic chemical reaction to bring cooling effect.
Internal chamber containing the chemical (E.g., carbon dioxide)
Trigger mechanism to release the chemical from internal chamber.
---
Recent Report