The objective of the report is to explore the technological advancements under the domain of Cell Culturing in Manufacturing Cosmetic Chemicals, explicitly focusing on innovative methods of production of various cosmetic chemicals. The key deliverables insight as per the study will be based on:
Emerging technologies and recent commercialized products in cell culture-based technology in cosmetic chemicals.
Innovation trends revolving around cell culture/fermentation technology in cosmetic chemicals.
Scientific references including patents and scientific literature documents.
Global market analysis of cosmetic chemicals.
Competitive Intelligence (Key-players, Collaborations, Start-up companies, innovative products, etc.).
---
Cosmetics are constituted mixtures of chemical compounds derived from either natural sources or synthetically created ones. They are designed to enhance/ alter one's appearance. A variety of organic compounds and inorganic compounds comprise typical cosmetics. Typical organic compounds are modified natural oils and fats as well as a variety of petrochemically derived agents. Inorganic compounds are processed minerals such as iron oxides, talc, etc.
During the 20th century, the popularity of cosmetics increased rapidly. Because of the fast-decreasing age of makeup users, many companies from high-street brands catered to this expanding market by introducing innovative products.
With the advancements in technology over the years, cell culture-based manufacturing of cosmetic ingredients has increasingly become popular. There have been reported many cases of production of alternatives to various cosmetic chemical ingredients like palm oil etc. Alternative production is linked with traditional processes harming the environment drastically while culture-based techniques are environment-friendly, natural and sustainable. Many new and existing companies are constantly collaborating for the production of cosmetic chemicals sustainably.
Associated Challenges
Understanding challenges and finding viable, cost-efficient solutions can aid in the expansion of business. After a comprehensive analysis, the experts of Signicent have found multiple challenges associated with the manufacturing of cosmetic chemicals based on cell culture technology, some of which are discussed below:
Industrial production of 2,3-butanediol using conventional Petro-based techniques is limited by the high cost of production factor. Moreover, high temperature-based fermentations were linked with the inhibition of the productivity of the chemical compound.
High concentrations of lactose & other organic substances in the dairy industry by-products have been linked with high organic load & high COD which makes it an environmental problem. Moreover, the effective utilization process of whey permeate is still underway.
Innovative Solutions
To overcome the associated challenges, the following viable solutions can be opted.
Efficient Production of 2,3-butanediol Chemical from Newly Isolated Bacteria
In recent years, the focus of the bio-based industries has shifted towards the use of lignocellulosic biomass as a renewable source for biotechnology because of reduced petroleum resources, GHG emissions and fluctuations in the crude oil market prices.
However, most of the petrochemically synthesized chemicals could also be produced using microbial biocatalysts.
Out of the various microbial fermentation products, 2,3-butanediol (2,3-BD) is a valuable bulk chemical that is used in various applications across cosmetics as it provides superior moisturizing and preservative-boosting effects in the food & chemical industry.
To overcome the above-mentioned key problems, researchers have isolated a novel thermotolerant Cronobacter sakazakii which could yield high levels of 2,3-butanediol at high-temperature fermentations by utilizing xylose & glucose as carbon sources.
Bioproduction of 2-Phenylethanol (2-PE) by Yeast on Whey Permeate Medium
The past few years have seen a rapid development of technologies that use organic waste to produce various molecules, such as biofuels, aromas, and enzymes.
Three main types of organic wastes worldwide are being processed, i.e., the lignocellulosic biomass, vegetable or fruit pulp, and whey/whey permeate, which are major by-products of the dairy industry.
Due to high organic load and high COD, this has become an environmental issue & fruitful processing could be one of the solutions.
Therefore, to overcome these challenges, researchers have devised a way out by using yeast of the Kluyveromyces genus, which uses whey permeate and thereby produces 2-Phenylethanol, which could be further utilized in the cosmetic industries. As 2-Phenylethanol is an aromatic alcohol with a rosy scent and antimicrobial activity.
---
Each year Signicent provides consultancy to hundreds of organizations to help transform their innovations to value.
---
Market Forecast Cosmetic Chemicals Market
The global cosmetic chemicals market is expected to reach USD 24.50 billion by 2027 from an estimated USD 15.67 billion in 2020, at a CAGR of 6.59% from 2020 to 2027.
Market Segmentation
This section of the report hereby sheds light on the market segmentation to understand the global trends to expand business for cell culture technology in the cosmetics industry. The market categorization is based on different factors such as:
Based on the type:
Emollients
Sunscreen chemicals
Conditioning agents
Thickeners
Others
By Application:
Skin / Hair Care
Oral Care
Cosmetics
Others
By Geography
North America
Europe
Asia Pacific
Middle East
Others
Key Players
This section of the report enlists the major players working on cell culture-based technology for the manufacturing of cosmetic chemicals.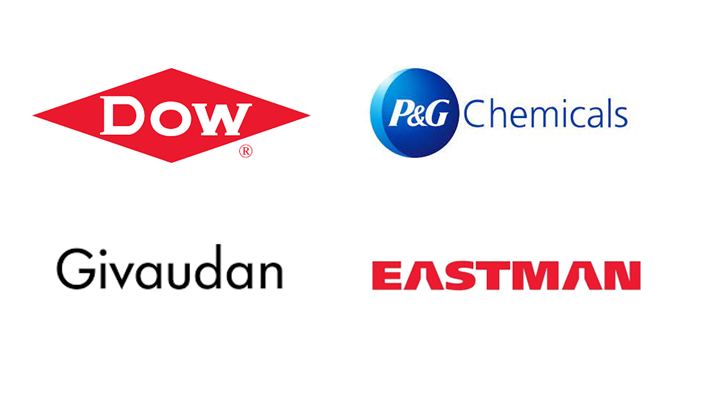 ---
Recent Report