The objective of the Corrosion Inhibitors Report is to explore and analyze emerging and novel technologies in the management and prevention of corrosion and rust. The report will uncover different aspects in the field of corrosion inhibitors, like
Problems associated with existing corrosion inhibitors and solutions.
Biodegradable or naturally derived corrosion inhibitors with good volatile properties.
Commercialization aspects such as products, major companies, and startups are also discussed.
Most metals and alloys are unstable and prone to corrosion when exposed to air and moisture. Corrosion may have an impact on industrial machinery eventually reducing the shelf life of infrastructure assets. Corrosion must be controlled in order to reduce expenses on materials and structure. Most industries have relied on hexavalent chromium [Cr (VI)] to prevent corrosion. However, this chemical compound seems to cause cancer in humans and animals. Therefore, there exists a need for innovative approaches and solutions that are more sustainable, efficient, and eco–friendly than current ones.
Challenges
Signicent experts screened thousands of research papers, publications, and patent literature to comprehend the industrial challenges experienced by existing corrosion inhibitors.
Toxic & Non-Biodegradable: The corrosive and non-biodegradable nature of the existing corrosion inhibitors has various detrimental effects on human health and the environment.
High manufacturing cost: It has been observed that manufacturing many organic and inorganic inhibitors is expensive. Therefore, there is a need to shift towards naturally synthesized chemicals that can be obtained easily through simple and inexpensive methods.
Unfavorable environmental conditions: The demand for corrosion inhibitors sometimes depend upon different environmental conditions such as high temperatures, high humidity, salt spray, high water tables, and soils with chloride deposits. In order to choose a suitable inhibitor, first, analyze the reason behind corrosion.
Pitting attack: Concern with inhibitors is that they will suppress the generalized corrosion but if the amount available is inadequate due to low dosage or consumption, there could be localized pitting attacks.
Innovations
Microwave-Induced Synthesis of Chitosan Schiff Bases
Chitosan (N-deacetylated product of chitin) is a natural biopolymer with some attractive properties such as immunological activity, biocompatibility, low toxicity, and biodegradability. Chitosan and aldehydes were reacted to form three different environment-friendly chitosan Schiff bases (CSBs) under microwave irradiation, then characterized by IR and NMR spectroscopy.
According to the studies by electrochemical impedance spectroscopy (EIS) and potentiodynamic polarization (PDP), all the Schiff bases (CSBs) act as effective corrosion inhibitors for mild steel in 1 M HCl solution.
4-hydroxy-3-methoxybenzaldehyde as a volatile inhibitor
4-hydroxy-3-methoxybenzaldehyde is a non-toxic efficient volatile corrosion inhibitor, introduced for the temporary protection of mild steel. A thin stimulated atmospheric corrosion water layer was used to evaluate the inhibitory effect of chemicals on the corrosion of carbon steel by applying electrochemical techniques. According to the polarization data, this volatile inhibitor is a mixed-type inhibitor with electronic parameters. The adsorption activity of the developed components was predicted using quantum-chemical calculations. And according to these calculations, all the molecules have a high propensity for donating electrons, high reactivity, and the energy change associated with the charge transfer to the mild steel surface.
New Vapor Phase Corrosion Inhibitor
Earlier, hydrazine was applied to steam generators as an oxygen scavenger to prevent corrosion. Although it is a genetically carcinogenic substance and a harmful chemical. The use of hydrazine has been replaced by a new vapor phase corrosion inhibitor based on amines that are recently developed to use in steam generating systems and boilers. Different test results proved that the amine-based inhibitor promoted and stabilized a protective (Fe3O4) magnetite oxide on the pipe internals. Moreover, these inhibitors showed a decreased corrosion rate in different steam generators and boilers.
Biodegradable & smart corrosion inhibitor
The new anti-corrosion inhibitor called TTHIIDT- (3ar,6ar)-3a,6a-di-p-tolyltetrahydroimidazo[4,5-d] imidazole-2,5(1 h,3h)- dithione, developed for carbon steel in 1M concentration of HCl. Various testing of this compound in varying concentration and temperature ranges by gravimetric, electrochemical, surface, and quantum chemical analysis proved it a biodegradable and non-toxic corrosion inhibitor. The results showed that TTHIIDT had an inhibitory efficacy of over 95–97% and relative stability with rising temperature and concentration. This mixed-type inhibitor significantly impacted both cathodic and anodic corrosion reactions. And in 1M HCl solution, it is insoluble when it forms a thin hydrophobic coating on the surface of carbon steel. Moreover, it will endothermically adsorb on the surface of carbon steel by the physical and chemical sorption processes.
According to the studies, it is found that the Cerium phosphate-based inhibitor prevents corrosion in the WE43 magnesium alloy. The combined action of cerium and organophosphate moieties leads to the protective behavior of the Ce (DEHP)3 inhibitor. Localized electrochemical methods unveil the pH-dependent and self-healing properties of this smart corrosion inhibitor. Additionally, it reveals the reduced net cathodic current densities compared to an unmodified reference coating.
---
Each year Signicent provides consultancy to hundreds of organizations to help transform their innovations to value.
---
Market
Analysis shows that the market share for corrosion inhibitors is rising exponentially. The size of the global corrosion inhibitor market is expected to rise from USD 7.9 billion in 2021 to USD 10.1 billion by 2026, at a CAGR of 4.9% between 2021 and 2026.
The major growth factors that propelled the global corrosion inhibitor market include:
Increasing population levels
Increasing industrial growth
Environmental conditions
Startups
A British firm Corrosion RADAR was established in 2017. It designs and distributes the world's longest-range Corrosion Under Insulation (CUI) monitoring technology for pipelines, refineries, and other applications. The patented method enables the transition from manual inspection to automated monitoring and from reactive to predictive corrosion management. Early detection aids in preventing corrosion, which reduces costs and risks.
SAS Nanotechnologies is a US-based startup founded in 2016, that has developed polymer-based, partially open, hollow microcapsules. Those microcapsules release their encapsulants based on external triggers like electrochemical potential, voltage, reduction, etc. This enables the control of encapsulant to release according to the need and offers the opportunity to overcome a number of challenges.
Acquisition
Roemex and Subsea Energy Solutions, a global provider of offshore engineering and technology solutions, announced a strategic collaboration to provide innovative new solutions to solve marine corrosion. Together, the companies are looking to reduce the capital and operational costs in relation to corrosion prevention through the provision of corrosion control products within J Tube seals.
Key Players
As the competition is growing, innovations are helping businesses to stand out. Some of the top companies that are working aggressively on corrosion inhibitors are mentioned below.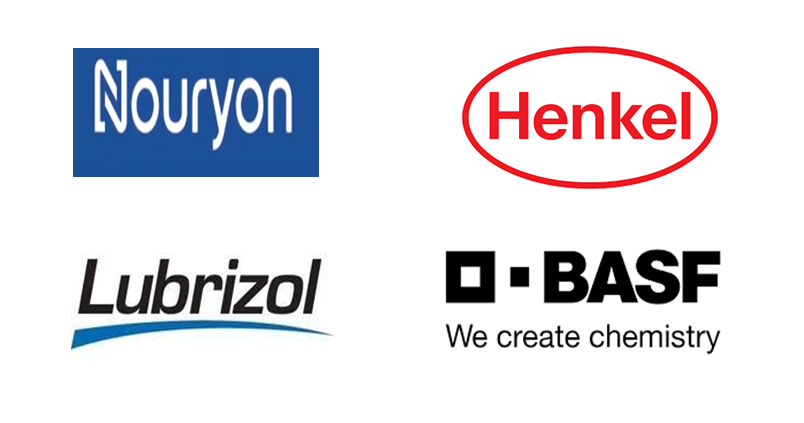 ---
Recent Report