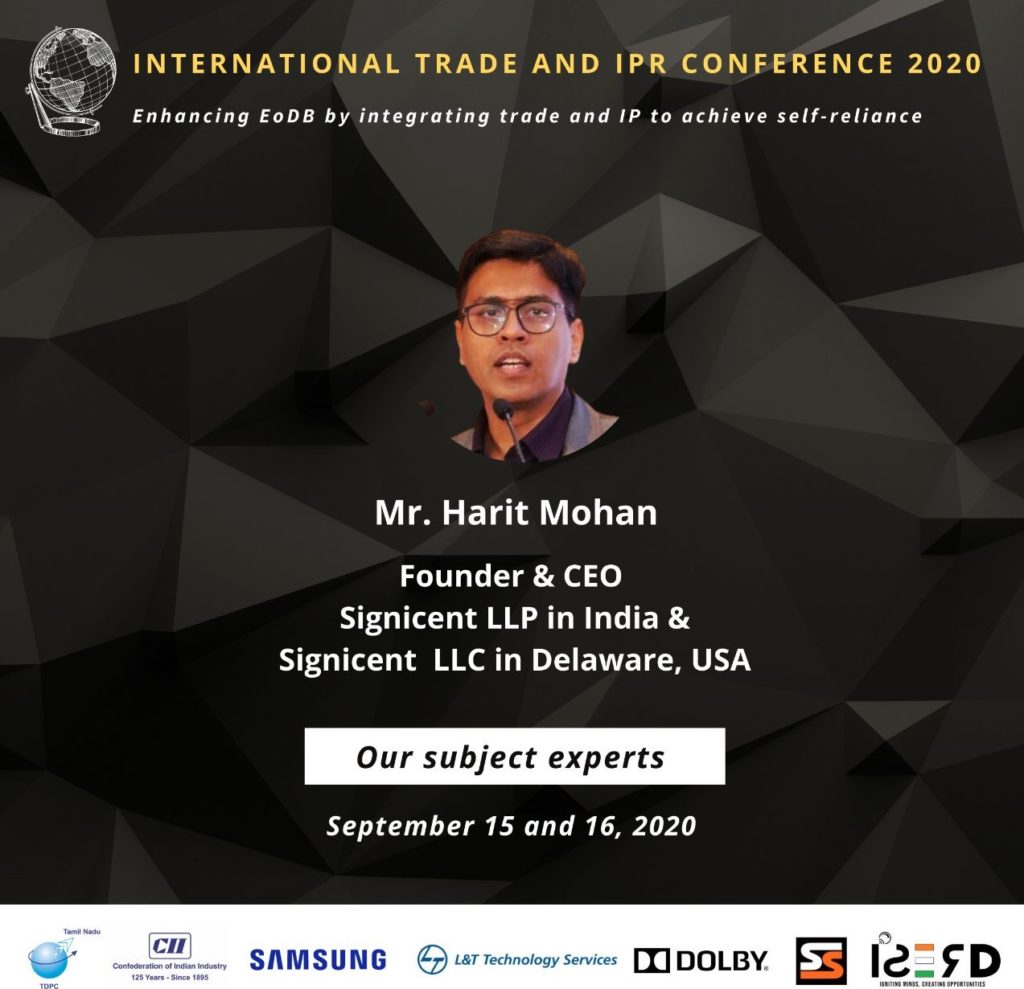 In a conference titled International Trade and IPR Conference 2020 organized by ISERD India-Intellectual's Society for Entrepreneurship and Research Development and Tamil Nadu Technology Development and Promotion Centre (TNTDPC) under Confederation of Indian Industry, Signicent – Technology, IP & Market Research Founder & CEO Mr. Harit Mohan gave detailed insight into India's Ease of Doing Business for small scale industries and role of startup ecosystem in India.
How well did India do at ease of doing business 2020?
According to World Bank's Doing Business 2020 Report which captured reforms implemented by various countries to make it easier to do business between May 2018 and May 2019. India is amongst the few other countries to have made notable improvement in Doing Business 2020 which is observed from its jump from 77th rank in Doing Business 2019 to the 63rd spot in Doing Business 2020. However, India is far from the no. 1 ranked New Zealand which introduced a slew of reforms through the years in doing better at business.
Some statistics depicted in the presentation on the ease of doing business among various states showed that Andhra Pradesh retained the top spot in India's Ease of Doing Business Report 2019. Uttar Pradesh famously moved to the 2nd spot from 12th whereas Delhi improvised on its ease of doing business jumping up from 23rd to the 12th place. On the other hand, Haryana, Odisha and Bihar saw a decline in their rankings.
There are many parameters on which the ease of doing business is measured such as starting a business, employing workers, getting electricity, resolving insolvency, getting credit contracting with the government, enforcing contracts, paying taxes, registering property, dealing with construction permits, protecting minority investors and trading across borders. The impetus for India's improvement was came from improvising in resolving insolvency, rising from 108th to the 52nd position, India made dealing with construction permits easier, improved on trading across borders, however overall ranking was affected by enforcement of contracts where India still ranks at 163 and starting a business hasn't been an easy road where India ranked 136th.
Starting up
In a pilot survey conducted by the Reserve Bank of India published in The Hindu in January, 2020 most (42.9%) Indian startups still remained to be funded by friends and family, followed by angel investors and incubators, whereas funding through NABARD, SIDBI and NBFC remained relatively lower.
How are startups doing in India?
Some compelling numbers were brought forward during the presentation:
55,000+ startups in India out of which 33,000 are registered under DPIIT
India is the 3rd largest startup ecosystem in the world
During 2014-2019, an average of 8900-9300 startups have been incepted
1300+ startups added in 2019 alone
Startups actively engaged in various sectors ranging from energy, agritech, automotive to about 20+ diverse sectors
60000 direct jobs were created by tech startups in 2019
However, it is noteworthy that only 10% of these startups go further than 5 years after their inception into successfully running businesses.
Signicent helps startups from various domains and different geographies such as Europe, US and Asia from patent searching, patent drafting & illustration to patent filing. Get in touch with us to give a head-start to your business today!
What is the current Startup ecosystem in India?
335+ active incubators & accelerators
Startups Funded 443 ('20) vs. 725 ('19) in Jan-June
36 Unicorns at $119 Billion valuation
155 'soonicorns' 52 can become unicorns by 2022
$8 billion invested by Chinese investors in Indian Unicorns
India ranked 52 out 57 in Index of Women Entrepreneurs, 2019
18% startups leverage deep-tech (AI, IoT, Blockchain)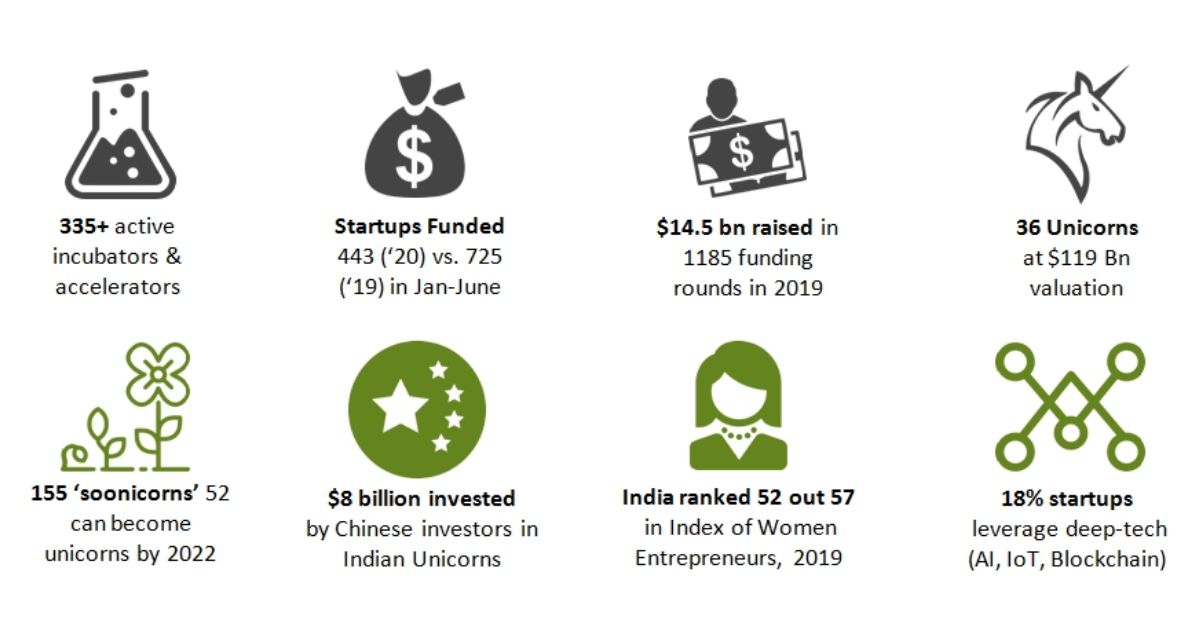 In a NASSCOM report on startups 2019, the sector wise split shows that more than half the number of startups founded during 2014-19 was involved in enterprise, healthtech, fintech, HRtech and edtech. Others ranged from agritech, mobility, real estate and construction, retail tech, SCM &logistics to automotive.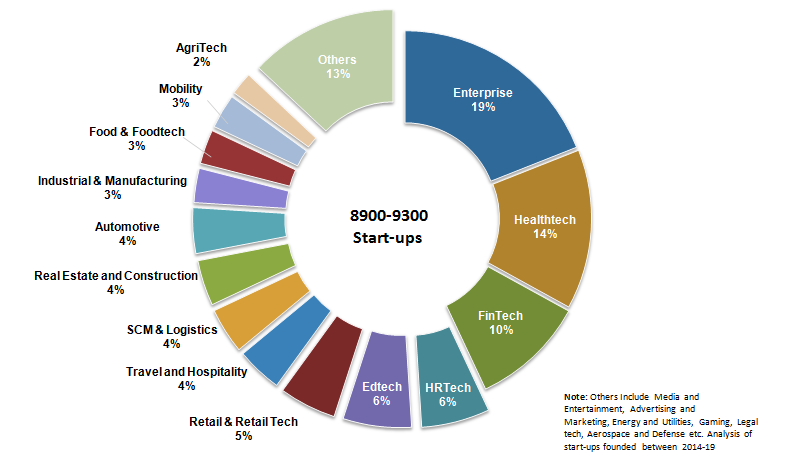 Signicent has helped startups and businesses from agritech, automotive, industrial and manufacturing, food and foodtech sectors, and many other sectors. Get in touch with our experts on competitive intelligence, technology research.
Impact of COVID-19 on Startups
In the times of COVID-19 pandemic, every nook and corner of the industrial setup has been affected. However a look at the numbers shows that Edtech, Fintech, Healthtech, Mobility & Automotive sectors had higher CAGR of more than 50% since 2014 until the time global pandemic was declared whereas human resources, real estate, retail tech, industrial & manufacturing, travel & hospitality, enterprise, foodtech and SCM & logistics showed medium growth (CAGR>35%).
However, the story changed ever since the outbreak marked its arrival and the state of startups has seen a gloomier side
About 40% Indian startups halt operations amid COVID-19: NASSCOM
About 34% of start-ups are suffering revenue decline of over 80%
While 70% of travel and transport startups reported suffering 40% revenue decline
Startup funding dropped by 29% in the first six months of 2020 to $4.2bn vs. $5.9bn in 2019
Significant slowdown in funding activities, primarily caused by a sluggish economy.
Key Challenges
Small scale industries form a meager 0.52% of the nation's total MSME industries as per MSME annual report 2019-2020 amounting to about 3.31 lakh small scale enterprises. These employ about 31.95 lakh people. In the wake of these testing times, it is quintessential to provide relief to small scale industries and start ups. MSMEs are facing dire operational and financial constraints. There has been a shortage of working capital, labor crunch and limited availability of raw materials. Startups need favorable environment for investors.
The bright side
In spite of the challenging times, some sectors of startups have seen growth and are speculated to grow beyond COVID-19.
SAAS & REMOTE-WORKING TOOLS
OTT PLATFORMS such as Netflix, Disney Hotstar etc.
ONLINE GAMING (the band of PubG have opened some avenues for Indian developers to pitch in)
Managed office spaces
Ed tech such as Unacademy, White Hat Jr & BYJU's have seen immense growth
Pharma and Life sciences
Labs/Pathology – diagnostic service providing firms.
Financial services
E-commerce & delivery platforms
The road ahead is uncertain but there is always light at the end of the tunnel.