The objective of the report is to perform technology scouting on "Data system sensors for E-mobility". The report covers the following aspects:
Details of innovations & research works for Data system sensors for E-mobility.
Competitive intelligence includes prominent companies working with Data system sensors for E-mobility and IP filing trend.
Details of Mergers/Acquisitions happening in the area of "Data system sensors for E-mobility".
---
Problems
NTC sensors are an increasingly weak point of many electric cars. Due to diffusion processes in the bulk material, the temperature coefficient curve shifts after some time and the precision of the measurement decreases. As a result, temperature limits can no longer be reached and necessary safety margins affect the performance of the electronics.
Existing solutions for rotation measurement are often based on the resolver principle, which is complicated and needs to be adapted to each type of synchronous motors specifically and is also a comparatively massive sensor with less efficiency.
Innovative Solution
There is no denying that most of the companies that adopt innovative approaches reach new heights in their industry. Innovations aid in the expansion of businesses by offering new market opportunities. This section of the report enlists the innovative solutions that overcome the above-mentioned problems.
Platinum Sensors Shaping the Future of Electromobility
Platinum thin-film sensors are characterized by extremely high stability/ low drift, allowing the entire working potential of the battery to be used risk-free for the long term. Temperature sensors are positioned and connected on flex boards. The elements can be positioned directly at the hot spots using self-adhesive film in order to achieve excellent response behavior. Plug-and-play assembly is made possible by the use of AEC Q200 compliant SMD chips in combination with standard connectors. The precision of the platinum sensors and their optimized combination with the ideal housing selection ensure greater safety, better performance and a longer service life in the long term.
A platinum layer on an aluminum substrate ensures an almost linear temperature coefficient and thus permits continually precise measurements. Platinum thin-film sensors made it possible to reach the temperature limits. Temperature is measured at the precise critical location, with a fast response time, with high efficiency, allowing the entire working potential of the battery to be used risk-free for the long term.
Continental new E-motor rotor position sensor: smoother operations for EVs
The e-motor Rotor Position Sensor (eRPS) is developed to control synchronous motors. To achieve maximum motor efficiency, the motor control unit needs to know the exact position of the rotor, which makes this type of sensor an essential part of synchronous motor applications. While the resolver is a comparatively massive sensor, the eRPS is very flat and supports compact motor designs with a small overall length. The sensor design is based on eddy current principle and is optimized to increase robustness to mechanical tolerances. State-of-the-art Integrated Circuits (ICs) are used for signal processing. The IC has been designed according to ISO 26262 functional safety automotive standards to reach ASIL C. As an option, two ICs can be embedded in the eRPS to ensure the redundancy that is an integral part of functional safety.
What's Trending
Qualcomm Brings Home Broadband to The Car
Qualcomm in automotive introduced a new Snapdragon Auto 5G Modem-RF Gen 2 platform that brings living room-quality broadband into the car.
Qualcomm had an impressive demonstration of its Digital Chassis platform in the form of a custom-built car. The working prototype EV/AV car leveraged the Digital Chassis' advanced driver assistance system, cockpit, connectivity, and software technologies all integrated into an attractive high-performance passenger vehicle. Offering increased processing power and system capacity, this latest auto modem-RF platform will support safer and more connected in-vehicle experiences, thanks to lower latency for content streaming on multiple devices simultaneously, precise positioning autonomous driving and more. Riders and passengers will have an opportunity to have a more personalized surrounding and experience with the platform's support for connected services and applications.
---
Each year Signicent provides consultancy to hundreds of organizations to help transform their innovations to value.
---
Mergers & Acquisitions
Mercedes-Benz and Rivian have partnered to produce electric vans at scale in Europe. Together, the companies plan to build and operate a factory in Europe that produces vans for both brands as Rivian. The partnership will enter production in a few years, according to Mercedes-Benz. The new EV factory will be located near one of Mercedes-Benz's existing plants in Europe and serve as Rivian's first international presence.
Global Players
This section of the Data system sensors for E-mobility report enlists the global key players operating in the Data system sensors for E-mobility market. There are many companies that manufacture data system sensors for E-mobility like Bosch, Continental AG, TE Connectivity Ltd, Aptiv PLC, Infineon, Texas Instruments Inc. etc.
These companies provide a range of data system sensors for electric vehicles, such as battery management systems, motor controllers, and power electronics. They also offer a variety of other electronic components and systems that are essential for E-mobility applications.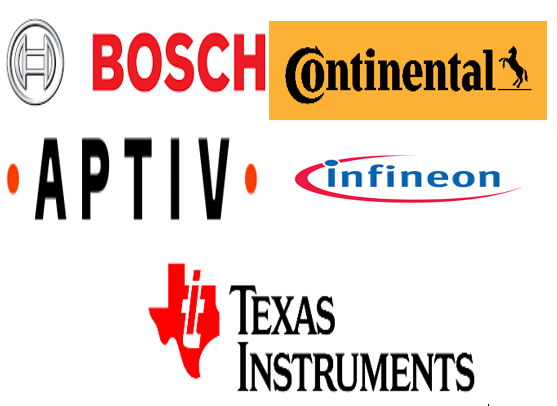 IP Filing Trend
This section of the Data system sensors for E-mobility report depicts the IP Filing Trend in the data sensor for E-mobility sector. It can be observed from the data below, Toyota motor has maximum count of patent families followed by Hyundai motor.

Future Scope
As the world moves towards a more sustainable future, the adoption of electric vehicles is increasing rapidly, and it brings the need for data systems to monitor and manage various aspects of e-mobility. Here are some potential areas of growth:
1. Battery Management: The performance and longevity of the battery are crucial to the success of e-mobility. The data system sensors can monitor the battery's temperature, state of charge, and health to ensure optimal performance and prevent failures.
2. Vehicle Diagnostics: E-mobility vehicles are complex machines with many moving parts. Data system sensors can monitor and diagnose faults in the vehicle's systems, allowing for timely repairs and reducing downtime.
3. Autonomous Driving: The future of e-mobility is autonomous vehicles. Data system sensors will play a vital role in enabling autonomous driving, monitoring the vehicle's surroundings, and making decisions based on the data collected.
4. Fleet Management: E-mobility will not only impact individual car owners but also commercial fleets. Data system sensors can provide valuable insights into fleet management, including vehicle utilization, fuel consumption, and maintenance schedules.
The future scope for data system sensors in E-mobility is vast, covering everything from battery management to fleet management. As e-mobility continues to grow, so will the need for intelligent data systems to monitor and manage the vehicles' performance.
---
Recent Report