This hair care packaging report demonstrates innovative technologies, products, solutions to existing problems, applications in hair & personal care industry. The packaging solutions are sustainable and green.
---
Today, the world is looking at sustainable packaging solutions. The increasing environmental pollution challenges have propelled essentially the need for sustainable packaging. As the fashion industry is growing aggressively the need for hair care packaging is also drastically growing. The packaging industry is burgeoning progressively in the market. The packaging gives pleasing appeal and contributes to the brand value. Consumers have become more aware and are adopting fundamentally eco-friendly packaging.
Packaging Trends for Hair Care Market
The hair care products include shampoo, conditioners, serum, hair sprays, and more. The packaging and printing of the bottles and pouches are a very huge market. The market will increase considerably as the production and manufacturing of hair care products are rapidly increasing.

Waste-free Packaging Technology
Nohbo (Florida) has worked on biodegradable and waste-free packaging. NOHBO Drops are single-use, water-soluble drops containing shampoo, conditioner, body wash, or shaving cream. The outer biodegradable film is designed to break down fast in shower water.
Eliah Sahil (Austria) has worked on biodegradable and waste-free packaging. It meets the condition of refill packaging and reusable packaging. It will solve the dumping issue and save the planet. More and more manufacturers are now turning to reusable packaging. The materials such as paper, glass, wood, that support eco-friendly packaging are gaining popularity. The refill bags are made from plant materials that are 100% biodegradable. These bags are industrially compostable and biodegradable. Refill cans are made of tinplate, aluminum and these containers are refillable.
Bioplastics Packaging Technology
We analyzed the research done by Universiti Tun Hussein Onn, (Malaysia) which discloses the use of corn bioplastics for the packaging of shampoo, milk, and many more applications. The bioplastics are toxins-free, produce less greenhouse gas, and are easy to compost.
Biodegradable Packaging Technology
SOAPBOTTLE Jonna Breitenhuber(Berlin) has worked on biodegradable and waste-free. The technology is based on soap-made packaging/soap bottles. SOAPBOTTLE, packaging made from soap and packaging dissolves slowly from the outside. A very interesting fact is that the residues of the SOAPBOTTLE can be used as cleaning agents. This serves the dual problems and is cost-efficient. Soap is made from natural resources and is completely biodegradable.
Biodegradable Recyclable Packaging
LOVE HAIR has worked on biodegradable recyclable packaging. The technology is based on bio/plant-based material containers. The packaging is biobased and the bottles are recyclable. It is made from 100% Brazilian Sugar Cane. Renewable resource manufacturing helps reduce greenhouse gas emissions.
---
Each year Signicent provides consultancy to hundreds of organizations to help transform their innovations to value.
---
Emerging Bio/Plant based material containers
We studied a concept-based technology by NASCIMENTO DENISE DO, Brazil that discloses a biodegradable ecological packaging package. The said biodegradable packaging package is made up of biodegradable polymer.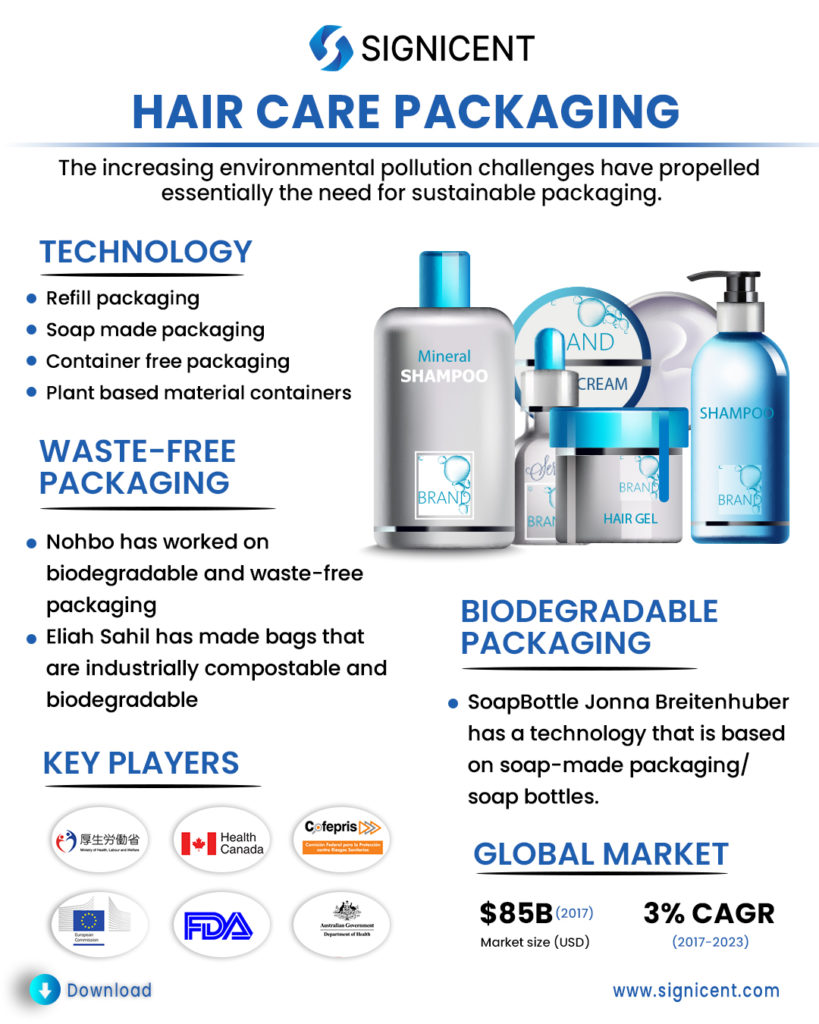 Global Market Trends
The Global estimated hair care market was worth US$ 85 Billion in 2017. and is expected to reach USD 100 Billion by 2023, at a projected CAGR of more than 3%.
The US hair care market segment amounts to US$12,319.0m in 2020. The market is expected to grow annually by 3.0% (CAGR 2020-2023).
The European haircare market generated US$ 17001 million in 2016 and is expected to generate US$ 17467million by 2025. The market is expected to grow at a CAGR of 0.36% during the forecast years of 2017-2025.
The Australian estimated hair care market was worth US$ 904.6m in 2020. The market is expected to grow annually by 2.5% (CAGR 2020-2023).
The Asia Pacific haircare market was worth US$ 11968 million in the year 2016. It is anticipated to grow at a CAGR of 1.73 % for the forecast period of 2017-2025 and collect a revenue of US$26974 million by 2025.
Regulatory Authorities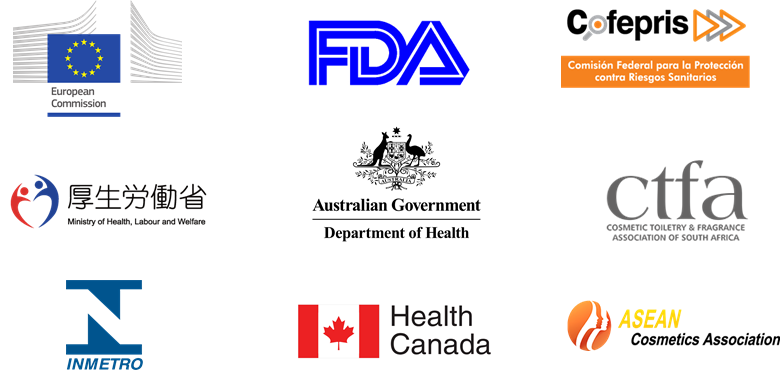 ---
---
Recent Reports