The microplastics free cosmetics report sheds light on challenges of degradation of microplastics, alternatives of microplastics for cosmetics, market trends, key companies and partnerships to tackle the problem of plastic soup & treatment of wastewater having microplastic.
---
"Microplastics" refers to all types of tiny plastic particles (smaller than 5mm) that are intentionally added to cosmetics and personal care products. They are often used as emulsifying agents or just as cheap fillers. Microplastics, flow straight from the bathroom drain into the sewer system. Wastewater treatment plants are not designed to filter them out and that is how microplastics contribute to the 'Plastic Soup' swirling around in our oceans.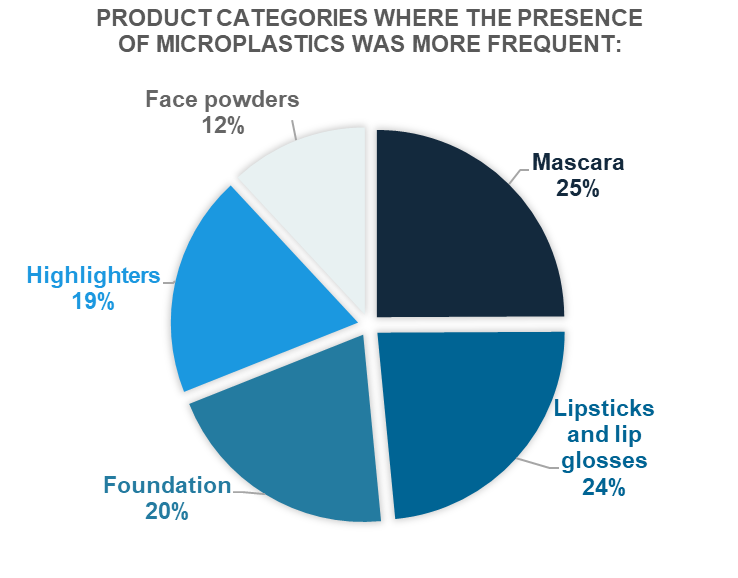 Addressing Technical Constraints Microplastic Free Cosmetics
In this section of the microplastics free cosmetics report the challenges associated with the usage of microplastics are discussed.
Microplastics are used in some cosmetic products most commonly as exfoliants but microplastics are hazardous and adversely affect the environment. Microplastic has a size of less than 5 mm in diameter. Due to their small size, these microplastics cannot be treated through sewage treatment facilities and are discharged into rivers causing water pollution.
Exemplary Solutions
In this section of the microplastics free cosmetics report the innovative solutions and emerging products are discussed.
There is a need for a natural combustion material technology that can replace a microplastic that plays a role in lubrication or abrasion in life products or cosmetics. Fine sand powder, the powder obtained by drying and pulverizing nutshells, powder of sodium hydrogen carbonate, and bentonite stone powder has been reported as substitutes for fine plastics.
Report on Innovations in Microplastic free Cosmetics
The R&D Group, Fraunhofer Institute for Microstructure of Materials and Systems is working on innovative techniques. Due to the increased accumulation of microplastic and its hazardous effects, there is a requirement to replace them and find their substitutes.
The identification of a natural, biodegradable alternative to microplastics in exfoliants was done with good efficacy. The natural cellulose was selected, optimized, and analyzed for their use as environm­ent friendly, biodegradable alternatives to microplastics in cosmetics and personal care products.
Biodegradable cellulose particles were derived from various sources and modified using milling and grinding technology. Their microstr­uctures were analyzed, and their abrasion and cleaning effects were tested for applicability in facial exfoliants and kinds of toothpaste.
The results indicate cellulose scrubs offer optimal characte­ristics including low abrasion with high cleansing efficacy. Cellulose represents a mild, patch-test approved, and non-irritating alternative to other natural.
Conclusions
Cellulose particles with varying shapes from different origins, in comparison with silica and PE.
Biodegra­dability: Results of biodegra­dability tests shows that depending on the origin and shape of the cellulose particle, its biodegra­dability ranged between 78–100% after 1–2 months and will always degrade at 100% as shown in the graph.
Abrasion efficacy: The Abrasion Efficacy reduced. Cellulose particles showed significantly lower abrasion in comparison with silica (p < 0.001). The measurements also showed that different cellulose particle sizes produced different exfoliation levels.
The Cleansing Efficacy: It is matched with polyethylene or silica. Cellulose particles had a cleansing effect in cosmetic products that were comparable to that of polyethylene or silica. Significantly lower cleansing efficacy was found for commercial product 1 and water.
Report on Substitutes of Microplastic in Cosmetics
In this section of the microplastics free cosmetics report the alternatives that are sustainable have been discussed.
Microplastic is replaceable by natural particles such as oatmeal and a natural organic binder. The Microplastics substitute material for cosmetics or quazi drugs is oatmeal. It is mixed with a natural organic binder. The slurry is made by mixing the materials (2 to 4 parts by weight of a binder and 1 to 3 parts by weight of dispersant to 100 parts by weight of oatmeal). It is then spheroidized through spray drying to control the shape and agglomeration of the oatmeal. The binder is any one of potato starch, polyethylene glycol (peg), or polyvinyl alcohol (PVA).
Oatmeal has a particle size of 10 to 40 µm and a spherical particle shape. The oatmeal has a spherical shape and has a less agglomeration effect so that it can be broken well by pressure.
Microparticle for personal care & home care products
The self-assembled biodegradable microparticles have a particle size of 0.5 to 10 microns and they're used for the preparation of personal care products or home care products. The microparticle is obtained by contacting a bis-acid and organic base in a hydrophilic solvent, wherein the acid is insoluble or sparingly soluble in the hydrophilic solvent and the organic base is soluble in a hydrophilic solvent.
The invention is particularly advantageous in supporting enzymes, for example, the lipase Cal B, commonly used in detergents and personal care products. The composition is substantially free from microplastics or other non-biodegradable microparticles and has antimicrobial properties.
---
Each year Signicent provides consultancy to hundreds of organizations to help transform their innovations to value.
---
Report on Microplastic Free Cosmetics
Native has made a deodorant with Caprylic/Capric Triglyceride An oil made from coconuts that make Native go on smooth.
Magnesium hydroxide Also found in antacids like Milk of Magnesia, Magnesium Hydroxide partners with baking soda to help neutralize odor-causing bacteria.
Ozokerite also known as earth wax and is great at naturally stabilizing all the ingredients
Baking Soda Also known as Sodium Bicarbonate, found in cakes and cookies – helps neutralize odor-causing bacteria
Coconut Oil Also known as Cocos Nucifera Oil – we can't get enough of it – is packed with rich fatty acids, vitamins, and antioxidants.
Stockholm University and L'Oréal
The Stockholm Resilience Centre (SRC) has established a science-business research project with the global beauty group L'Oréal. In this collaboration, center researchers are working from existing tools and metrics, to assess pressures on the planet from a resilience viewpoint. They aim to identify potential opportunities for improvement in the L'Oréal group that could enable the development of the most sustainable products possible. The two-year collaboration adds to the center's portfolio of activities that aim to apply the planetary boundaries framework to business sustainability target-setting.
Market Analysis
The global market value for natural cosmetics and personal care is expected to a positive increase from almost 34.5 billion dollars in 2018 to roughly 54.5 billion dollars expected for the year 2027. High demand and consumers awareness are the key driving factors. Shifting demand for application in bio-based materials for manufacturing cosmetics instead of toxic plastic is fuel to market growth.
Lack of access and awareness in emerging markets act as restraints for the growing market. While the absence of specific regulation on the topic and the disparity between private standards and administrative interpretations on natural cosmetics are some of the challenges.
---
Recent Report