The objective of the report is to perform technological intelligence on New Age Dairy products. The new age dairy products report covers the following aspects:
Recent developments including the key innovations and trends
Market analysis covers the market size, dynamics, segmentation, and growth projection
Details of key players, startups, and collaborations
---
The advancements in food technologies have demonstrated the potential to produce shelf-stable dairy products with retained nutritional parameters.
Challenges
Additive Protein in Dairy Products
Protein addition to dairy products can increase viscosity and heat treatment, which causes protein denaturation and a sandy texture to the product.
Recrystallization in Ice Cream
The recrystallization in ice cream results in the formation of large ice crystals. These ice crystals can degrade the quality of the product.
Lactose Intolerance
The consumption of dairy products is limited by people suffering from lactose intolerance.
Lump Formation in dairy
Conventional mixing often results in the development of lumps in partially hydrated material.
Enzyme Addition
The use of enzymes to reduce the viscosity of dairy products degrades their taste.
Consumer Consumption
There is a lack of dairy options for people suffering from sedentary disorders like hypertension and diabetes.
Innovations
Slow-melting dietary fiber-enriched ice cream
Dietary fibers serve as naturally occurring hydrocolloids that have multifunctional properties such as water-holding capacity, gelation, fat mimetic, anti-sticking, anti-caking agent, texture modifier, thickener, and stabilizers in processed foods.
The addition of Bacterial Cellulose as an ingredient in ice cream results as a texture modifier for increasing melting resistance, viscosity, and shape retention during variations in temperature as well as fat mimetic.
High protein yogurt with anti-hypertensive properties
Improving the functionality of yogurt by fortifying it with protein hydrolysate and LAB fermentation of soy and Job's tears beverages for improving conditions such as hypertension.
The addition of protein hydrolysate improved the bioactive potential of yogurt. Moreover, LAB fermentation increased ACE inhibition.
Shelf-stable milk produced by microfiltration & microwave heating
A novel process called Customized Phase Treatment (CPT) has been implemented to combine the advantages of indirect and direct heating methods to produce milk with a long shelf-life at ambient temperatures.
This newly proposed heating technique, CPT (Customized Phase Treatment), is considered to be feasible and proved that the shelf stability of milk formed by CPT has low plasmin activity and comparable storage stability to iUHT milk.
---
Each year Signicent provides consultancy to hundreds of organizations to help transform their innovations to value.
---
Market
According to the market experts of Signicent, the Global Dairy Products Market was valued at USD 489.7 Bn in 2020 and is expected to rise at a CAGR of 2.5% during the timeline of 2020 to 2027 to reach USD 586.1 Bn in 2027.
Start-ups in spotlight
This section of the New Age Dairy Products Report will shed some light on the transformative companies in the dairy industry.
Artinci
Artinci is famous for producing sugar-free dairy products for diabetic and health-conscious people. It aims to create more health products for consumers to achieve their health goals. It has also developed Sugar-Free Roasted Almond Keto Ice Cream. Ice Cream is filled with super-food almond butter and whole almond with healthy fats, protein, and fiber content.
CHKP- Plant-based dairy
This is a plant-based dairy start-up popular for making yogurt from chickpeas. It aims to create dairy products from plant sources for lactose-intolerant people. It has also prepared strawberry-flavoured chickpea protein yogurt. The product is creamy and rich in probiotics. The ingredients used in making the yogurt are chickpea bases, strawberries, sugar, coconut oil, potato starch, citrus fiber, sea salt, etc.
Lyras
Lyras was established with the aim to prove the possibility of sustainable pasteurization. It uses its patented Raslysation technology for treating its products (milk, juice, or wine) – Pasteurizing milk with UV – light. All of the company's solutions reduce energy consumption by more than 90% as compared to conventional thermal pasteurization.
Their two innovative solutions include Raslysation Sirius & Raslysation Spica.
Raslysation Sirius
This product is used for treating opaque liquids, e.g., milk.
It is suited for both large and small-scale production.
The Raslysation Spica System
This product is used to treat low-transparency liquids that are not light-sensitive.
It is fully scalable and easy to implement & operate.
Key Players
This section of the New Age Dairy Products Report shares information about the key players working in the dairy industry.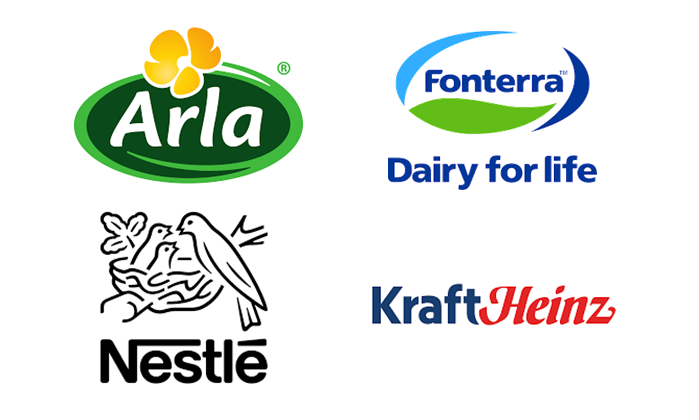 ---
Recent Report