Note: The free primer on Innovating and Emerging Sustainable Packaging Materials report can be requested from here.
Who knew the first synthetic plastic created by Leo Hendrik Baekeland in the U.S will lead to an explosion in plastic waste? Over the period, there has been a drastic surge in plastic production from 1.5 million metric tons in 1950 to 359 billion metric tons in 2018. The data is horrifying as it is evident from the global data that we have surpassed 8 billion metric tons globally.
Today, every company is looking at sustainable packaging solutions that can be cost-effective and also mitigate the damage caused to the environment. . The packaging industry is evolving exponentially in the market as it gives an aesthetic appeal and adds to the brand value.
Consumers have become more conscious and are opting profoundly for eco-friendly packaging. On the flip side, the rising environmental concerns has propelled essentially the need to attenuate the vandalization being caused.
Emerging Industrial Trends to Watch Out for Packaging:
Seed infused packaging
Seaweed- based packaging
Plant-based like mushrooms
Bioplastics
Milk- protein
To understand the industry challenges relating to packaging, we went through thousands of scientific literatures/ academic publications and patent literature based upon which our team found the following major industrial problem in the packaging arena:
Low biodegradability of cellulose acetate used in the cigarette filter material.
Most of the packaging materials are not thermostable.
Photodegradation is a major problem for thermochromic materials when exposed to the outdoor environment.
Cooling of beverages available in portable containers before consumption.
Post comprehensive analysis we came across the following viable, innovative, and possibly the finest solutions:
Use of biodegradable fiber that has a PHA /PLA with cellulose acetate/plasticized cellulose acetate to provide filters that will biodegrade.
Using thermochromic colors that possess different critical temperature limits.
Incorporating smart packaging, which involves packaging with sensors.
Self-cooling packaging, which will rule out the need for external low-temperature conditions.
It is always good to stay ahead and have a very clear vision about future. Future of Packaging will focus on customer safety, compliance, guidelines, and convenience. Smart Packaging and Intelligent packaging also seem promising. While the sustainable packaging is growing extensively on the other hand Anti-counterfeit packaging is the most researched area presently.
Traditional packaging material is threat to environment. Therefore, multidisciplinary extensive research has come up with bio-based materials as their alternative. The blend of biodegradable polymers and natural fibres is gaining popularity as it offers several benefits. To quote few, environment friendly, cost-effective, providing strength and stiffness as well as the biodegradation of packaging material. The effective way to manage the never-ending packaging waste is incorporation of natural fibers reinforcements such as silk nanofibers, bamboo, jute etc. to the polymers as fillers to make a composite, blend, or copolymer.
---
Each year Signicent provides consultancy to hundreds of organizations to help transform their innovations to value.
---
Challenges That Biodegradable Fibers Can Overcome Easily
Thermal stability is one of the pressing points but a new ray of hope is being witnessed. Biodegradable polymers have amazing thermal properties; therefore, they are profusely used by packaging industry.The high values of melt temperature and glass transition temperature of PGA allow the polymer chains to pack together tightly which in turn results in a high degree of crystallinity and stability. Due to high material density, PGA melts at a higher temperature and is resistant to several chemicals.
Using Biobased packaging materials, for instance, chitosan, wood fiber, lignin, thermoplastic starch, and cellulose fiber can resolve the issue of composability and cross-reactions. Bio-on is aggressively working on PHA-based products and got patents on their technologies.
Following biodegradable polymers have good thermal properties and have a promising future: Polylactide (PLA), Polyhydroxyalkanoates (PHA), Poly (trans-hexahydrophthalide), Ppoly (γ-butyrolactone), Polycaprolactone (PCL), Poly(3-hydroxybutyrate) (PHB), and Polyhydroxybutyrate (PHB).
(To get more information about smart packaging read Smart Packaging: Thermochromic Ink and Self- Cooling Packaging).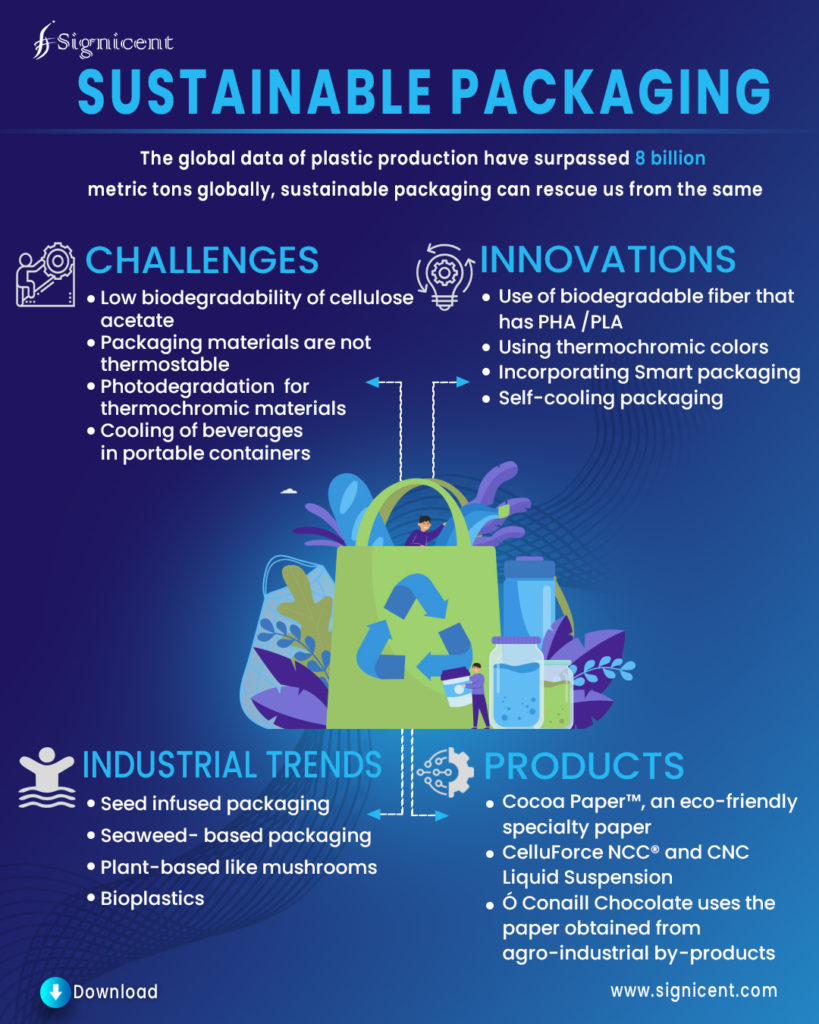 Some Inspiring Startups in Cellulose Nano Crystals & PHA:
Melodea-2010 (Israel) offers a bio-based solution in the form of Cellulose Nano Crystals (CNC) to provide different industries with innovative products for paints, coatings, barriers for the packaging industry.
FullCycle-2017 (United States) transforms organic matter into compostable oil-based plastics. Full Cycle's technology uses organic waste as raw material to produce Polyhydroxyalkanoate (PHA)
Technology scouting of cellulose nanocrystal, bacterial nanocellulose, and cellulose nanofibers was done which revealed the information that cellulose nanocrystal has a high modulus of el, high density, low thermal conductivity, and lower EMC owing to the high degree of crystallinity.
Game-Changing Technologies in Biodegradable Packaging Material:
SWM uses Cocoa Paper™, an eco-friendly specialty paper and packaging product that contains up to 45% cocoa shell fibers. It is biodegradable, compostable & recyclable.
CelluForce commercializes a family of CNC products under the brand name CelluForce NCC® and CNC is produced as a spray-dried powder or as a liquid suspension.
Ó Conaill Chocolate uses the paper obtained from agro-industrial processing by-products, including almonds and hazelnuts for wrapping chocolate bars.
To make a brand stand out in the highly competitive market, one requires to add a pinch of innovative technology and also to overcome the white spaces of the company. We can help you with this process, for any query contact us.
---
Recent Report