South Africa could not keep up with the treatment for Drug resistant Tuberculosis (TB), which has affected thousands of people in the country. Many of the sufferers would die and the death would be horrible and slow. Not only this, survivors would be struggling with many side effects like loss of hearing and would be requiring pills and injections daily.
The main culprit for these suffering is the patented drug for this disease. Linezolid manufactured by Pfizer is the only drug effective for drug resistant TB, which is sold at an unaffordable price of 676 Rand (~68 USD) per pill and the state pays only 288 Rand (~29 USD) for it. According to the treatment details, dosage is one pill daily for two years which becomes very expensive for the majority of the patients.
The generic version of same pill is available in India for 25 Rand (~2.5 USD) however due to patent protections generic version of the medicine cannot be launched unless the patent expires in South Africa. Therefore MSF could not legally import Indian generic version due to old patent laws that are still in action in South Africa. The only option left in this case is to request Pfizer to lower the cost of the drug, towards which the company remained indifferent.
An international, medical humanitarian organization Médecins Sans Frontières (MSF) provided a helping hand by offering free treatment for 300 patients of Khayelitsha with linezolid but could afford the treatment of approximately twenty patients only. Such a situation has put the doctors in the state of dilemma to select the criteria for choosing those twenty patients out of many to be treated.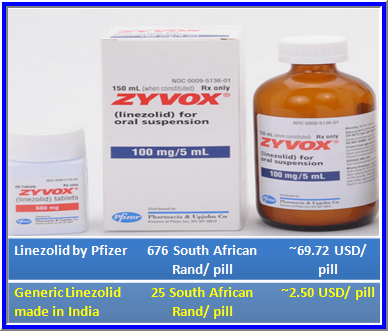 National policy drafted by department of Trade and Industry in September on intellectual property could be used as a legal tool for effective dealing with the situation but would have a consequence on the health care at South Africa and affordability of National Health Insurance. The arguments are not only between the industry lawyers but this is the matter of discussion between society and the people from all sectors of health care system in the country.